Copycat Sweetie Pie's Macaroni And Cheese Recipe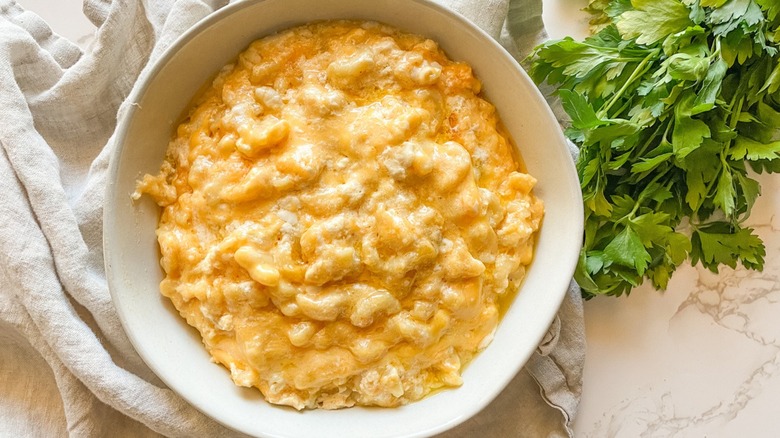 Kristen Carli/Mashed
We may receive a commission on purchases made from links.
'Remember Sweetie Pie's? Even if you never ate at one of the regional soul food chains restaurants, you likely remember the OWN reality show "Welcome to Sweetie Pie's" starring former Ike Turner backup singer Robbie Montgomery. Unfortunately, there was even more drama going on off-camera for Sweetie Pie's, with Montgomery's son being accused of charges ranging from copyright infringement to assault to arranging a murder (via the St. Louis Post-Dispatch). At this point, it's difficult to determine which, if any, of the various Sweetie Pie's locations are still operating, but if you're a fan of the chain's down-home cooking, there's a good chance you haven't been able to satisfy that craving for a while.
While we may no longer have Sweetie Pie's, we do still have the Miss Robbie-authored Sweetie Pie's Cookbook featuring recipes for such beloved menu items as oxtail stew, St. Louis gooey butter cake, and of course the restaurant's famous mac and cheese. Recipe developer Kristen Carli is a registered dietitian who shares a lot of plant-based recipes on her Instagram, but she confesses "I love mac and cheese." Her copycat recipe, like Montgomery's (via Epicurious), is rich and creamy, calling for sour cream, whole milk, and evaporated milk as well as several different types of cheese. Carli does, however, have a slightly different approach to putting the dish together, as she feels makes it even creamier than the original.
What we changed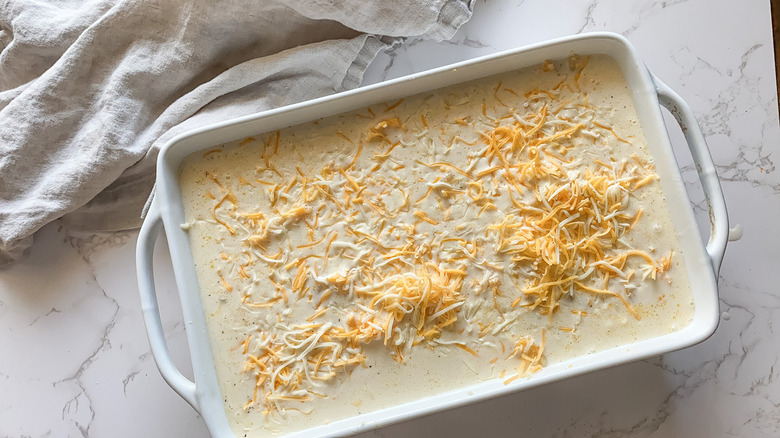 Kristen Carli/Mashed
Where Carli's recipe differs from Montgomery's, as well as from most other mac and cheese recipes, is that instead of mixing the melted cheese with the milk and cooking them together to make a cheese sauce, she instead pours her milky sauce over the top of the cheesy pasta. " After tasting the original dish," she tells us, "I realized that Sweetie Pie's uses a lot of milk to create a liquid melty dish."
She explains that pouring the milk over the top of the mac and cheese allows it to seep down into the pasta and assures us: "You will think that it will be too liquidy, but this contributes to the extra-melty and gooey texture."
The ingredients you'll need for this copycat mac and cheese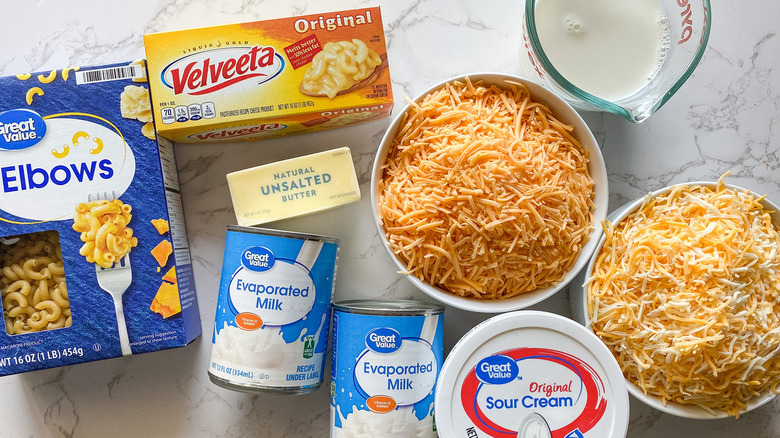 Kristen Carli/Mashed
This Sweetie Pie's-style mac and cheese makes use of elbow macaroni, as do most other mac and cheese recipes. When it comes to cheeses, though, that's where things get interesting. This recipe not only uses Velveeta but also sharp cheddar, Colby, and Monterey Jack cheeses. Although Carli used a pre-shredded blend of the latter two cheeses, you can, of course, shred and mix your own for a 50/50 blend. If you're really not a fan of processed cheese, Carli advises that while "Velveeta will get you the closest to the original," she allows "you could absolutely substitute sharp cheddar."
Besides the cheeses, you'll need several more types of dairy: butter, sour cream, evaporated milk, and whole milk. A little bit of salt and pepper for seasoning, and that's all you'll need to make the mac and cheese.
Cook the elbow macaroni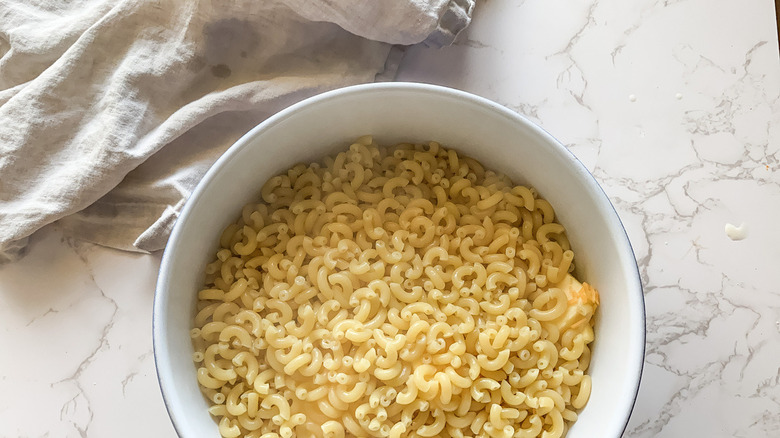 Kristen Carli/Mashed
Fill a large pot of water and bring it to a boil. This may take some time, so while you wait, go ahead and start preheating the oven to 350 degrees Fahrenheit. Once the water boils, add the elbow macaroni and bring the water back to the boiling point. Once it's boiling away, cook the macaroni for about seven minutes or until it's al dente. Remember, the pasta is still going to cook in the oven, so you don't want it too mushy at this stage. Drain the elbow macaroni and set it aside.
Make it cheesy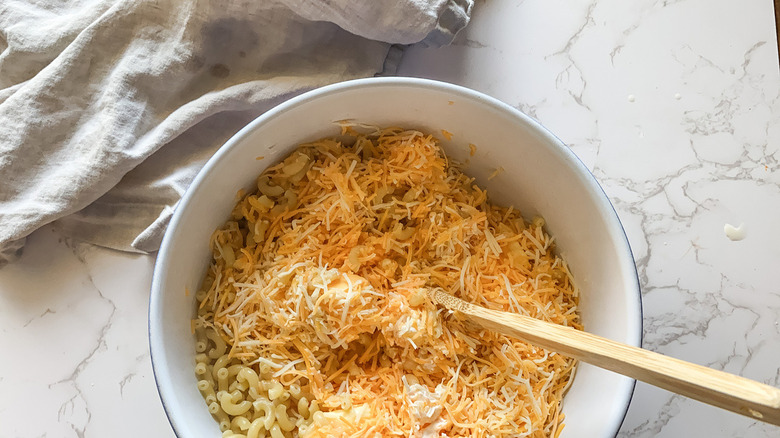 Kristen Carli/Mashed
Chop the Velveeta into cubes. Cut the butter into chunks about one tablespoon in size. If you're not using pre-shredded cheese, you will also need to shred the cheddar, the Monterey jack, and the Colby. Mix the butter, the sour cream, the cheddar, and three cups of the Monterey Jack and Colby mix (or one and a half cups of each kind of cheese) in a large bowl. Add the warm elbow macaroni to the cheese mixture, then stir to combine.
Top the cheesy pasta with a milky sauce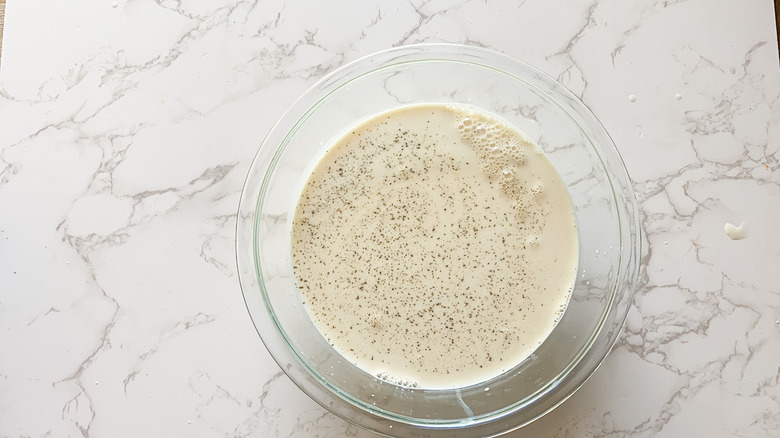 Kristen Carli/Mashed
Add the milk, the evaporated milk, and the salt and pepper to a medium bowl, and stir them together. Set the milk mixture aside for a moment while you prepare a 9x13-inch baking pan by spraying it with cooking spray or giving it a light coating of butter or oil. Add the cheesy pasta to the baking dish, and spread it out until it makes an even layer. Pour the milk mixture over top of the pasta. No need to stir — just let it sink in.
Bake your mac and cheese and serve it nice and hot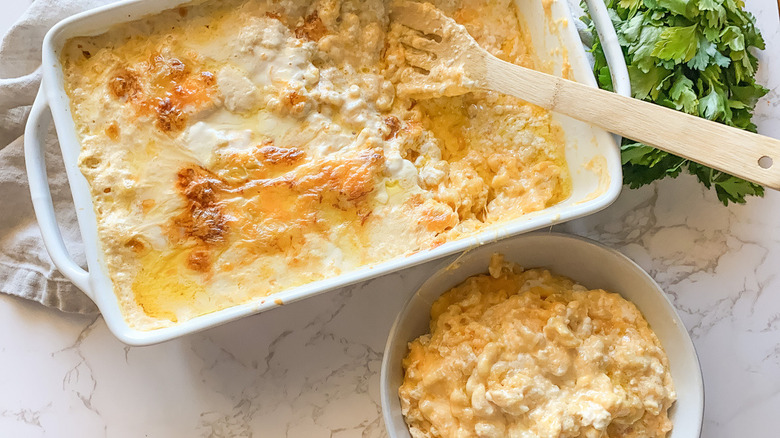 Kristen Carli/Mashed
Cook the macaroni and cheese in the preheated oven for 45 minutes, then remove it and let the dish cool for just a minute or two so the cheese isn't burn-your-mouth hot. As to how you serve it, that depends on whether you're on team "mac and cheese is a main dish" or you side with the "mac and cheese is a side dish" faction instead.
Carli, who belongs to the first group, would serve her Sweetie Pie's copycat mac and cheese "on the side of a bright and refreshing salad, since the main dish is so rich." If, however, you treat mac and cheese as a side dish, this would make for a classic accompaniment to Southern-style barbecue, fried chicken, or fried fish.
Copycat Sweetie Pie's Macaroni And Cheese Recipe
This recipe is rich and creamy, calling for sour cream, whole milk, and evaporated milk as well as several different types of cheese.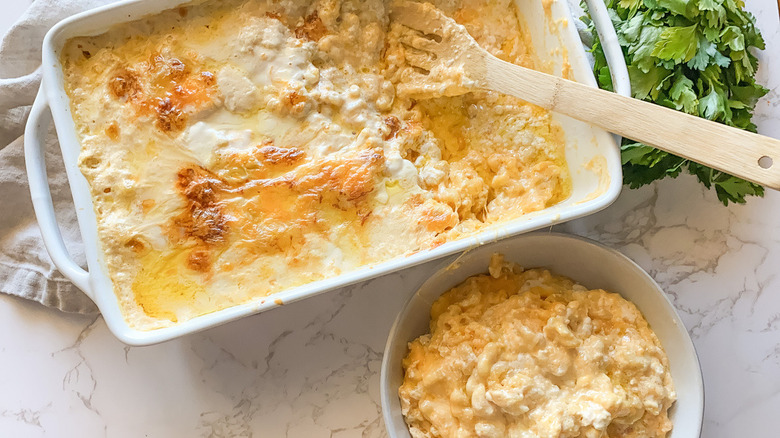 Ingredients
1 pound elbow macaroni
1 pound Velveeta
1 stick (4 ounces) unsalted butter
2 tablespoons sour cream
1 pound sharp cheddar cheese (4 cups shredded)
1 pound shredded Colby and Monterey jack cheese (4 cups shredded), divided
1 cup whole milk
24 ounces (3 cups) evaporated milk
1 teaspoon salt
½ teaspoon pepper
Directions
Preheat oven to 350 degrees Fahrenheit.
Bring a large pot of water to a boil. Add elbow macaroni and cook according to package directions. Drain.
Cube Velveeta. Slice butter into 1-tablespoon chunks.
In a large bowl, add Velveeta, butter, sour cream, cheddar cheese, and 3 cups of the Colby and Monterey jack cheese (1 ½ cups of each kind).
Add pasta to the cheese mixture. Stir to combine.
In a medium bowl, combine milk, evaporated milk, salt, and pepper. Stir.
Spray a 9x13-inch baking dish with nonstick cooking spray.
Pour cheese and pasta mixture into the baking dish. Spread evenly.
Pour milk mixture over cheesy pasta in the baking dish.
Top macaroni and cheese with the remaining 1 cup (or ½ cup each) of Colby and Monterey jack cheese.
Bake macaroni and cheese for 45 minutes.
Serve and enjoy.
Nutrition
| | |
| --- | --- |
| Calories per Serving | 1,030 |
| Total Fat | 69.9 g |
| Saturated Fat | 42.9 g |
| Trans Fat | 0.9 g |
| Cholesterol | 213.8 mg |
| | |
| --- | --- |
| Total Carbohydrates | 48.6 g |
| Dietary Fiber | 1.5 g |
| Total Sugars | 13.6 g |
| Sodium | 1,605.9 mg |
| Protein | 51.7 g |