This Is Alton Brown's Favorite Gin Company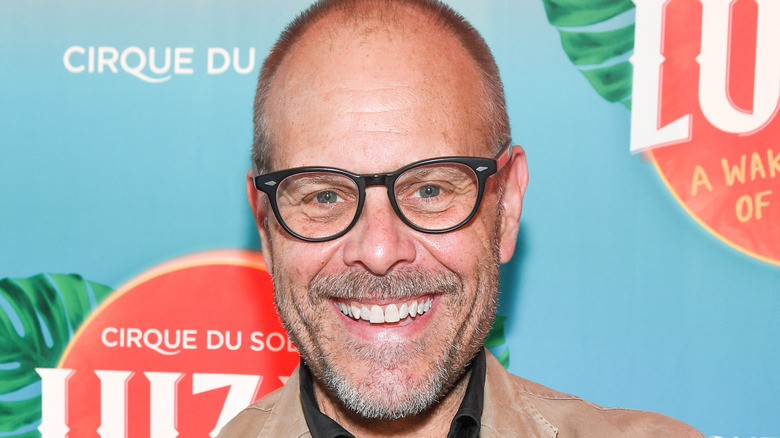 Paras Griffin/Getty Images
Alton Brown did not let a year-plus pandemic lockdown slow him down. The Food Network star proved himself quite the showman, cameraman, lighting expert, producer — and the list goes on — as he took to social media and the world of streaming in full force to ensure the show went on. The "Good Eats" host shared some pretty easy and satisfying recipes with his fan base during episodes of his homemade "Quarantine Qitchen" show. In fact, it is probably safe to say, those episodes got many people through some tough dinner choices. He also made us feel better when we required an adult beverage by sharing with The Kitchn that his go-to drink is "A well-made martini."
Alton is not alone in his fondness for this drink. Per The Martini Hour, the celebrity chef joins the ranks of Winston Churchill, Robert Benchley, Alfred Hitchcock, and Franklin Roosevelt in his love for this drink. Brown told The Kitchn, "Martinis are my drinks." He went on to explain, "I make excellent ones. I feel very civilized when I drink them. And if I was only going to have one drink a week, it would absolutely be a good gin martini." But what gin company does this culinary critic favor when it comes to making this cocktail?
Brown favors Beefeater Gin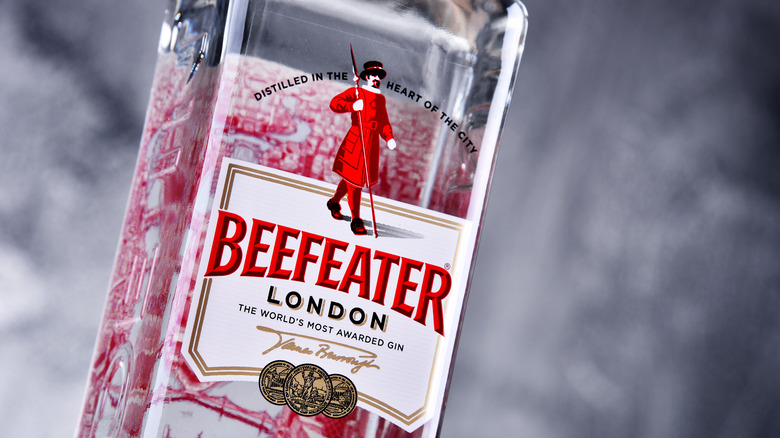 Shutterstock
The gin company that gets Brown all ginned up when he is stirring up his gin martini is Beefeater Gin. Produced in the United Kingdom, per Liquor.com, Beefeater Gin has been around since 1863. This bottle is easy to spot. Adorned with a vintage looking London guard on the front of the bottle who dressed in red and carrying a spear, Beefeater Gin is said to boast nine botanicals, with strong hits of lemon. Sounds perfect for a gin martini if you ask us. How do we know Brown likes this gin?
He shared it on social media, of course. In an effort to quell any feelings of outrage because he didn't make his favorite gin martini during a Quarantine Qitchen episode, Brown told his followers, "Dear #QQ fans, please don't lay siege to the fine folks at @BeefeaterGin_US. They're my favorite and they're lovely. Last night we just were out of their product so we made something else. We'll get the store this week, I promise." But the love doesn't seem to be one way but rather mutual. Brown's fans start asking the alcohol brand to sponsor Brown. Beefeater Gin tweeted back to their twitterverse, "We're big fans of Alton too! We have been in touch with his team to find a way to work together. Thank you for all of your support of Alton Brown and Beefeater Gin!" Can't wait to find out what that partnership will look like.