NYC's Restaurant Wine Crisis, Explained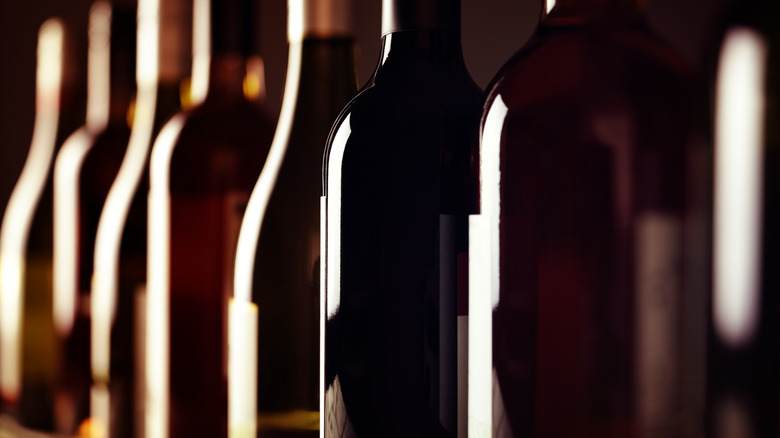 Shutterstock
Some New York restaurants are sitting on thousands of dollars in wine they can't sell (via Eater New York). Others have pre-made cocktails in to-go cups that are suddenly illegal. You could call it yet another unpleasant surprise in a year-plus that's been full of them for a restaurant and bar industry that has been battered by COVID-19.
When the state of New York declared an emergency in response to the growing pandemic in March 2020, it ordered bars and restaurants to end on-premises service but threw a lifeline by allowing them to sell liquor and wine to-go (via The New York Times). On June 23, New York's governor lifted the state of emergency, meaning restaurants and bars could return to business as usual. Dining rooms and bar stools could be filled to capacity, which is good news for an industry that has been starved for income over the past 15 months. But business as usual also meant customers could no longer walk out the door with the to-go cocktail or bottle of wine they just purchased, and restaurants were given just one-day notice of this change. "This feels like a rug being pulled from under us," the beverage director of an East Village bar said in a separate New York Times article.
The manager of The Up & Up, a Greenwich Village bar, dispensed with cliché in his reaction to New York's sudden decision to pull the plug on to-go booze and wine sales. "It's such an astonishingly shortsighted move, and cruel," he said.
Liquor stores in New York don't want restaurants selling wine to-go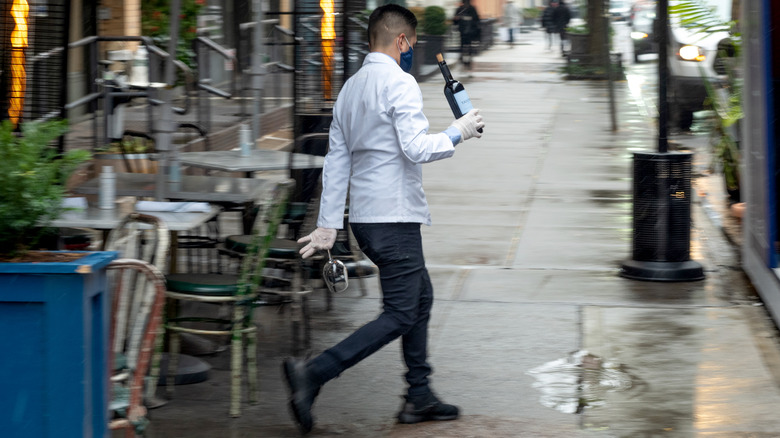 Alexi Rosenfeld/Getty Images
The health emergency might be over in New York, but that doesn't mean restaurant and bar owners have returned to full financial health just yet. Early in the pandemic, to-go wine or beer was the only source of revenue for some New York bars (via Eater New York). When New York's governor lifted emergency orders this week, some establishments had been positioning themselves to continue selling alcohol to-go, which was still accounting for 10-30% of sales in some cases. When the emergency order was lifted, the owner of the New York restaurant Tannat still had $15,000 in wine she had intended to sell to takeout customers. Selling it by the glass wasn't an option because it would have been too high-priced. She spread the word on social media and managed to sell off more than $5,000 of her inventory in one day. Tannat's owner blamed the state's liquor stores for blocking a bill that — as The New York Times explained — would have made to-go alcohol sales legal. "The bottle shop has been great for us and this stings," she wrote on Instagram. "We've had fun, but the liquor store lobby has a stranglehold on our politicians."
The New York State Liquor Association thought restaurants shouldn't compete directly with liquor stores. "They can go back to their normal business," the association's president told The New York Times. "We can't sell potato salad and a BLT."