Sonic's New Crave Cheeseburger Made With Secret Sauce Is Turning Heads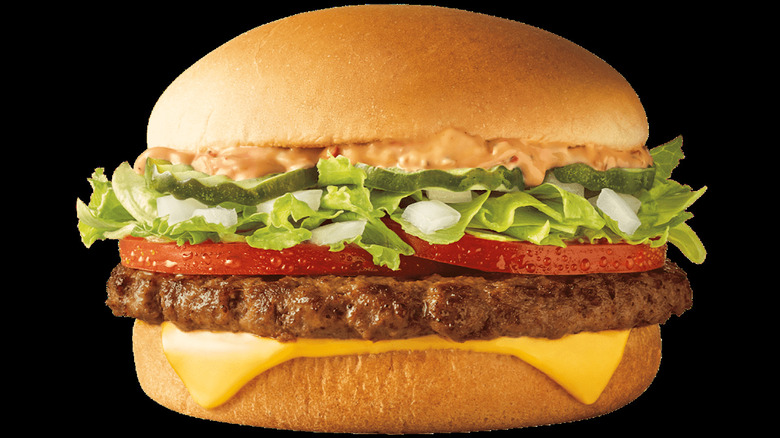 Sonic
We'll be honest — it's been a minute since the idea of a Sonic cheeseburger has tickled our taste buds. The drive-thru fast food chain best known for its nugget-ice slushes, lemonades, and limeades certainly has a special place in our hearts, but the restaurant's cheeseburger has never been the thing on the menu to keep us coming back for more. Will we wait in a line of 15+ cars for a Cherry Limeade Slush? Absolutely. Will we stop in for a Chili Cheese Coney Dog after a long, sunny day at the beach? You bet. But as far as burgers are concerned, there have always been more burger-centric fast food joints to lean on. At least, until now. 
Apparently, Sonic has heard America's cries for a better burger and is upping its cheeseburger game. The fast food restaurant has officially introduced a new Crave Cheeseburger (via Businesswire), and people are here for it.
A sauce worth raving about
There's a lot to love about the Crave Cheeseburger. It's made with a 100% pure beef patty. Top that with some crinkle-cut pickles, a couple slices of tomato, diced onions, and chopped lettuce, and you've got yourself, at the very least, a classic American burger. But Sonic's new burger has two special elements that elevate it above all others.
First of all, they put the cheese underneath the patty, rather than on top of it. It makes the cheese extra melty, and that melty cheese keeps the burger from sliding off the bun when you bite into it. While the cheese-below-the-patty move is innovation at its finest, it's not the thing that's got people lining up at Sonic for the Crave Burger. According to Chew Boom, that secret lies in the sauce. 
The Crave Burger's secret sauce is sweet and tangy, and that's all we're allowed to know about it. The fast food restaurant is keeping this recipe a secret — and for good reason. "The secret is in the sauce with the new Crave Cheeseburger, which irresistibly complements the savory flavors and stacked fixings of the Sonic Cheeseburger," Scott Uehlein, vice president of product innovation and development for Sonic, said in a press release.
Sonic's Crave Cheeseburger will be available through August 29 at participating locations. We suggest you head there ASAP to try one for yourself while supplies last. Hopefully, this limited menu item will become permanent. Until August 1, Sonic's Crave Cheeseburger will be half-price if you order online or through the app.