TikTok Is Seriously Impressed With Jason Derulo For Making This Indian Treat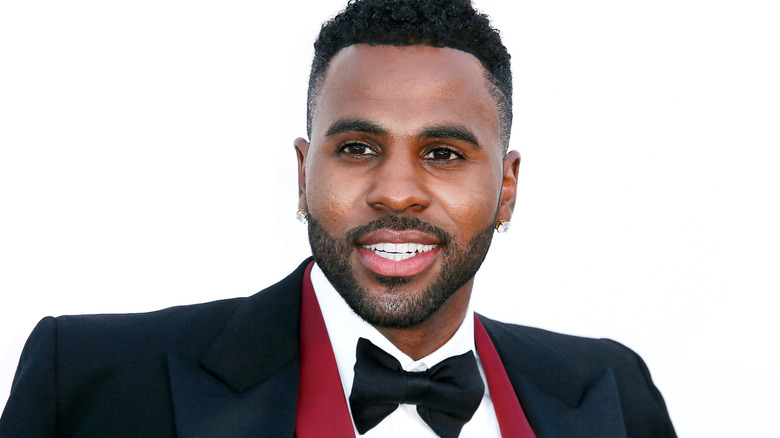 Shutterstock
Ever since quarantine when even the biggest stars were staying home and making their own meals, celebrities have been taking to TikTok to show the world how they whip up some of their favorite meals and snacks. Now, social media users can't get enough of their favorite famous people getting crafty in the kitchen. According to Capital FM, we've watched Lizzo make stuffed peppers, Kylie Jenner make lemon cake, and Bebe Rexha make banana bread, to name a few.
Jason Derulo has been holding his own in this world of celebrity TikTok cooking shows, too, making things like plant-based pizza. Recently, though, the singer scored serious culinary props for making a treat that's beloved in India, Bangladesh, and Pakistan: jalebi. Jalebi is like a funnel cake, except the dough is bathed in sugar syrup instead of dusted with powdered sugar. The dough is made with flour, cheese curds, and ghee, and the sugar syrup is flavored with saffron, rose essence, and cardamom, says NDTV. Jalebi batter is squeezed through a muslin cloth with a hole cut in it to get its distinctive spiral shape. The sweet snack is a favorite at festivals and celebrations, and sometimes even enjoyed for breakfast.
Jason Derulo knows his way around a jalebi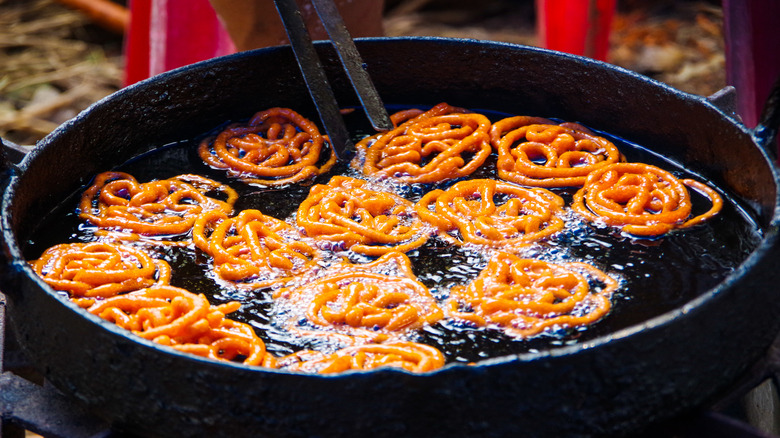 Shutterstock
Derulo's kitchen TikTok is fittingly set to "Jalebi Baby," his tune with musician Tesher. The performer smoothly sort of dance-bakes his way through making the batter and the sugar syrup, squeezing spirals, and soaking the finished product. He then holds up some chocolate for possible topping, but rolls his eyes and tosses that extra nonsense away, clearly advocating for jalebi enjoyed at its best, on its own.
One TikTok user commented that she was so relieved when Derulo put the chocolate away. Tons of further comments present an overall nod of approval: TikTok-ers were quite impressed with the entertainer's jalebi skills. "I'm Indian and I approve," said Devkartik Anne. Similarly, Therock. commented, "I'm Pakistani and I approve this." One user even wrote "You have won the hearts of all Indians across the world." All in all, 16,900 comments applaud Derulo's technique, and idea to make jalebi in the first place, not to mention his foregoing of toppings. If you want to try your hand at jalebi, too, try this recipe from Indian Healthy Recipes.