Nathan's 4th Of July Hot Dog Eating Contest Is Back To Normal For 2021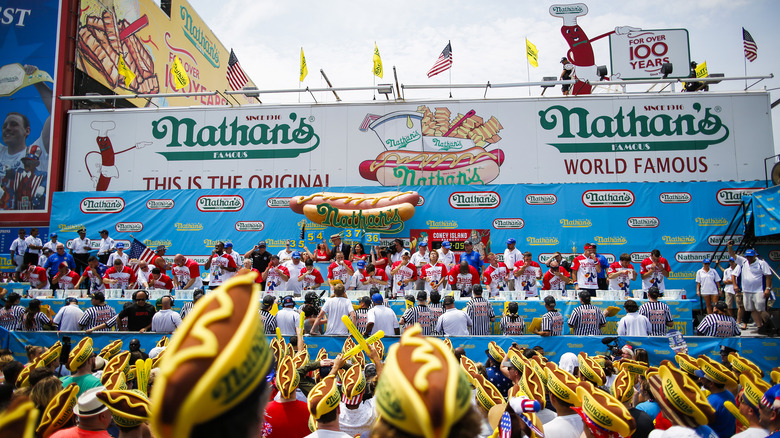 Eduardo Munoz Alvarez/Getty Images
When it comes to American traditions, there's nothing more iconic than a hot dog eating contest on the 4th of July. If hot dogs are America's food, and 4th of July is America's holiday, then the only thing that makes more sense than a hot dog eating contest on the 4th of July would be a hot dog eating contest on the 4th of July inside a crowded baseball stadium.
Fellow Americans, it looks like our wishes have come true. Nathan's Famous 4th of July Hot Dog Eating Contest will return to Coney Island in full force, but rather than returning to its usual spot in front of Nathan's Famous on the corner of Surf and Stillwell avenues, the contest will take place at Maimonides Park — the home of minor league baseball team the Brooklyn Cyclones, the New York Post reports.
Last year, the annual Nathan's Famous 4th of July Hot Dog Eating Contest took place indoors under COVID-19 restrictions. The Coney Island Boardwalk was quiet and abandoned, the media presence was low, and the winner, Joey Chestnut, still managed to set a world record by eating 75 hotdogs (via BleacherReport).
This year, all of that will change. Nathan's Famous 2021 Hot Dog Eating Contest will take over Maimonides Park with all the typical Independence Day crowds, bells, and whistles the US has come to adore. Expect hoards of spectators in hotdog hats, American flags, ESPN commentators, and a lineup of America's finest hot dog eaters, scarfing down dogs and choking back gags for 10 glorious minutes.
It's a good year to break a world record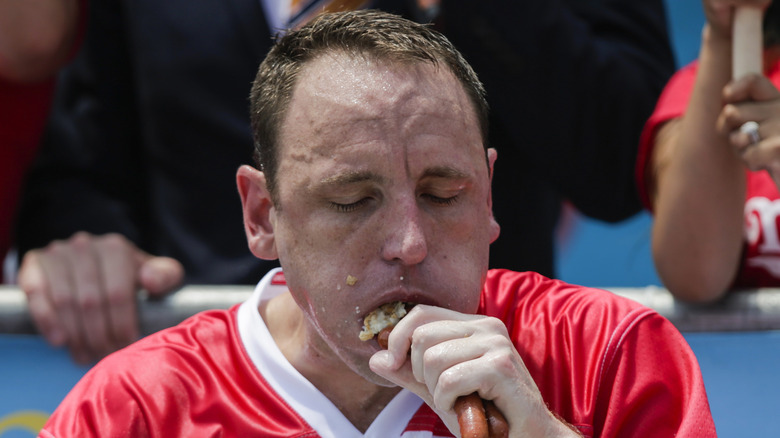 Eduardo Munoz Alvarez/Getty Images
For this year's contest, all eyes (and the ESPN3 camera) will be on hot dog eating champion Joey Chestnut, who will attempt to break his own world record by eating more than 75 hotdogs (it's worth noting that Chestnut has only lost the contest one time since 2007). According to ESPN, commentator Mike Golic Jr. will give the play-by-play, and Major League Eating's Richard Shea will do an "in-depth analysis" of the competition. Seven-time champion Miki Sudo, who ate 48.5 hotdogs last year, will cover the women's competition.
The contest will air live on Sunday, July 4, at noon ET on ESPN. If you're in New York and want to watch in person, tickets are free and available at MajorLeagueEating.com.
While we may prefer to top our hotdogs with mustard and relish and savor each salty bite, we're here for this annual holiday competition. With much of New York City fully or partially vaccinated against the COVID-19 virus, what better way to celebrate the end of a lonely, horrific era than to kick off a new one by gathering in masses and gorging ourselves with processed meat to the tune of the Star Spangled Banner? Here's to you, all you gluttonous American weirdos. We're your number one fans.