How Nathan's Hot Dog Eating Contest Will Be Different In 2020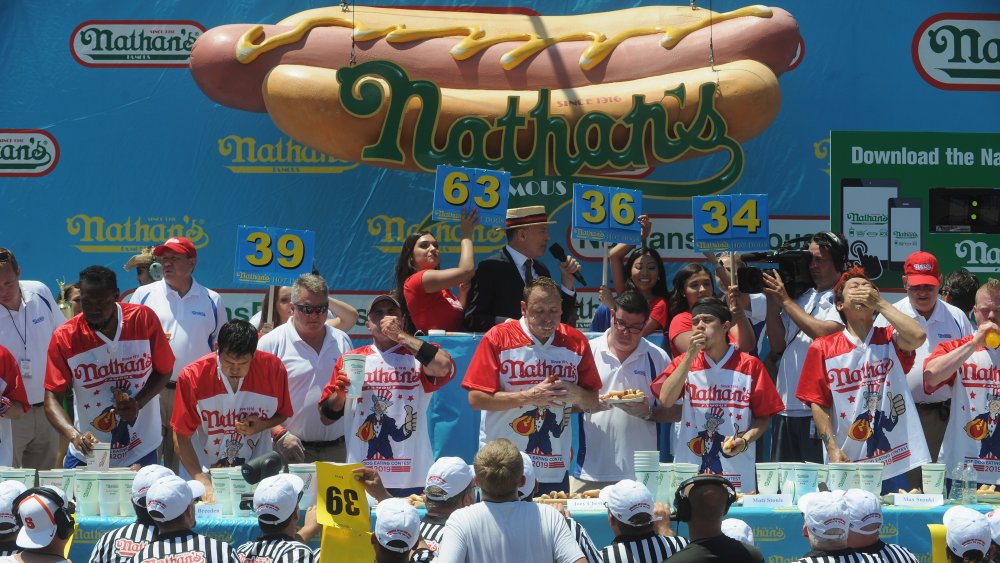 Bobby Bank/Getty Images
It may only be June, but the dedicated fans of competitive eating are already making plans for the Fourth of July. Namely, to tune in to ESPN at noon (ET) for Nathan's international hot dog eating contest. The famous eating competition will still be taking place this year according to organizers, though due to COVID-19 safety requirements, the event will be held in private, instead of outside Nathan's original location on Coney Island (via New York Post). Another change will be the eaters themselves. In order to maintain social distancing, the competition will feature only 10 competitors — five men and five women — instead of the usual 30. 
Despite the changes, the fact that the competition will happen at all is a huge deal to fans and competitors alike, especially in a post-COVID entertainment landscape — and that isn't even all of the good news. In addition to holding the competition, Nathan's plans to donate 100,000 hot dogs to local New York City food banks, and raise awareness for essential workers at this year's competition (via USA Today).
The defending champions of hot dog eating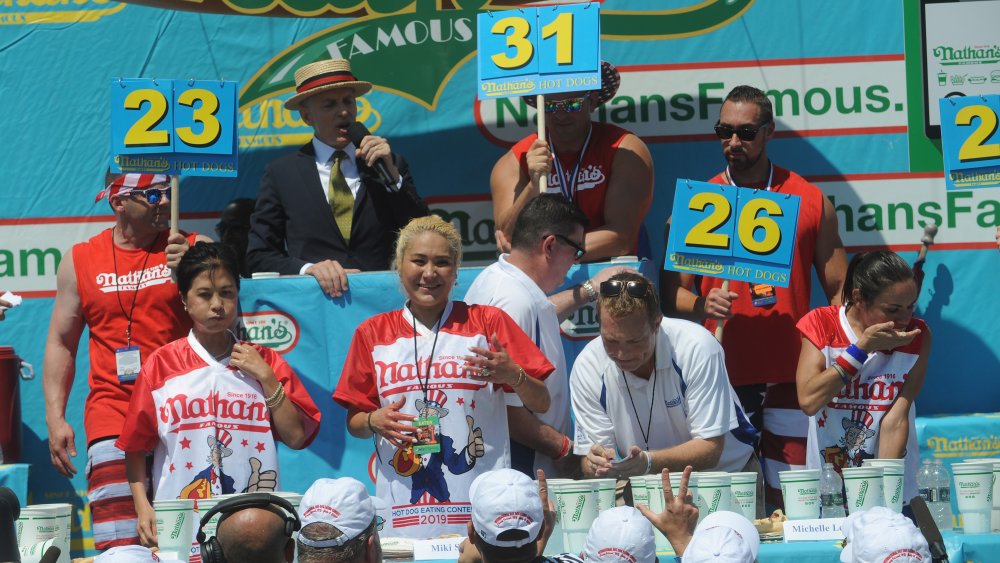 Bobby Bank/Getty Images
If you're a fan, chances are you know the names Joey Chestnut and Miki Sudo, but if not, they're the defending champions of the contest — and two of the most impressive competitive eaters you'll come across. Chestnut, who will be returning to defend his title, has won the male competition 12 out of the last 13 years, and last year he didn't just win, he beat the second-place winner by a whopping 23 hot dogs without even setting a new record (which is currently 74 hot dogs in 10 minutes, set by Chestnut in 2018). 
Meanwhile, six-time female champion Sudo will also be returning this July (via Nathan's Famous). Hopefully, the lack of distractions from spectators (who scream and use plastic noisemakers, according to ESPN) and weather will lead to peak performances from these competitors, as Sudo blamed the heat for causing her not to perform at her best at last year's competition, where she ate only 31 hot dogs compared to her record of 41 (via New York Post). Chestnut has certainly been preparing during lockdown, as evidenced by a recent Instagram post featuring approximately 80 hot dogs.