Easy Horchata Recipe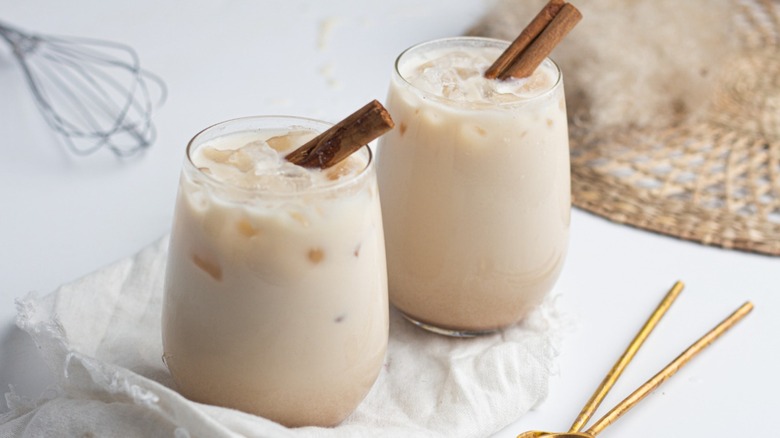 Susan Olayinka/Mashed
If you have yet to try horchata, you need to check that off your culinary bucket list ASAP. In fact, horchata isn't just a "try it once" kind of thing, since you're bound to develop a craving for it before you hit the bottom of that first glass. What does it taste like? Some have described it as tasting like rice pudding in a glass, although instead of being thick and rich like that often-heavy dessert, horchata is a light, refreshing beverage that pairs just as well with strong, spicy foods as it does with a handful of cookies.
Recipe developer Susan Olayinka of The Flexible Fridge says she hadn't made horchata before, but she enjoys Mexican food, and she did a lot of research in order to come up with this recipe. Her Mexican-style horchata couldn't be much easier to make as it takes just five minutes of prep time, although you will need to start it a day in advance of drinking since the flavors need a little time to meld. It's well worth the wait, though. As Olayinka tells us, her horchata "turned out absolutely delicious," and she admits, "I had to stop myself from drinking the whole blender!"
Assemble the ingredients to make the horchata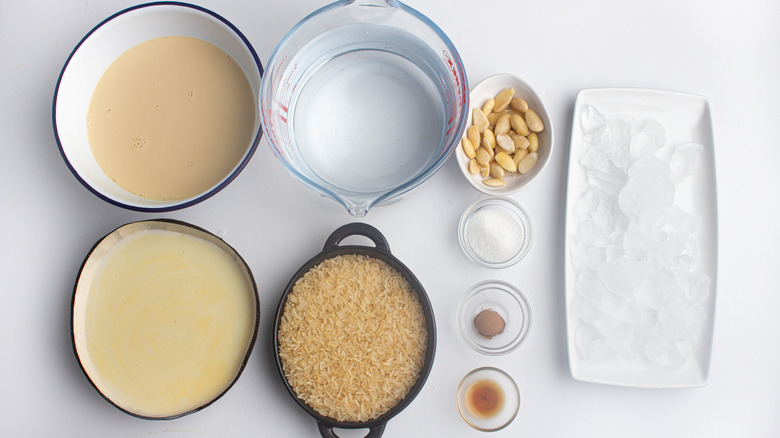 Susan Olayinka/Mashed
The reason why Mexican-style horchata tastes like rice pudding is that it is made with rice — just the plain long-grain white rice (not the instant kind, though). You're also going to need some almonds. Olayinka used whole blanched ones, although you can use the chopped or sliced vareity, too, and they don't even need to be blanched.
While horchata starts out as a flavored water, it gets body from milk, and Olayinka uses both condensed and evaporated milk. As she tells us, "The condensed milk adds a delicious sweet taste, and the evaporated milk has such a creamy taste." You can, if you prefer, swap out all or part of either or both milks with whole milk or almond milk. Olayinka says if you do, you may wish to "add more nuts in to make the drink creamier," or you could enjoy it as it is for a lighter, healthier version.
The horchata is also flavored with cinnamon, vanilla, and sugar. If you want to be fancy, you can even garnish your horchata with a cinnamon stick, although this isn't really necessary since the cinnamon stick is mostly just for show.
This horchata starts with a flavorful infusion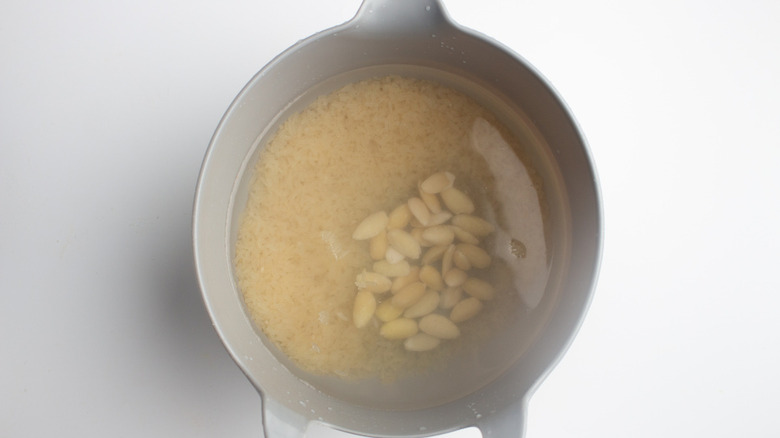 Susan Olayinka/Mashed
Place the rice and the almonds into a large bowl or a pitcher, and pour the water over them. Cover the bowl or pitcher, put it into the refrigerator, and let it sit overnight or for at least 12 hours during the day.
After the rice and almonds have soaked for a sufficient amount of time, pour them, along with the water, into a blender and blend them on high for a full minute. Using a fine-mesh sieve, strain the almonds and rice out of the water over another large bowl (or pitcher). You won't be needing the ground rice or almonds anymore, so you can either discard them, compost them, or repurpose them, perhaps as a DIY face or body scrub.
Add the milks and the flavorings to the horchata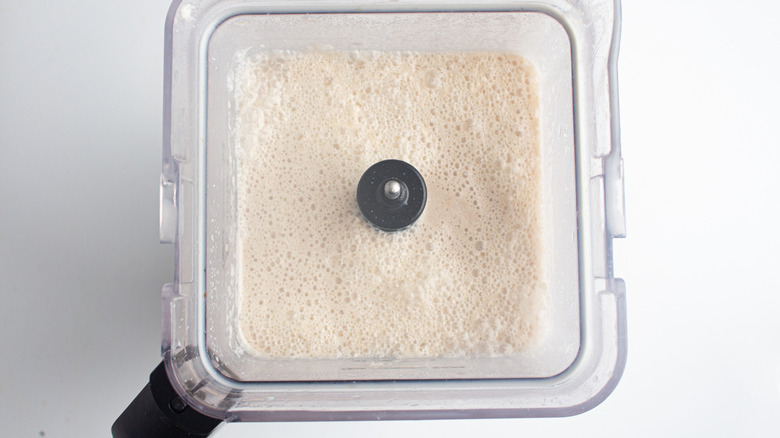 Susan Olayinka/Mashed
Rinse out the blender, since you'll be using it again to mix up the other ingredients. You could just stir them all together, but since you've already got the blender out, you might as well use it, right? Once the blender's been rinsed out, pour the strained rice water into it, then add both types of milk along with the cinnamon, vanilla, and sugar. You may want to adjust the amount of sugar to taste, adding more sugar if you've used non-sweetened milk(s) and omitting the sugar altogether if you are using the condensed milk but don't want a super-sweet drink.
Serve the horchata on the rocks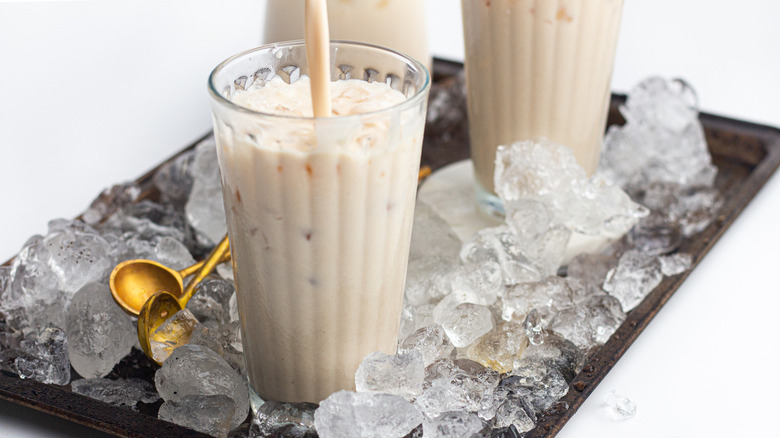 Susan Olayinka/Mashed
The horchata is now ready to serve, but it will taste better chilled, so if you'll be serving it right away, be sure to pour it into a glass filled with ice. If you want a little extra cinnamon flavor, you can top it off with an extra dusting of the spice, or you can use a whole cinnamon stick as a swizzle stick.
Horchata pairs naturally with Latin-American foods such as elote, empanadas, and pupusas, but you don't need to limit yourself to pairing it only with such south-of-the-border treats. Olayinka says, "I would serve it after a savory meal," but she also says it's "definitely a dessert type of drink." And what, after all, could be better than a cinnamony, milky beverage to accompany a slice of apple pie? You could even add a slug of rum to make a delicious after-dinner drink reminiscent of RumChata.
This horchata lends itself to some simple tweaking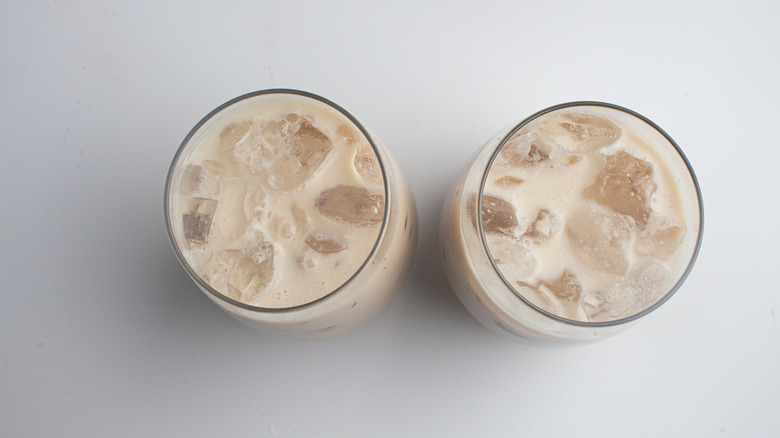 Susan Olayinka/Mashed
While white rice and almonds are pretty standard horchata ingredients, that doesn't mean you can't spin off a few variants. For starters, it's very easy to change out the nuts. The Spanish version of horchata, which predates the Mexican one by several centuries, is made with tiger nuts, but Olayinka tells us "macadamia nuts or cashew nuts would be great to blend." You could also make non-dairy horchata with almond milk, coconut milk, or any other type of plant-based milk. Even the rice can be swapped out for a different variety. Brown rice gives horchata a slight nuttiness, but you may also enjoy the slightly different flavors provided by basmati or jasmine rice.
Easy Horchata Recipe
This horchata recipe is out-of-this-world good. You're bound to develop a craving for it before you hit the bottom of that first glass.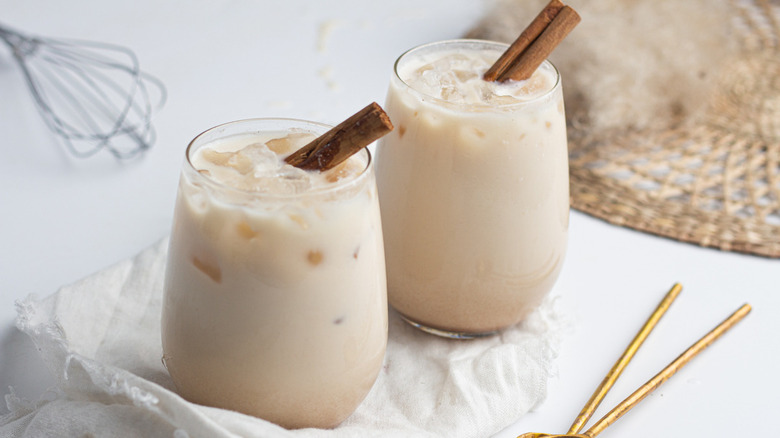 Ingredients
1 cup white rice
¼ cup almonds
6 cups water
1 ½ cups condensed milk
1 ½ cups evaporated milk
1 teaspoon ground cinnamon
1 teaspoon vanilla extract
1 tablespoon sugar
2 cups ice
Optional Ingredients
Cinnamon sticks, for garnish
Directions
Soak the white rice and almonds in the water for 12 hours or overnight.
Pour the water, rice, and almonds into a blender and blend on high for 1 minute.
Strain out the almonds and rice using a large sieve over a bowl.
Rinse the blender, then fill it with the strained liquid.
Add the condensed milk, evaporated milk, cinnamon, vanilla extract, and sugar to the blender, and blend on medium for 20 seconds.
Fill glasses with ice cubes and add horchata.
If desired, garnish horchata with an additional sprinkling of cinnamon or a whole cinnamon stick.
Serve and enjoy.
Nutrition
| | |
| --- | --- |
| Calories per Serving | 296 |
| Total Fat | 8.8 g |
| Saturated Fat | 4.4 g |
| Trans Fat | 0.0 g |
| Cholesterol | 26.6 mg |
| | |
| --- | --- |
| Total Carbohydrates | 46.5 g |
| Dietary Fiber | 0.6 g |
| Total Sugars | 30.2 g |
| Sodium | 106.3 mg |
| Protein | 8.3 g |