Copycat KFC Fried Potato Wedges Recipe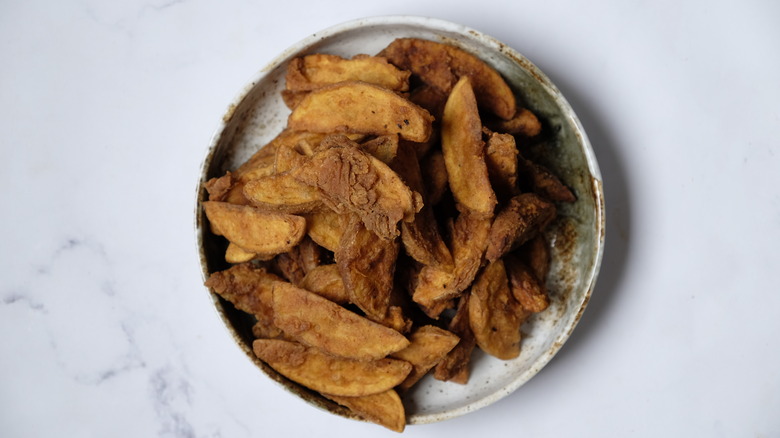 Eric Ngo/Mashed
It was a sad day for many KFC fans when, in late 2019, the fried chicken giant announced it was pulling its beloved fried potato wedges from its menu. Never mind that those wedges were replaced by "secret recipe fries," which were meant to appease diners with a new type of potato side. The move was hurtful to those of us who counted those toothsome, crispy-edged potato wedges among their favorite sides for a bucket of Original Recipe chicken. And it was hurtful once again to discover that, in 2020, KFC was actually going through with this seemingly arbitrary and capricious decision. Well, fried potato wedge lovers, there'll be no more tears thanks to photographer and recipe developer Eric Ngo, who developed this copycat recipe for KFC's erstwhile fried potato wedges. If you can't get them at the restaurant, you can now surely make them in your very own home kitchen.
In fact, it's quite likely that you'll like Ngo's version of fried potato wedges even better than KFC's. The originals were, let's face it, mass-produced from frozen spuds and fried in oil that may have been sitting around for ... well, let's just say that it's a safe bet that the oil you'll end up using at home will likely be fresher than the oil they may have used at your local KFC.
Gather your ingredients for your copycat KFC fried potato wedges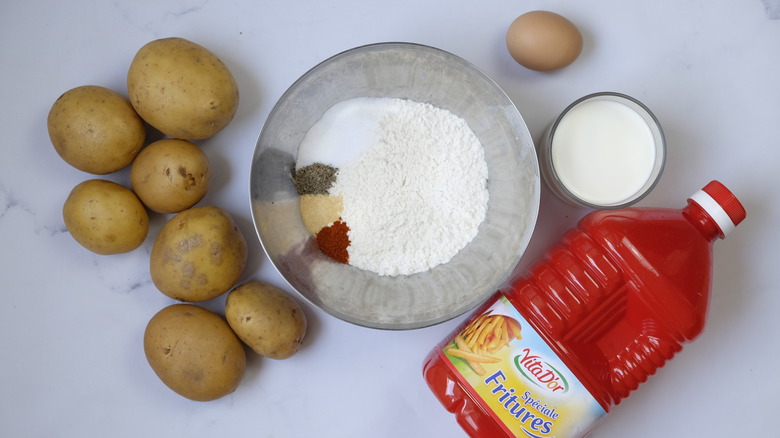 Eric Ngo/Mashed
To make Eric Ngo's copycat KFC fried potato wedges, you'll need, of course, some potatoes. Specifically, two pounds of potatoes. Ngo recommends the russet variety for this recipe, specifically because not all potato varieties possess the same level of starch, and russet potatoes have just the right amount for fried potato wedges. Russet potatoes also have a nice, thick skin that will crisp up nicely as it fries. This recipe for fried potato wedges presumes that you won't be peeling your potatoes, so russets (which are likely readily available at your local grocery store) are really your best bet.
In addition to potatoes, you'll need 1 cup of flour, 1 tablespoon of salt, 1 teaspoon of black pepper, ½ teaspoon of garlic powder, ¼ teaspoon of paprika, and ½ teaspoon of onion powder. To make those spices adhere to your potato wedges, you'll need the help of 1 cup of milk and 1 large egg. You'll also need a neutral oil for frying, like vegetable or canola oil. The amount of oil you need depends on the size of the skillet you're using to fry the potato wedges. Whatever the size, you'll need around 2 inches deep of oil to get those potato wedges perfectly crispy.  
As for kitchen equipment, you'll also need 3 large bowls, along with a colander, a skillet, and a strainer.
Do this to ensure your fried potato wedges look amazing as they'll taste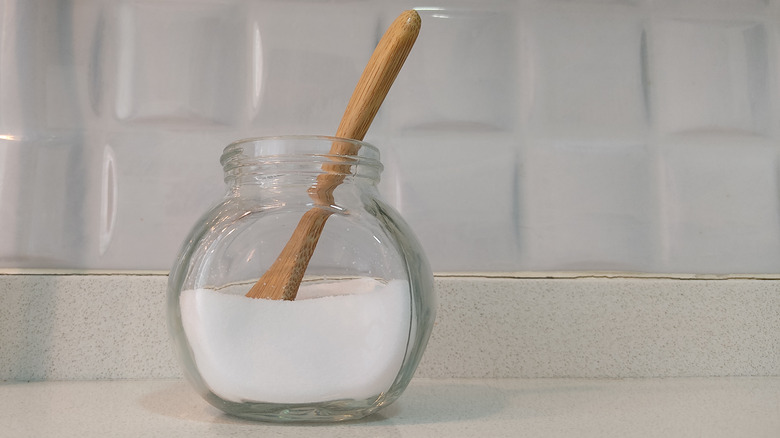 Shutterstock
This trick may seem overly simple, but it can ensure that the finished potato wedges will look professional and appealing. First, grab a bowl that's big enough to hold two pounds' worth of potato wedges plus plenty of water. Fill the bowl halfway with cool water, then add a tablespoon of salt to the water. 
So, why are we doing this? This bowl is where you'll store the potato wedges as you prep their seasoning and then season them. The reason Ngo recommends this is that potatoes have a tendency to oxidize, meaning they turn an unsightly brown rather quickly once they're exposed to the air. Storing them in salt water should help to keep your potato wedges from browning, in part because they won't be sitting around in the open air. This will also help you feel less rushed as you're working your way through the rest of the recipe, resulting in a relaxed cook and some seriously nice-looking spuds.
Wash and cut your potatoes into wedges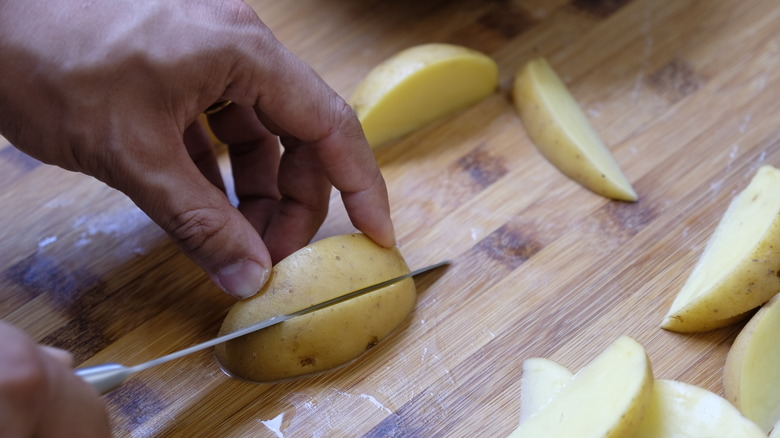 Eric Ngo/Mashed
First things first: wash your potatoes in warm running water to ensure that all dirt and debris have been cleaned off the spuds. Then, using a sharp paring knife, cut out any visible shoots, also often called "eyes". And, yes, it is generally safe to eat sprouted potatoes, so long as you remove those sprouts first to avoid any intestinal upset or other issues.
Now, grab a sharp chef's knife that's longer than the longest potato you have. In most cases, a 7-inch chef's knife will fit the bill just fine. Using your chef's knife, slice the potatoes in half and then into wedges as shown. As you slice the wedges, place them into that bowl of salted water that you have already prepared.
Prepare your potato wedges assembly line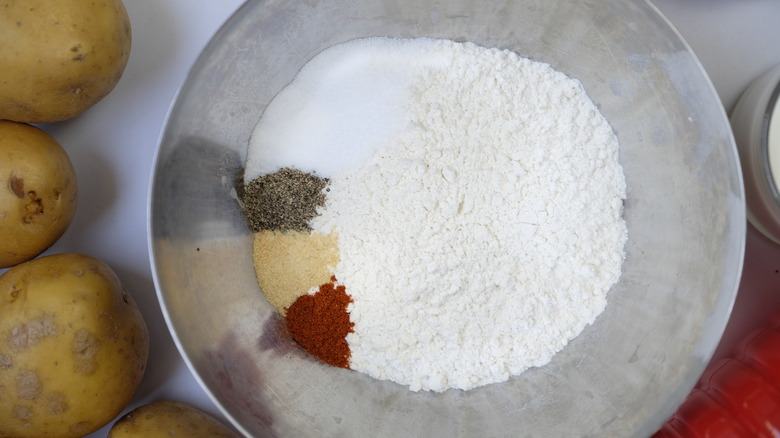 Eric Ngo/Mashed
The way you're going to get that true copycat KFC flavor from your fried potato wedges is by creating a sort of "batter" for them, though it's likely different and a bit simpler than other frying batters you've made before. You'll be doing this in two mini-steps — first by dipping the wedges into a mixture of milk and egg and then by dipping them into a mixture of flour and spices. 
To make this process go smoothly, Ngo suggests creating a mini-assembly line as follows. First, measure out your flour, salt, black pepper, garlic powder, paprika, and onion powder into a bowl, then mix to thoroughly combine all of these dry ingredients. Then, in another bowl, break the egg, and whisk it together with the milk until the mixture is smooth and few traces of yolk remain visible. 
Coat the potato wedges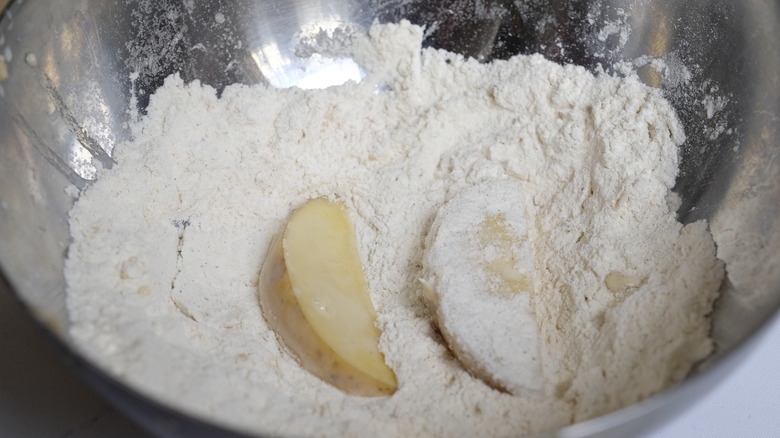 Eric Ngo/Mashed
Next, place your colander in your sink. Go back to your waiting bowl of potato wedges in salted water and them transfer to the colander. Shake gently to encourage the salted water to drain. 
Immediately take a handful of potato wedges out of the colander and dip them into the waiting milk and egg mixture. Then, move them into the flour seasoning and toss gently to coat fully, ensuring all sides of the wedge are evenly coated. As you finish taking each handful of potato wedges through your little assembly line, place the fully-coated wedges onto a waiting plate or, as Ngo recommends, a wire rack on top of a plate. That should help with air circulation and ensure that the coating remains evenly dry.
Fry those copycat KFC fried potato wedges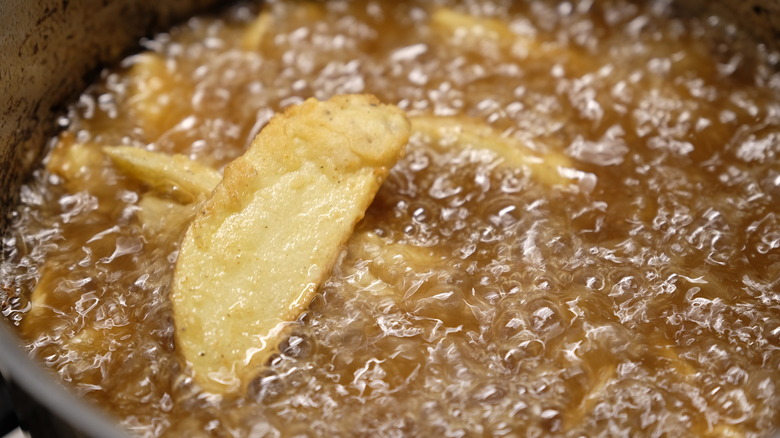 Eric Ngo/Mashed
Next, get out a skillet that is large enough to accommodate 2 inches of oil with room at the top for air to circulate. Pour your oil into the skillet, then heat it on medium-high heat until it reaches 350 degrees Fahrenheit, which is the perfect temperature for both frying and getting that lovely Maillard reaction going. Ideally, you'll use an oil thermometer or infrared thermometer to ensure that the oil is at just the right temperature.
Once the oil has reached that desired temperature, use your strainer to gently lower a handful of potato wedges into the bubbling oil, being careful not to crowd the skillet with potato wedges. If you do overcrowd the skillet, it could lower the overall temperature of the frying oil and result in greasy, undercooked potato wedges. It's far better to practice just a bit of patience and work in batches as needed.
It should take anywhere from seven to nine minutes for the wedges to fry up to the perfect golden brown color, at which point you'll want to use the strainer to safely remove them from the oil. Transfer the cooked wedges to a plate or a wire rack on top of a plate, and allow to cool for 5 minutes before serving.
Copycat KFC Fried Potato Wedges Recipe
This copycat recipe for KFC's fried potato wedges is just right. If you can't get them at the restaurant, you can now make them in your very own home kitchen.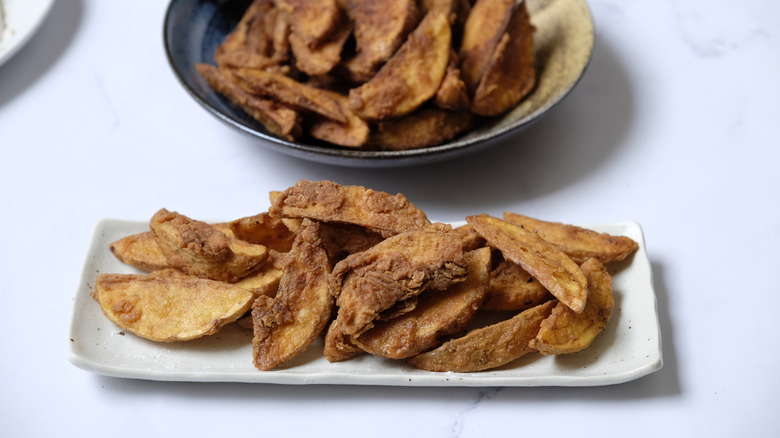 Ingredients
2 tablespoons salt, divided
2 pounds large russet potatoes
1 cup flour
1 teaspoon ground black pepper
½ teaspoon garlic powder
¼ teaspoon paprika
½ teaspoon onion powder
1 cup milk
1 large egg
Oil for frying
Directions
Fill a large bowl with cool water. Add a tablespoon of salt to the water, mix, and set aside.
Wash potatoes and cut them into wedges.
Combine flour, salt, pepper, garlic powder, paprika, and onion powder in a bowl. Combine the milk and egg in another bowl.
Drain potato wedges.
Dip potato wedges first into the milk and egg mixture and then into the seasoned flour to coat thoroughly, placing the coated wedges on a waiting plate.
Heat 2 inches of oil in a skillet over medium heat to 350 degrees Fahrenheit.
Gently use a strainer to lower potato wedges in batches into the oil. Allow them to turn golden brown, which should take about 7 to 9 minutes.
Transfer to a plate. Allow the wedges to cool for 5 minutes before serving.
Nutrition
| | |
| --- | --- |
| Calories per Serving | 806 |
| Total Fat | 55.0 g |
| Saturated Fat | 5.4 g |
| Trans Fat | 0.2 g |
| Cholesterol | 52.6 mg |
| | |
| --- | --- |
| Total Carbohydrates | 68.8 g |
| Dietary Fiber | 4.1 g |
| Total Sugars | 4.7 g |
| Sodium | 893.6 mg |
| Protein | 11.7 g |