Robert Irvine Just Teamed Up With Boston Market To Create 2 New Dishes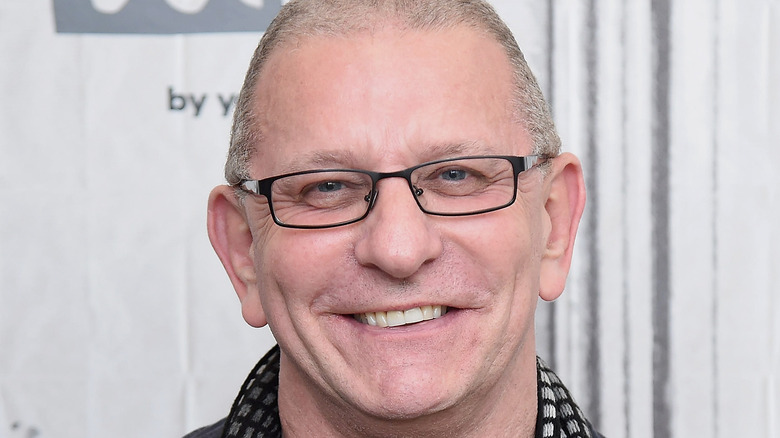 Gary Gershoff/Getty Images
For centuries, food has been seen as something that is communal. According to The Atlantic, eating together is something "quintessential" that is part of the human experience. Traditions of how food brings people together can be traced to the women of Mesopotamia (and even further back) and have continued to evolve ever since. A National Geographic report relates how food has always meant more than just plain survival; it was a time where people could share their blessings with their friends and loved ones as they gathered around the hearth.
This is something that famed TV personality, chef, and (per U.S. Veterans Magazine) Royal British Navy veteran Robert Irvine understands very well, which is why he and Boston Market teamed up to celebrate military personnel, first responders, and their families. In a tweet, The Robert Irvine Foundation announced that they and Boston Market have joined forces in an effort to provide support for the everyday heroes of the United States and their families.
The Robert Irvine Foundation teamed up with Boston Market to create two new limited time menu items
So, what can folks expect to find when they roll into their local Boston Market? Through his personal Twitter account, Irvine reveals that guests of the restaurant, fans of his, and fellow supporters of the Armed Forces can indulge in a new pulled pork sandwich and a quarter-chicken with smoked cheddar pork sausage platter. Philly ChitChat reports that all the Irvine-inspired meals will be available at all Boston Market restaurants from July 1-11, and if ordered via Boston Market's website or app are eligible for free delivery if orders are over $8.99.
The Robert Irvine Foundation's goal is to help "military (active and veterans), first responders, their families, and those in need through resiliency, health, and wellness programs, in addition to the financial support of top-rated military and responder organizations." So, for Irvine, teaming up with Boston Market was a no-brainer, as he believes that food — as always — has the power of bringing people together.