Quick 15-Minute Marinara Recipe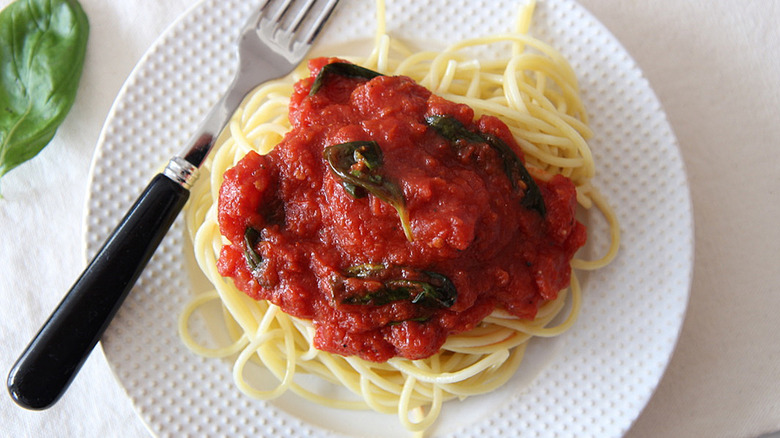 Jason Goldstein/Mashed
The exact origins of marinara sauce are up for debate, as with many long-standing recipes, but the common theory is that it was created somewhere in southern Italy hundreds of years ago, according to Paesana. Many point to souther Italy, with the city of Naples or the island of Sicily as the two most popular birthplaces of marinara. According to Viga Catering, the popular sauce was named after Italian sailors, also known as "marinai". According to legend, it was these sailors who originally crafted the sauce during their long travels across the ocean, where the simple yet filling tomato-based marinara was ideal for their daunting adventures. The basic ingredients of a marinara sauce are also said to be resistant to spoilage, pretty key for extended trips on a ship without refrigeration. Others claim that sailors' wives made the sauce upon their husbands' return.
Whether Italian sea explorers or their spouses were the masterminds behind marinara, it's undeniable that the massive popularity of the sauce today is largely due to both its simplicity and heartiness. Some traditional marinaras may seem to take forever to cook but, lucky for you, recipe creator Jason Goldstein of Chop Happy has a tasty marinara recipe that takes just 15 minutes to make it from stove to table. That's after a lightning-fast one minute of preparation, too. Now, let's take a look at what you need to get started. 
Gather your marinara ingredients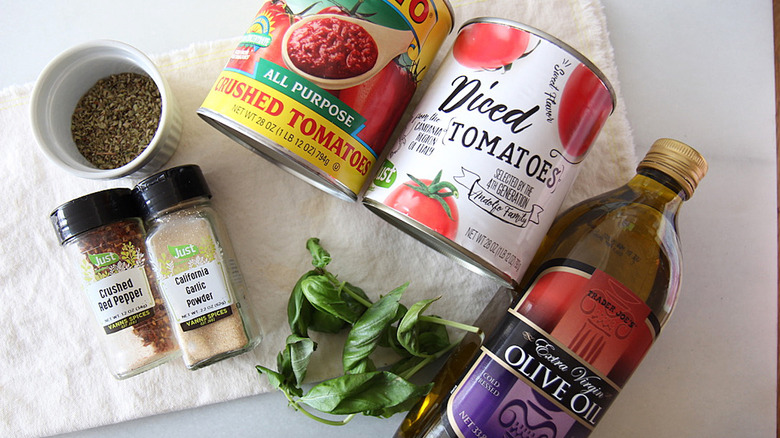 Jason Goldstein/Mashed
This is a pretty simple recipe, so you probably won't have to make a visit to more than two aisles at your local grocery store (and that's assuming you don't already have some or even all of these ingredients at home already). Start by grabbing some olive oil, oregano, red pepper flakes, a can of chopped or diced tomatoes, and a can of crushed tomatoes. You'll also need garlic powder, pepper, salt, and basil leaves.
Goldstein recommends extra virgin olive oil in particular because it lends a nice "fruit flavor" to the final sauce. Other varieties of olive oil may also lend a peppery flavor, depending on the particular brand. And while it's true that most extra virgin olive oils would lose their refined flavor in a simmering sauce, the quick cook time in this recipe actually helps to preserve the oil's taste. But if you're not a fan of olive oil, feel free to swap it out for the oil of your choice, such as coconut oil, avocado oil, or canola oil.
Heat your marinara ingredients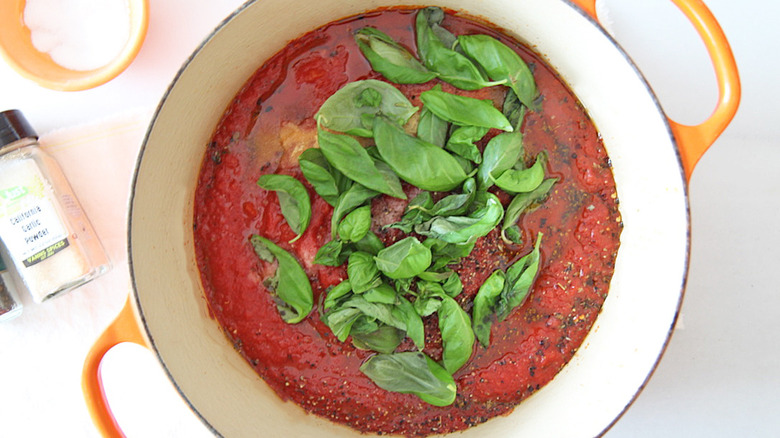 Jason Goldstein/Mashed
Start by getting a pot onto the stove and adding your olive oil, oregano, and red pepper flakes inside. Now, set it to medium heat and leave the mixture to soak in the warmth for 3 minutes. Next, add the cans of chopped or diced tomatoes and crushed tomatoes, as well as your garlic powder, salt, pepper, and freshly chopped basil leaves. Just be sure to leave a few chopped basil leaves set to the side. You'll be using those for garnish at the end of the recipe.
Once all of the ingredients are in your pot, gently stir everything together until everything is fully incorporated and the resulting sauce is of an even consistency.
Bring the sauce to a boil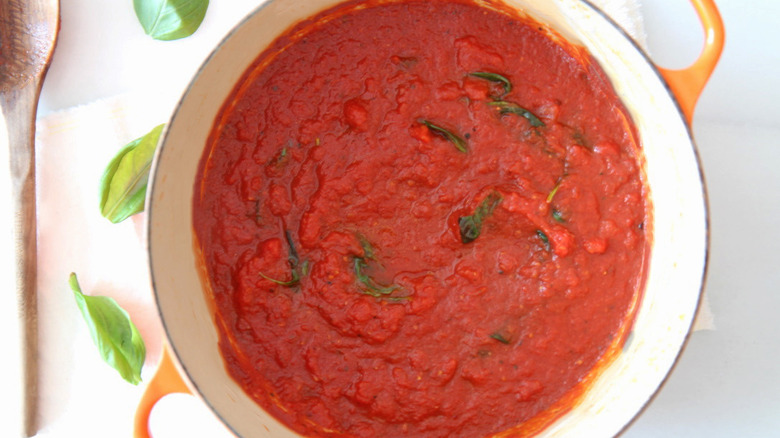 Jason Goldstein/Mashed
When the ingredients are in your pot and properly mixed together, you can now turn the heat up and bring the sauce to a boil. This should take about 2 minutes. You'll know your sauce is boiling when it begins to splatter, so watch out for any stray drops of scalding sauce (and remind yourself to give the cooled stovetop a quick wipe-down afterward if necessary).
When your sauce has started boiling, reduce to low heat to simmer the mixture. Partially cover the pot and let it cook at that temperature for 10 minutes.
Why is all the boiling and simmering so important here, anyway? Goldstein pointed to the most important part of any recipe: flavor. "Boiling first helps to bring the whole mixture to the same temperature, and then simmering allows the flavors to dance together!" he said.
Serve your marinara sauce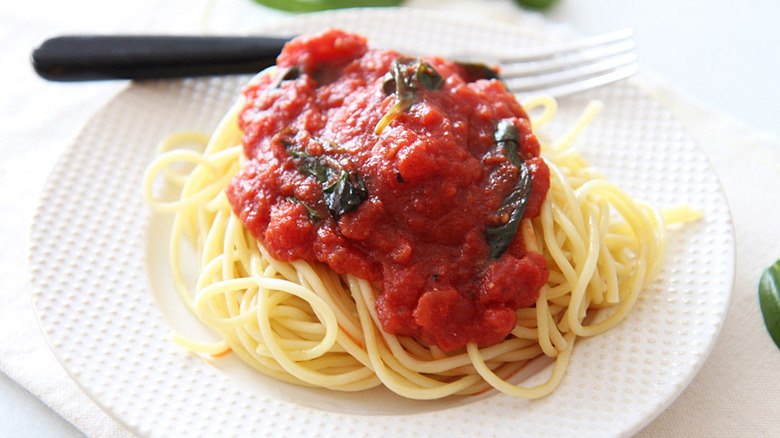 Jason Goldstein/Mashed
There's one final step before you dive into your freshly made sauce: garnishing it! Sprinkle the remaining fresh basil leaves across your final product. And if you're going to add in some extra toppings, now is the time to do so. These can include parsley, Parmesan cheese, or a little additional hit of extra virgin olive oil.
Now you can pour this delicious sauce over the pasta of your choice and see why it has maintained its popularity for so long. "Any pasta works, and it can even be used as a sauce for lasagna. I also use it as a basis for chicken parmesan!" Goldstein said.
This is also a great recipe to make some extra for later, as you can store this sauce in a freezer bag for up to 6 months. That makes it especially well-suited for quick weeknight dinners later, make-ahead meals, and anything else that calls for a quick meal turnaround with great marinara flavor.
Quick 15-Minute Marinara Recipe
Some traditional marinaras may take a long while to cook but, lucky for you, we have a tasty and hearty marinara recipe that takes just 15 minutes to make.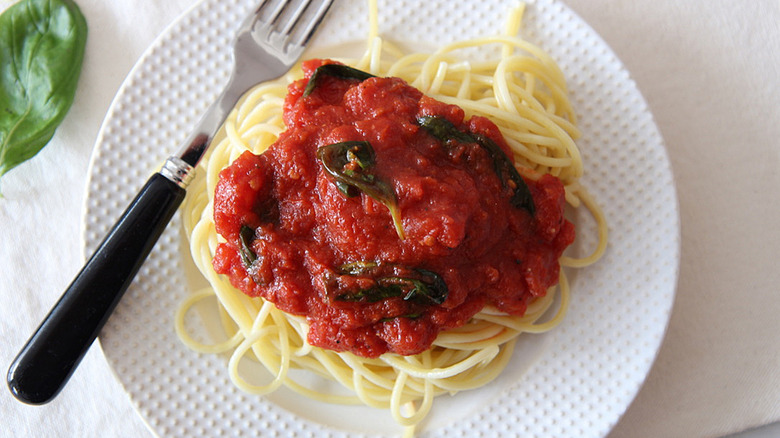 Ingredients
3 tablespoons extra virgin olive oil
2 teaspoons oregano
1 teaspoon red pepper flakes
1 14.5-ounce can chopped tomatoes
1 14.5-ounce can crushed tomatoes
1 teaspoon garlic powder
2 teaspoons pepper
1 teaspoon salt
15 basil leaves, chopped
Optional Ingredients
Parsley
Parmesan cheese
Olive oil
Directions
Place the extra virgin olive oil, oregano, and red pepper flakes in a pot. Heat to medium and let sit for 3 minutes.
Add the canned chopped tomatoes, canned crushed tomatoes, garlic powder, salt, pepper, and basil leaves into the pot. Reserve a small amount of basil leaves for garnish later.
Stir everything together until the sauce is an even consistency.
Turn up the heat to high and allow the sauce to come to a boil.
Reduce to low heat. Partially cover the pot and let it simmer for 10 minutes.
Remove from heat. Add the extra basil and your choice of additional garnishes. Serve and enjoy!
Nutrition
| | |
| --- | --- |
| Calories per Serving | 147 |
| Total Fat | 10.8 g |
| Saturated Fat | 1.5 g |
| Trans Fat | 0.0 g |
| Cholesterol | 0.0 mg |
| | |
| --- | --- |
| Total Carbohydrates | 13.1 g |
| Dietary Fiber | 4.6 g |
| Total Sugars | 7.3 g |
| Sodium | 512.7 mg |
| Protein | 2.9 g |