Authentic Curtido Recipe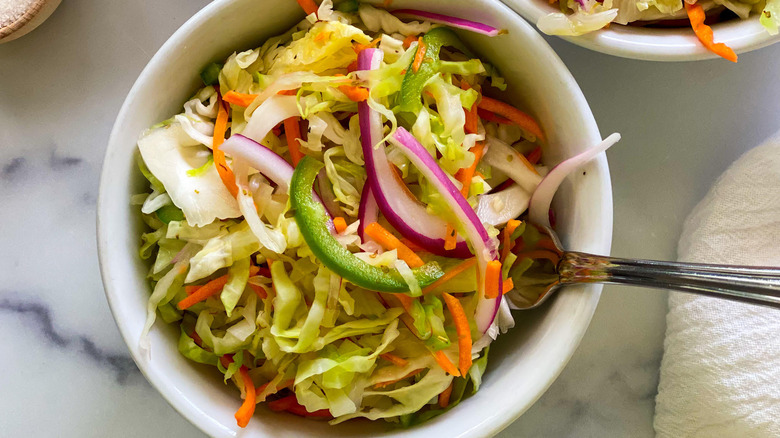 Miriam Hahn/Mashed
Take one look at a bowl of curtido and you'll almost certainly think to yourself, "Now that is something I want to eat!" But hearing the name "curtido" may prompt you to ask, "Wait, what is curtido, anyway?"
Chef and recipe developer Miriam Hahn of YouCare-SelfCare says that "curtido is a Salvadoran slaw with a similar taste to sauerkraut, [though] curtido is made with vinegar and sauerkraut is made with a salt brine so it's much milder than sauerkraut." In other words, it's arguably a good deal more versatile, as curtido tends to blend with and accentuate the flavors of many dishes rather than overpowering them. Consider putting it on everything from tacos, to pitas, to even hot dogs. And, of course, it works great as a side, like as an impressive dish for your next barbecue cookout. Really, the sky's the limit when it comes to this lightly fermented side.
Oh, and one other benefit this "Salvadoran slaw" has over its European counterpart? It's much, much faster to make than traditional sauerkraut and still has many of the same benefits. "I love making sauerkraut also, especially for the probiotic aspect," says Hahn, "but it takes two weeks to ferment so if you are going for something similar that is a snap to make, this is it!" Get ready to make this refreshing slaw in your kitchen, too.
Gather your ingredients for authentic curtido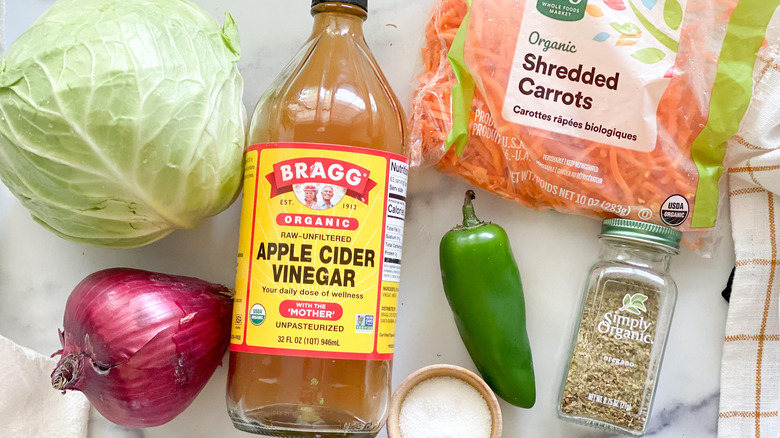 Miriam Hahn/Mashed
To prepare a batch of this curtido, you'll need a few common ingredients that you'll soon bring together in a unique way. First, you need most of a head of green cabbage, with the core removed and the leaves shredded. Ultimately, you'll want around 6 to 7 cups of shredded cabbages.
You'll also need plenty of boiling water, some thinly sliced red onion, about a cup of shredded carrots ( you can use pre-shredded to save time and effort), and ½ or a whole jalapeño pepper depending on your heat tolerance, with its seeds removed and thinly sliced. Finally, get some dried oregano, salt and apple cider vinegar (you can substitute rice wine vinegar or white vinegar in its place if need be).
The health benefits of curtido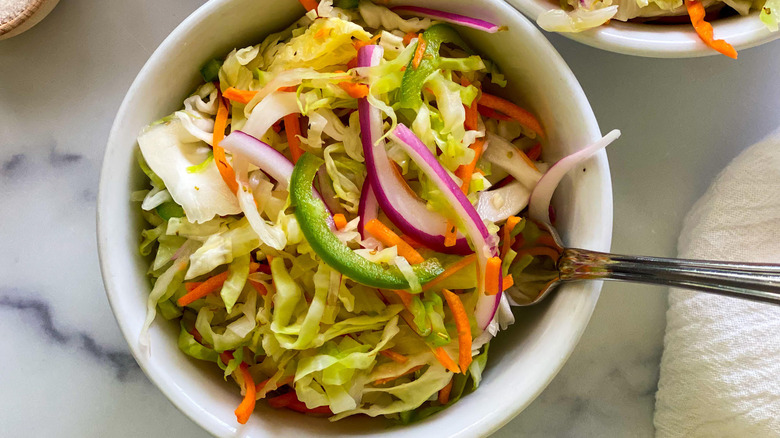 Miriam Hahn/Mashed
You'll definitely want to make Salvadoran curtido because it is absolutely delicious and goes well with so many different kinds of foods. The fact that it's quite healthy as well is also just another major point in its favor. According to Colorado State University, this "lightly fermented Salvadoran cabbage" can provide all of the gut-healthy benefits of other fermented probiotic foods, can help make other nutrients more readily available to your body, and can contribute to the formation of many important compounds, from protein to antioxidants.
So, make curtido for the taste and definitely appreciate it for the health benefits that this slaw brings to the table and your body. Either way, you will likely decide you always want to have a jar of this tasty stuff chilling at the ready in the fridge.
Shred the veggies then blanch the cabbage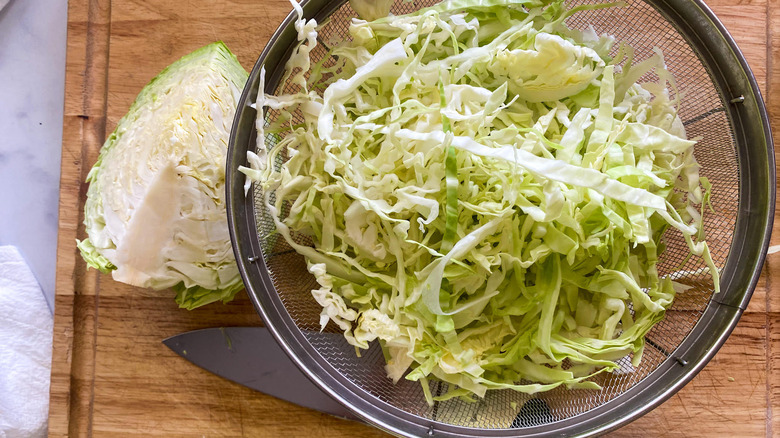 Miriam Hahn/Mashed
To make the curtido, begin by prepping all of the vegetables. That means removing the core from the cabbage and chopping the leaves into thin strips. This will leave you with what seems like a lot of cabbage, but the next few steps in the process will reduce some of the veggie's volume. Next, continue by thinly slicing half of the red onion, then removing the top and seeds from the jalapeño and slicing that as well. Finally, measure out the carrots (of course, shredding them first if you did not buy the pre-shredded variety). 
Now, put the shredded cabbage in a colander and pour boiling water over it to saturate and soften the leaves. "I use a tea kettle," says Hahn. Once that's done, rinse the cabbage with cold water to stop it from wilting too much, then dry it as much as possible with a clean dish towel or paper towels. If you have a salad spinner handy, that should work well, too.
Combine all ingredients, mix well, then chill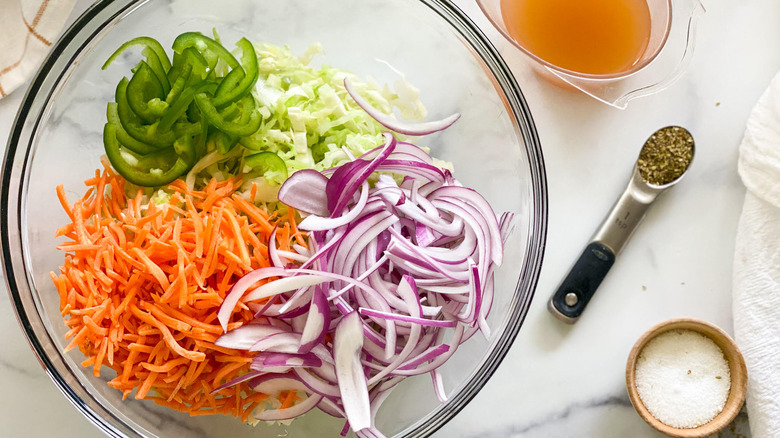 Miriam Hahn/Mashed
Get a large bowl and place the cabbage into it along with the sliced onions, carrots, and jalapeño. Sprinkle the oregano and salt on top and pour over the vinegar. Mix everything together well, ensuring that everything is evenly blended and that the vinegar and seasonings have coated the vegetables as much as possible. Now cover the bowl with plastic wrap or foil cinched tightly and put the curtido into the refrigerator, where you should let it sit for at least a few hours. Yes, there is some patience required here, but you can always remind yourself that this is nowhere near the weeks-long effort required for something like sauerkraut or kimchi. 
After some chill time in the fridge, your ultra-fresh, authentic curtido is now ready to serve up to hungry diners. As for how to serve it, you have plenty of options at hand. "I love to serve this as a side dish with soup, sandwiches or anything off the grill," Hahn says."Or, it is also great to add inside of a wrap, burrito or pita sandwich."
And if you have leftovers, you're in luck, as this slaw will stick around for a while under the right storage conditions. "It will keep in the fridge for up to a week," Hahn says, adding that "Mason jars work well [to store the curtido] or anything with an air-tight seal."
Authentic Curtido Recipe
This fresh, lightly fermented slaw from El Salvador is much faster to make than traditional sauerkraut and still has many of the same gut-healthy benefits.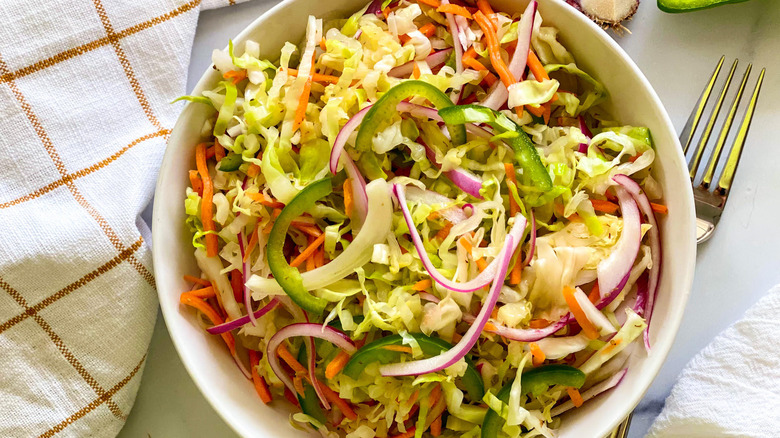 Ingredients
½ - ¾ head green cabbage, core removed and shredded (about 6 - 7 cups)
6-8 cups boiling water
½ red onion, thinly sliced
1 cup shredded carrots
½ - 1 jalapeño pepper, seeds removed, thinly sliced
1 teaspoon dried oregano
½ teaspoon salt
½ cup apple cider vinegar
Directions
Put the shredded cabbage in a colander. Pour boiling water over it to saturate and soften the leaves.
Rinse the cabbage with cold water and dry as much as possible with a clean dish towel or paper towels.
Add the cabbage to a large bowl, along with the onions, carrots, jalapeño, oregano, salt, and vinegar. Mix well.
Cover and put in the refrigerator for a few hours, then serve.