Easy Green Chile Mac & Cheese Recipe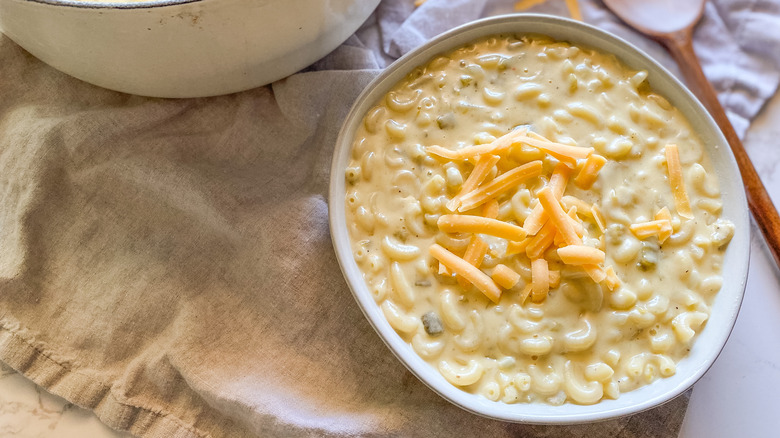 Kristen Carli/Mashed
We might think of mac and cheese as a uniquely American dish, but history tells us otherwise. As Smithsonian Magazine points out, the earliest recipe for this quintessential comfort food was found in Northern Europe and dates back to 1769, while the American colonies were still very much British territory. It still has a bit of a colonial pedigree, however. Like ice cream, it even has a connection to Thomas Jefferson, who brought mac and cheese back to the colonies after his time in France as ambassador. The dish was even considered fancy enough to be served at a presidential state dinner in 1802. Today, however, it's very much considered to be comfort food, thanks in part to the effort of Kraft Foods and its ubiquitous boxed mac and cheese.
That doesn't mean mac and cheese is a throwaway meal, though. As anyone will tell you, a dish of homemade mac and cheese will stand head and shoulders above its boxed cousin. Let's face it — there's nothing like pasta swimming in a sauce made with real cheese and real milk. Recipe developer Kristen Carli's version comes spiced with green chile, giving this classic a memorable kick you'll enjoy.
Gather ingredients for easy green chile mac & cheese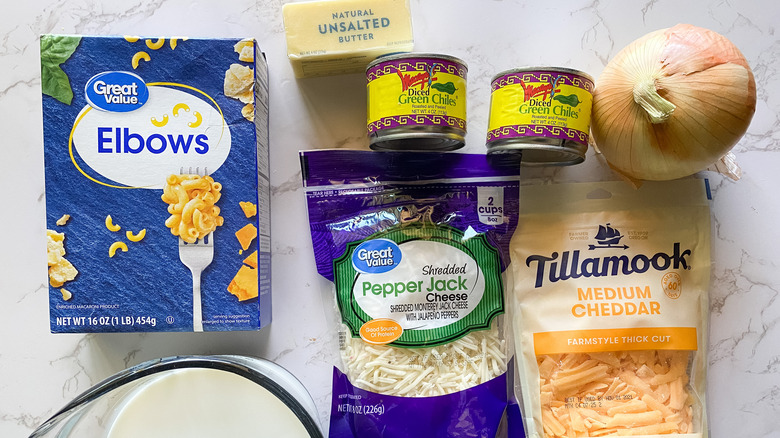 Kristen Carli/Mashed
Pulling together this decadent, flavorful version of mac and cheese is actually pretty straightforward, using ingredients that may already be waiting in your pantry and kitchen. The dish calls for elbow macaroni, olive oil, an onion, unsalted butter, flour, whole milk, diced green chiles, pepper jack cheese, sharp cheddar cheese, salt, and pepper. And while it might be called "mac and cheese" there's no reason to limit yourself to one particular type of pasta. Carli says you're more than welcome to use any type of pasta. "This would be great with orecchiette as well!" she suggests.
While the recipe is already vegetarian, it could be a challenge to take it to the next level and make it vegan. Carli says: "Unfortunately, I do not think this one is easily substituted to make vegan. I would guess that cashew milk or coconut milk would be the best nondairy milks to try, but the key would be to find a good melting vegan cheese – that is always the tricky part!" To make a gluten-free version of this recipe, Carli recommends using cornstarch instead of flour for the roux, and gluten-free pasta instead of regular pasta.
Cook the pasta and begin the sauce in a separate pan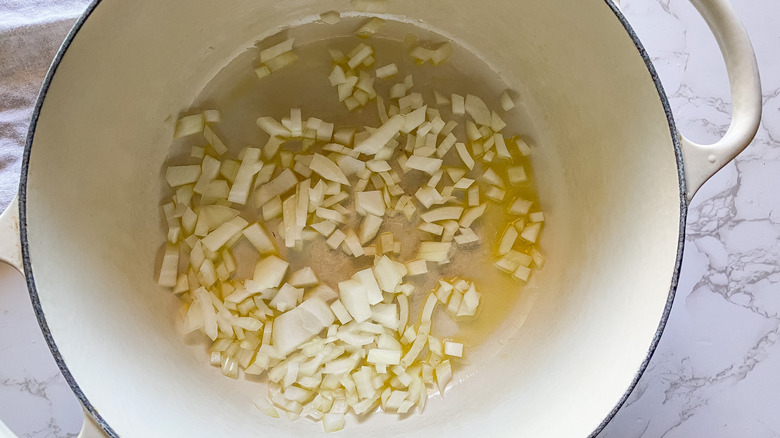 Kristen Carli/Mashed
Begin by bringing a large pot of water to boil, then cook your elbow mac or pasta of your choice according to the instructions on the package. Be sure to aim more for an al dente texture, lest you end up with mushy pasta in your final dish. 
While you are waiting on the pasta to finish cooking, warm up your olive oil in a Dutch oven over medium heat, then add the diced onions and saute until the onion bits are translucent and fragrant. While many of us are tempted to skip this step, it's pretty imperative that you don't. Cook's Illustrated explains that onions contain different kinds of flavor-building molecules and proteins. While chopping them up releases one type of enzyme, cooking them allows onions to release other compounds that make them taste sweeter and more rounded.
Start the roux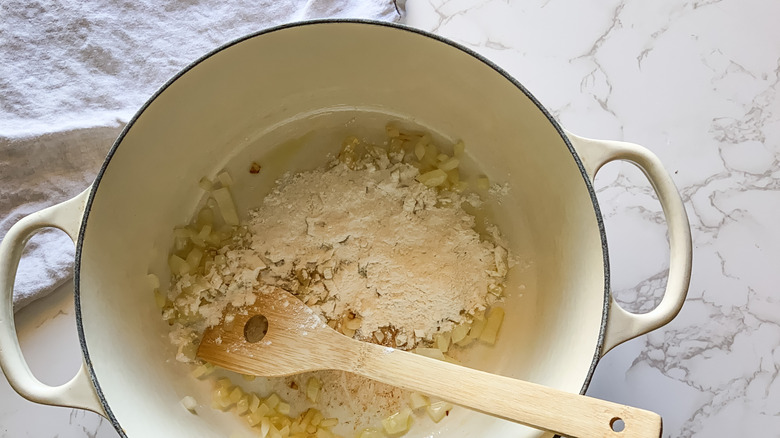 Kristen Carli/Mashed
Once the onions are ready, add the butter and, when that is melted, add the flour and milk. Whisk this mixture, making sure all ingredients are evenly combined and there are no lumps. This step might sound familiar to those who have made a traditional roux, or a kind of paste that's initially made out of flour and a fat, like oil or butter. That's because this flour and fat roux mixture is the foundation for many of the mother sauces seen in classic styles of cooking, like the bechamel that's key to so many fine macaroni and cheese and recipes.
If you feel a bit iffy about using whole milk, since it does admittedly have a higher fat content compared to other varieties, Carli says it is perfectly fine to use low-fat or skim milk. That said, you will not get the same decadent texture in the final product, so choose accordingly.
Finish up the easy green chile mac & cheese
Kristen Carli/Mashed
Once the roux is silky, remove the pan from the heat, then add in the green chiles and shredded cheeses. Stir this mix of ingredients thoroughly in order to melt the cheese and to make sure everything is properly combined. Then, add the drained pasta to the pan and mix again. Add salt and pepper to taste.
While the recipe suggests cheddar and pepper jack cheese, Carli says there's room to play with the final cheese mixture that makes it to the pot. "I recommend pepper jack cheese to add a bit of a kick, but if you do not have any, you can use Monterey jack and cheddar cheese combined. The combination of two cheeses is important to balance flavor." If you do play around with the cheese mixture, lean towards softer, fast-melting cheeses that will easily incorporate with everything else for a wonderfully cheesy, gooey mac & cheese.
Easy Green Chile Mac & Cheese Recipe
Homemade mac and cheese stands head and shoulders above boxed ones. This version comes with green chile, giving this classic a memorable kick you'll enjoy.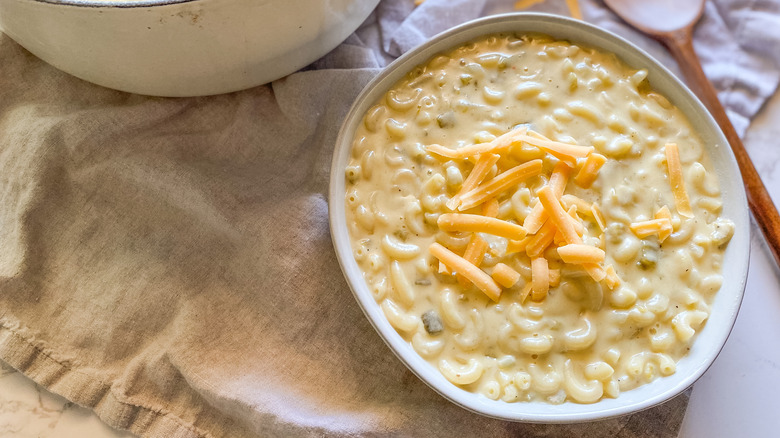 Ingredients
1 pound elbow macaroni
1 tablespoon olive oil
½ yellow onion, diced
½ stick of unsalted butter
¼ cup flour
3 cups whole milk
2 4 ounce cans diced green chiles
2 cups shredded pepper jack cheese
1 ½ cups shredded sharp cheddar cheese
1 teaspoon salt
½ teaspoon pepper
Directions
Bring a large pot of water to a boil. Add pasta and cook according to package directions.
In the meantime, add olive oil to a large Dutch oven over medium heat. Add onion. Cook until translucent, about 5 minutes.
Add butter and allow it to melt. Once melted, add flour and milk. Whisk to combine. Continue to cook for about 5 minutes.
Remove from heat. Add green chiles and cheese. Stir to combine and melt the cheese.
Drain pasta and add to cheese. Stir to combine. Add salt and pepper.
Nutrition
| | |
| --- | --- |
| Calories per Serving | 579 |
| Total Fat | 29.7 g |
| Saturated Fat | 16.8 g |
| Trans Fat | 0.5 g |
| Cholesterol | 78.9 mg |
| | |
| --- | --- |
| Total Carbohydrates | 52.4 g |
| Dietary Fiber | 2.6 g |
| Total Sugars | 6.7 g |
| Sodium | 592.9 mg |
| Protein | 25.1 g |