The Surprising Name Kanye West's Entourage Used To Snag A Table At This Famous Restaurant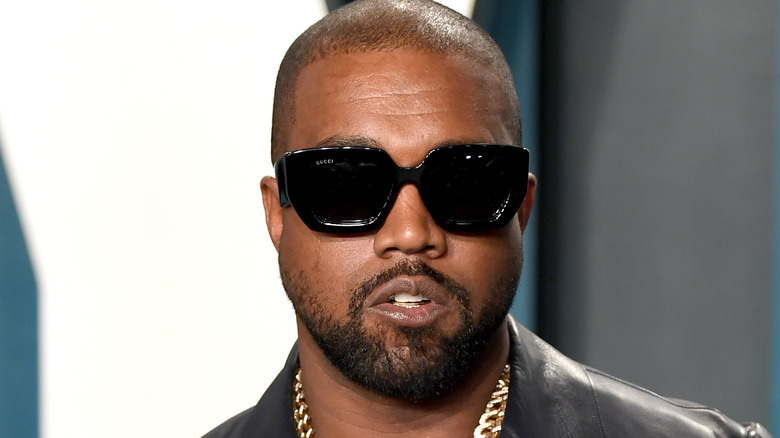 Karwai Tang/Getty Images
San Francisco Thai restaurant Nari is among the most prestigious restaurants in the Bay Area. Owned and directed by celebrated chef Pim Techamuanvivit, the venue has received rave reviews from The New York Times and maintains a Top 10 position on Eater's "best of" San Francisco dining list.
Due to its growing cachet, Nari is accustomed to visits from celebrities (and even has an official policy barring the use of social media in the restaurant while famous folk are dining, according to the San Francisco Chronicle). 
The latest celebrity diner was supposed to be René Redzepi, the iconic chef behind the popular Copenhagen, Denmark restaurant Noma that has popularized Nordic dining and was named a "God of Food" in 2013 by Time Magazine and holds no fewer than four World's Best Restaurant titles (via Eater). When someone from his team called Nari in early July, requesting a last-minute slot for a "table of Noma people," the Nari staff was all too happy to oblige and greet him and his guests.
So, imagine their surprise when in walked Kanye West instead.
West's team used a culinary great's alias to get a reservation at Nari
Sure enough, it wasn't the "Noma people" that had made the reservation at all. 
When West and his entourage entered the restaurant and were seated in their semi-private dining room, Techamuanvivit realized what had happened, that the group had used the unusual alias to book the spot. As Techamuanvivit told the San Francisco Chronicle, she hadn't recognized the musician when he first entered and was expecting Redzepi, whom she knows personally. A manager notified her who the special guest actually was and the chef greeted him in person when she brought out his table's food. Techamuanvivit said she ribbed West for the name drop, asking who among his group knew Redzepi. West's team doubled down, though, saying simply "He's not here."
While some of the Nari staff were disappointed not to have seen the Noma great as promised, others were unable to contain their excitement over the rapper, according to Techamuanvivit — with a few employees becoming "very, very fangirl excited." West's entourage, for their part, were "very normal, not loud, [and] not demanding," she said, dining on a variety of Nari specialities, including Som Tom Mamuang, Spicy Mango Salad with Cashews, and Black Cod Curry with Grilled Pineapple. 
The group remained in the private dining room for the duration of the meal, even after being found out –– Techamuanvivit at least wanted them to finish the meal.