The Big Issue Reddit Has With BBQ Brawl Eliminations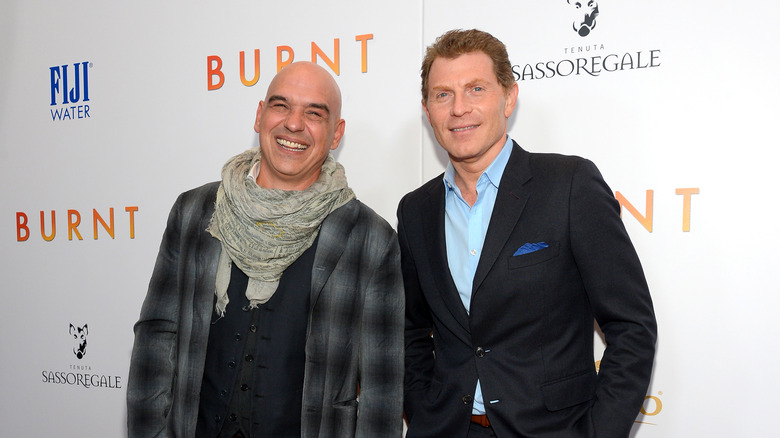 Andrew Toth/Getty Images
If you love a good old fashioned cook off, you can't miss the action in "BBQ Brawl." Bobby Flay, Michael Symon and Eddie Jackson lead teams in head-to-head challenges that push grillers and pitmasters to the very limits, as they serve up anything and everything you could throw on a grill for a rotating panel of judges. While the show revolves around having a great time and dishing out mouth watering meals, the contestants can't escape drama. Items burn on the grill, strange ingredients enter the fray, and occasionally personality flare-ups between the grillers.
While the show offers up a good time for everyone involved, some viewers have found fault in how the show handles the elimination challenges. Over on Reddit, a user started a thread with the comment, "Two weeks in a row a contestant was sent home because of a dessert, in a BBQ competition. First, [if] I was the competitors, I'd be really disappointed I got sent home for a dessert. Second, I'm not really interested in seeing BBQ pitmasters cook dessert. I'm not a huge fan of this team format where all the chef's are cooking different dishes as part of one cohesive meal. Doesn't really make an even playing field when you have one chef cooking pork chops on an open fire, and another is having to cook pastry over an open fire."
A flamewar in the making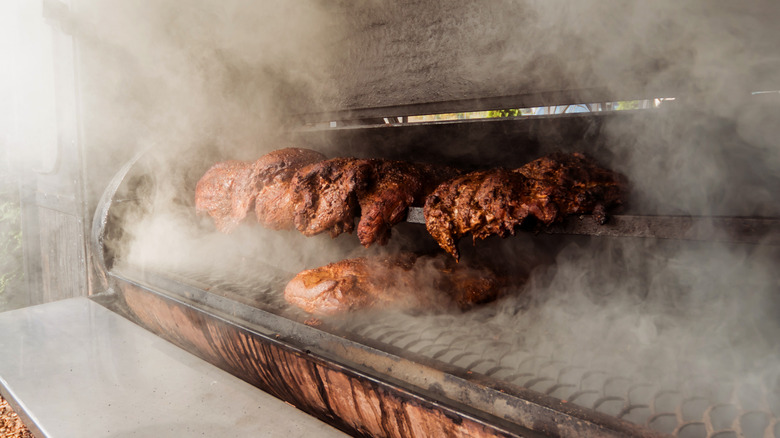 Shutterstock
The thread on Reddit sparked a massive debate among its users. Some concurred with the sentiment, stating, "Agreed. Let them all cook some meat or meat and a side and give them hours more time and some good smokers," and "I don't mind if they have them make desserts but it would be a lot better if they were required to grill at least part of it. Making a panna cotta is impressive in that environment but it's not barbecue. It was disappointing that the person trying to grill a dessert over an open fire was the one to go home."
Others felt less strongly about the issue, claiming, "At least the preview for next week makes it look like they are going to get to do some low and slow smoking for once." The issue provides for a hot debate between die-hard grillers and those that want to see more variety in what meals can come together over an open fire. Time can only tell if the program continues to place a heavy emphasis on desserts, but you can guarantee that no matter what, these contestants have what it takes to turn out a seriously good final product. Make sure to stay tuned for the next episode and see where you fall in the debate as Flay, Symon, and Jackson's teams continue to duke it out.