The Touching Tribute Hidden In Gwen Stefani's Wedding Cake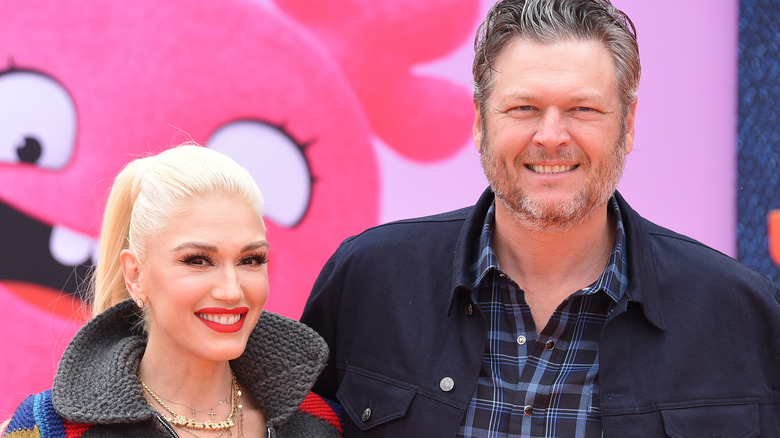 Shutterstock
Fireworks were flying last weekend, and not just because it was the Fourth of July, but because Gwen Stefani and Blake Shelton finally tied the knot! The couple is said to have pulled off a wedding that was, "perfectly them," according to Carson Daly, who officiated the July 3 ceremony. The event was said to be quite intimate and was located on Shelton's Oklahoma property where he had a chapel built, according to Taste of Country. 
Daly, a long-time friend of the couple,  described the newlyweds to Today as "an unlikely pair" who go together like "delicious fried chicken with a glass of champagne." He added, "On paper and on the menu it doesn't seem to work, but it works. It's comfort food with class. And everybody roots for that."
One of the major ways this star-studded wedding was reflective of the couple's unique personas was through all of the small, personal touches, especially those that were a nod to their love of family. There was Gwen's gorgeous veil (seen on Billboard) that was embroidered with hers and Blake's names, as well as the names of her three boys, Kingston, Zuma, and Apollo. There was also the fact that the couple wore their own trademark clothing choices — jeans for him and a fashionable Vera Wang dress and cowboy boots for her, says People.
Yet another tribute to family was in something very special on the table – the wedding cake. According to Today, the cake served at Blake and Gwen's Oklahoma celebration was a replica of the one her parents had at their wedding, which seems to speak volumes about the way Gwen feels about her man.
Here are all the sweet details of Gwen and Blake's cake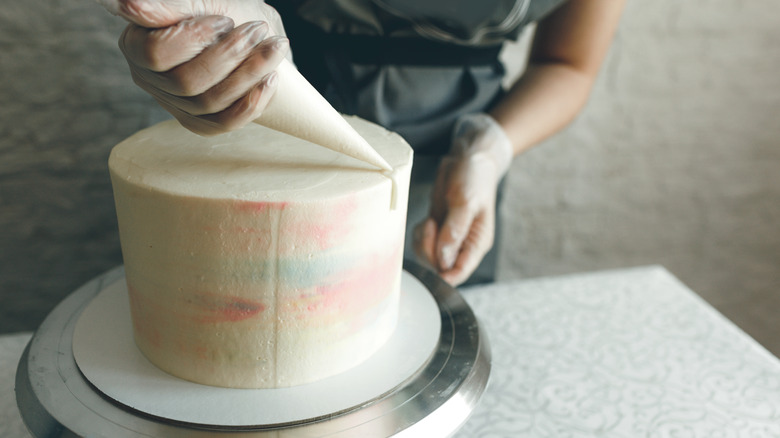 Shutterstock
Today reports that the cake was made by a baker located in Dallas, Texas named Fancy Cakes By Lauren. And the owner, Lauren Kitchens, isn't just any regular baker, either. She's been a Food Network champion, has designed baking tools, is a cake instructor, and serves more than 500 clients a year, according to her official website.
For Gwen and Blake's cake, Kitchens opted for a classic five-tier design that contained beautiful little symbols of love, like white swan pillars, bells, tiny sugar flowers, and white chocolate cherubs. All of these details, notes Today, were etched in the cake through the use of layers of royal icing — a staple in cake and confectionary decorating, says Real Simple, but it may be a little harder to work with than your standard fondant. Yet when you're making a cake for two superstar lovebirds, nothing is off the table.
In addition to the ornate look of the cake, the design held a special significance for Stefani. According to Kitchens, it was a true collaboration as Stefani oversaw every element, wanting her wedding cake to resemble that of her parents' big day many decades before (via E! Online). "Her love of family is strong and this was her way of honoring them and their beginning as a new married couple on her big day as a newly married bride," Kitchens told E!. "Everything about the cake had sentimental value."
The couple's wedding cake had a time-stamped design
Time, effort, and love all went into designing the couple's perfect cake. The intricacy could make anyone swoon, and the piping style used actually harkens back to an Old English form called Lambeth cake design (via E! Online). According to cake maker Kitchens, the style features "layer upon layer of intricate icing details piped onto the tiers freehand." And as she added, "It's become a lost art in cake design that's slowly coming back to American weddings." No doubt, Gwen's inspirational influence should help that. 
Kitchens also went into extra detail and provided a look at the original sketches of the cake on her Instagram account, noting all the sugar filagree accents, ruffle garlands, and swan pillars.
Of course the perfect finishing touch on any wedding cake is the topper that, in this case, also held special significance.
Wedding planner Todd Fiscus helped Gwen and Blake come up with their cake topper design, according to Taste of Country. It looks just like the couple, featuring a blonde bride dancing with a tuxedoed groom in a cowboy hat. In an Instagram post, Fiscus shared an anecdote about the experience, saying his favorite part was when Gwen said, "'I want a cake topper of me and my cowboy.'" He adds that a traditional piece was purchased and repainted to have the custom design. Said Fiscus, "Traditions are made of memories and these beautiful people inside and out chose to honor traditions this weekend."