Slow Cooker Mongolian Beef Recipe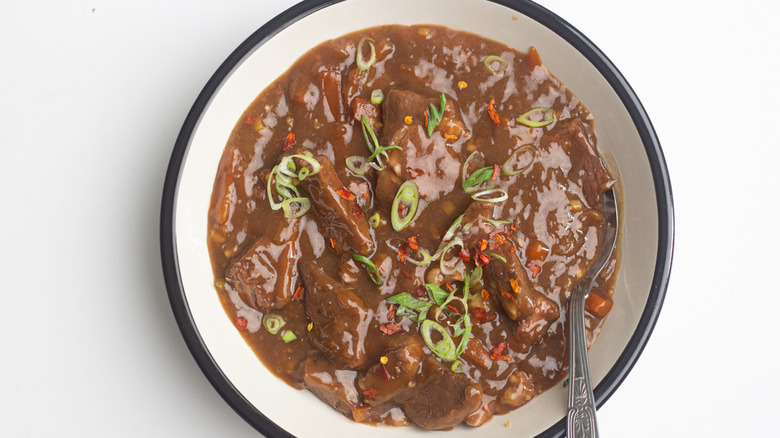 Susan Olayinka/Mashed
There's nothing like slow cooked beef when you're craving a hearty, meat-based meal, and Mongolian beef takes things to another level with the addition of some mixed veggies and soy sauce for an undeniably East Asian flavor. But while the origins of Mongolian beef might seem obvious, this unique recipe actually didn't come from the nation of Mongolia. A result of Mongolian barbecue, which was created by comedian and restaurateur Wu Zhao-nan in Taiwan in the early 1950s, Devour.Asia notes that Mongolian beef is ultimately a clash of Chinese and American cuisine.
Recipe creator Susan Olayinka of The Flexible Fridge has an easy but authentic take on this recipe that requires little more than some familiarity with a knife and a slow cooker. You'll need just 10 minutes to prepare this dish, but will have to do some waiting for the 150-minute cooking time. Needless to say, the end result is more than worth it, so let's take a look at what you need to get started.
Gather your Mongolian beef ingredients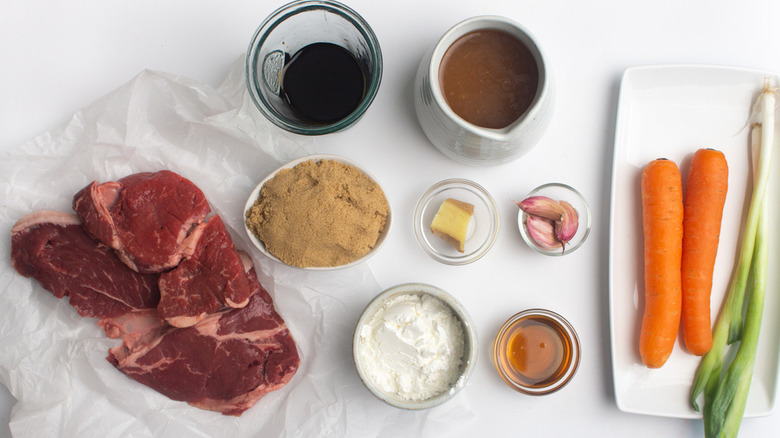 Susan Olayinka/Mashed
For this recipe, you'll need two medium carrots, spring onions, four cloves of garlic, ginger, beef steak, sesame seed oil, brown sugar, beef stock, and soy sauce.
"Sirloin steak is the best steak to have and preferably one that's been matured for about three weeks — that will equal the best taste and the best texture," Olayinka says. If you're not huge on spring onions, don't fret — Olayinka says you can swap them for their red or white onion counterparts, which dance just as well with the other flavors in this recipe.
Chop your carrots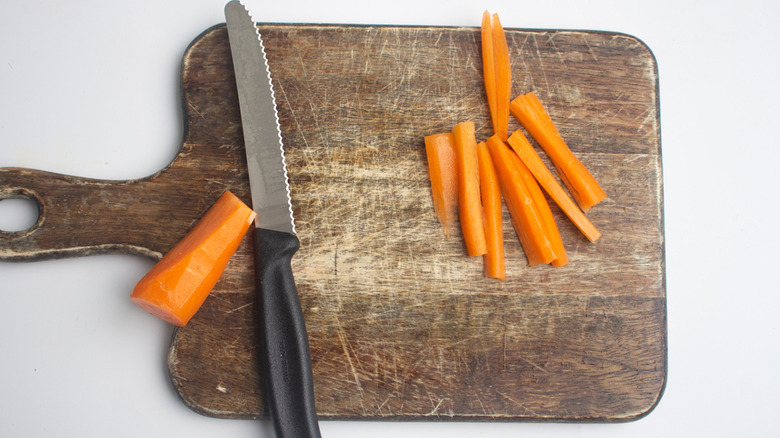 Susan Olayinka/Mashed
Before chopping your carrots, you need to peel them. Although some people don't mind carrot skin, this recipe works best with freshly peeled and skinless carrots. Start by holding each carrot to your cutting board at a 45-degree angle, with the thin tip on the board and the thick end in your hand. Now, use a peeler to remove the skin from your carrots by moving it in both an upward and downward motion. As you move the peeler across your carrot, slowly turn it with your hand to remove all the skin.
Once you're done skinning your two medium carrots, chop them into matchstick pieces that are approximately two inches long. The best way to do this is to start by cutting them in half. Afterward, carefully cut the halves lengthwise into matchsticks.
Chop your spring onions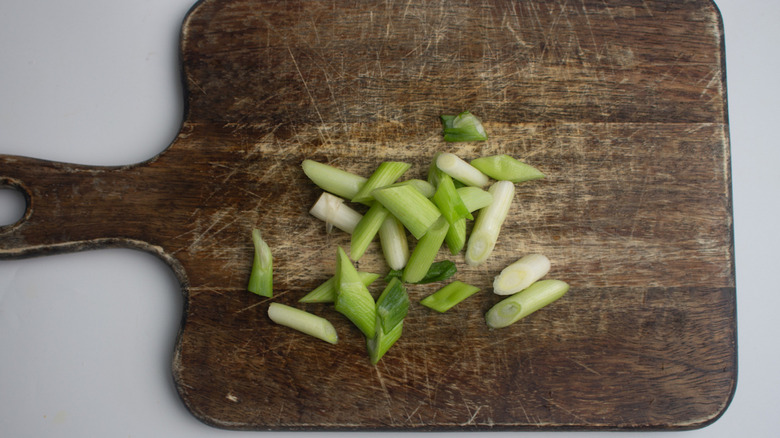 Susan Olayinka/Mashed
The next step is chopping your spring onions. Start by throughly washing and drying your onions — if they're too wet, you won't be able to cut them as cleanly. Afterward, remove the roots and slice your onions into medium-sized pieces using a rocking motion. Always start by putting the tip of the knife onto your cutting board and firmly pressing down from the handle to bring the rest of the knife across your onions. Take a look at the photo above to get an idea of how small your onion pieces should be.
Chop your garlic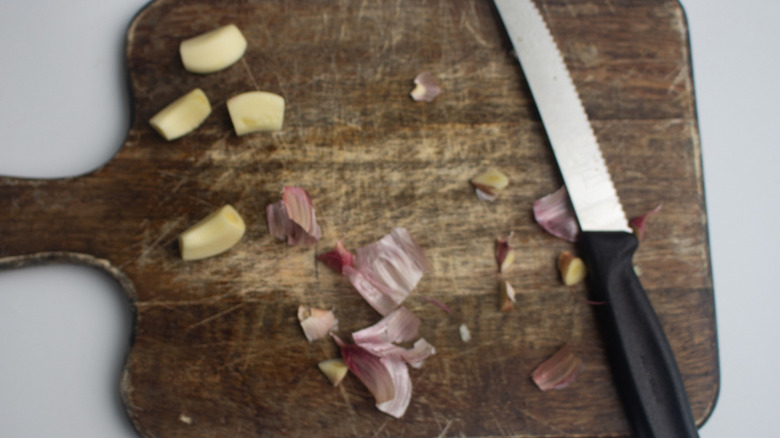 Susan Olayinka/Mashed
Now you need to chop the four garlic cloves, which of course means you have to first peel your garlic (if you have pre-peeled garlic, you can skip this step). The easiest way to peel your cloves is to smash them with the flat end of your knife. Always keep the sharp end of the knife facing away from you and use the heel of your hand to hit the flat part of the blade downward into the cloves.
If you don't have a garlic press, you can use the smashing technique, which is almost identical to the aforementioned technique to peel cloves. Take a look at the Mashed guide for an in-depth walkthrough.
Dice your ginger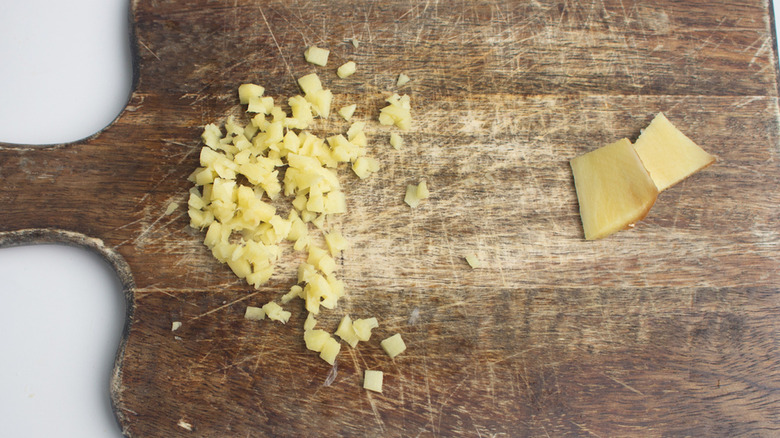 Susan Olayinka/Mashed
The one-inch cube of ginger should be diced into the smallest pieces you can manage. Remove the skin using a peeler or — this is actually the recommended tactic — scraping it off with a spoon. 
Once your ginger is peeled, start dicing it. Begin by slicing the cube lengthwise into plank-shaped pieces, and then cut these pieces into matchsticks. From here, line up the matchstick pieces in a horizontal line on your cutting board and cut them vertically into small pieces. Continue until your ginger is diced into small pieces similar to those in the photo above.
Slice your beef steak
Susan Olayinka/Mashed
The final phase of chopping is the star of the recipe: the beef steak. You'll need to carefully chop your beef into one-inch pieces, as pictured above. For the best results, cut against the grain of the steak. The grain refers to the meat's muscle fibers, which can easily be spotted in most beef since they all typically run parallel to each other in the same direction. 
If you're having trouble chopping your beef steak, place it into a sealed freezer bag and put it in the freezer until each piece is firm to the touch — this should take about 20 minutes. Par-freezing your beef steak will make the cutting process much easier. Just be sure to defrost your steak before moving on to the next step.
Cook your ingredients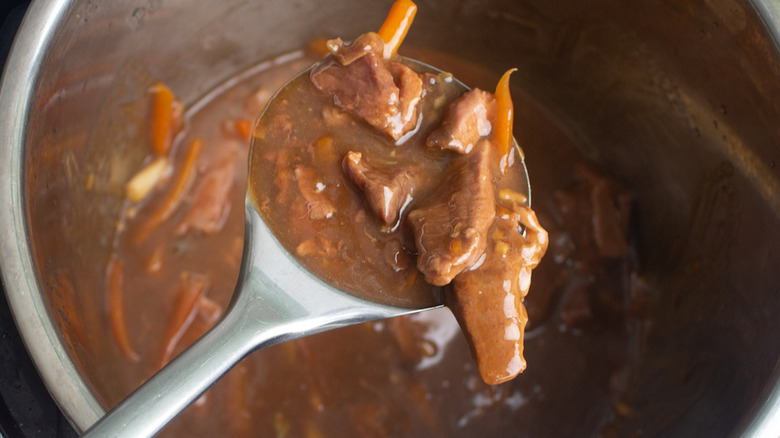 Susan Olayinka/Mashed
Now, for the final step before you can dig in: cooking your ingredients! Place the sesame seed oil, brown sugar, beef stock, chopped beef steak, chopped garlic, soy sauce, chopped carrots, chopped ginger, and cornstarch into your slow cooker. Once all the ingredients are ready to go, cook everything on high for 150 minutes (two and half hours) for the best results. When your Mongolian beef is fully cooked, give it a gentle mix and move on to the next step!
Serve your Mongolian beef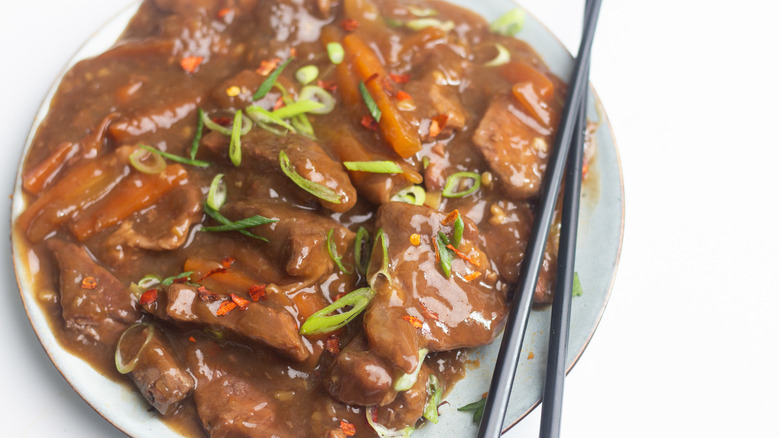 Susan Olayinka/Mashed
When your Mongolian beef is cooked and ready, consider garnishing it with some chopped spring onion or red chilli flakes. "Another garnish is crispy onions — I feel it will work well with the soft texture of the food," Olayinka says.
As for sides, there are plenty of options that Olayinka suggests. "This dish will pair so lovely with some plain white rice or even other plain carbohydrates. For example, plain quinoa, plain cous cous, plain Farrow, millet, and things like that," she says.
If you have any leftovers, you can safely store them in the refrigerator for three to four days.
Slow Cooker Mongolian Beef Recipe
Mongolian beef is a classic Chinese American comfort food and a slow cooker is a perfect vessel for delivering up this hearty and pleasing dinner.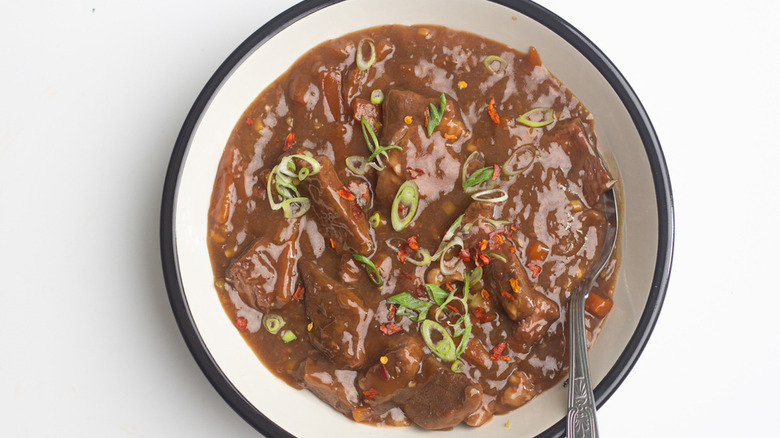 Ingredients
2 medium carrots
2 spring onions
4 cloves of garlic
1 (1-inch) cube of ginger
12 ounces of beef steak
2 tablespoons of sesame seed oil
½ cup of brown sugar
2 ½ cups of beef stock
¼ cup of soy sauce
¼ cup of cornstarch
Optional Ingredients
chopped spring onion
red chili flakes
Directions
Peel and chop the carrots into matchstick pieces that are 2 inches long in length and set them aside.
Thinly slice the spring onions and set them aside.
Peel and chop the garlic with a garlic press and then set the pieces aside.
Peel and dice the ginger into tiny pieces — as small as your knife will allow — and then set the pieces aside
Slice the beef steak into 1-inch pieces and then set them aside.
Add sesame seed oil, brown sugar, beef stock, chopped beef steak, chopped garlic, soy sauce, chopped carrots, chopped ginger, and cornstarch into your slow cooker.
Cook the ingredients on high for 2 ½ hours. Mix your Mongolian beef and serve it immediately.
Nutrition
| | |
| --- | --- |
| Calories per Serving | 405 |
| Total Fat | 20.8 g |
| Saturated Fat | 6.3 g |
| Trans Fat | 0.8 g |
| Cholesterol | 52.7 mg |
| | |
| --- | --- |
| Total Carbohydrates | 32.8 g |
| Dietary Fiber | 1.4 g |
| Total Sugars | 20.2 g |
| Sodium | 1,231.3 mg |
| Protein | 22.0 g |