Hermit Cookie Recipe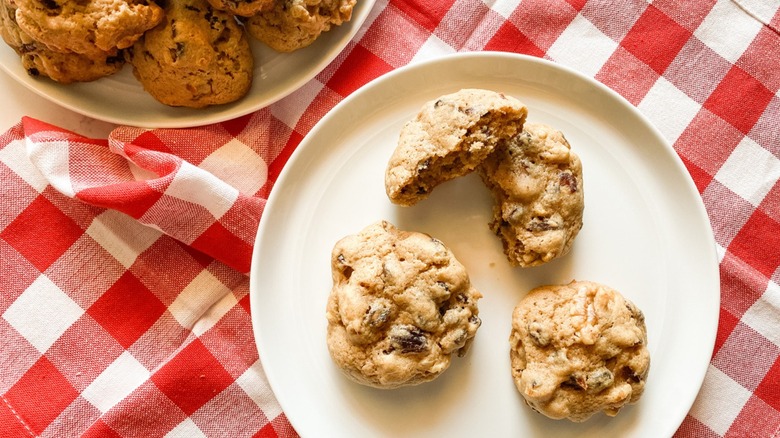 Kristen Carli/Mashed
Have you ever wondered what, exactly, hermit cookies are, and why they have that name? Are they cookies that you're supposed to share at the beach while searching for hermit crabs? Or are they cookies to hide out with so you enjoy them all by yourself? While nobody seems to know for sure just how these cookies got their name, we're leaning toward the latter explanation. As Bon Appétit reported, these cookies were popular in the pre-refrigeration days, perhaps during the 19th century and perhaps even earlier, due to their ability to stay edible for a long, long time. With this in mind, hermit cookies are obviously a must-have and great choice for any well-stocked doomsday bunker.
There's no need to wait for the zombie apocalypse in order to enjoy a batch of hermits, though. Kristen Carli's recipe takes just a bit of your time to stir together and 15 minutes to bake. And trust us — they can take even less time to eat up a batch, because they're so yummy. Carli, a private practice registered dietitian, says of these cookies, "I love them the most, as they are not overly sweet," and compares these hermits to a granola bar in their sweetness level. Carli especially likes the fact that the cookies contain a healthy dose of dried fruits and nuts and dubs them "a great quick energy-dense snack."
Now that we've gotten your attention over this curiously named treat, let's get started making them so you can taste for yourself!
Assemble the ingredients to prepare a delicious batch of hermit cookies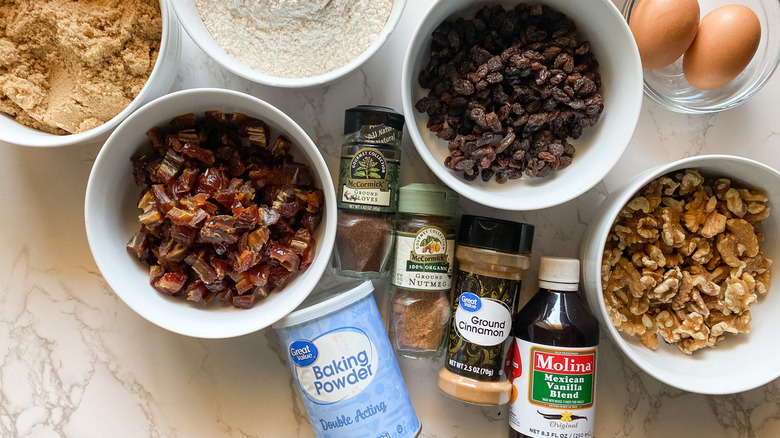 Kristen Carli/Mashed
To make these hermit cookies, you will need a stick of unsalted butter. If you've only got the salted kind on hand, don't worry about it, just reduce the amount of salt used to ¼ teaspoon. You're also going to need some brown sugar (either light or dark, as you prefer), a couple of eggs, vanilla extract, all-purpose flour, baking powder, and the aforementioned salt. To flavor the cookies, you'll be using both cinnamon and nutmeg, then you will them with raisins, dates, and walnuts.
The ingredients are easy, as you'll probably have just about everything on hand. Once you've pulled everything out, you can get started mixing up your cookie batter.
Make the hermit cookie dough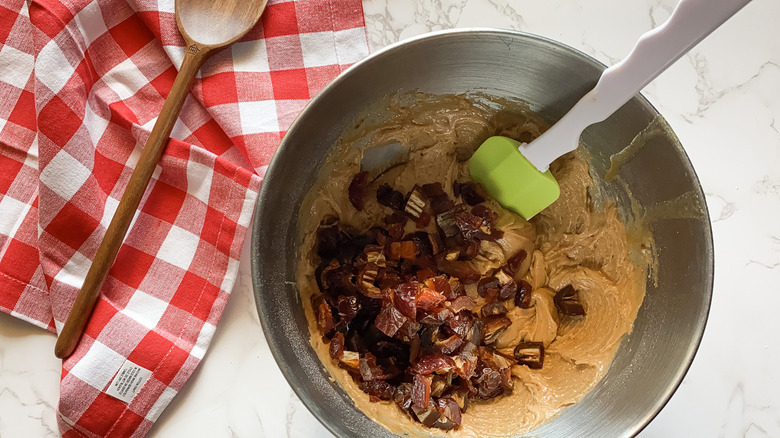 Kristen Carli/Mashed
As these hermit cookies can be put together pretty quickly, go ahead and preheat the oven to 350 F before you start making the batter. Melt the butter in the microwave, then mix it with the sugar until it's nice and smooth. Carli uses a stand mixer when making these delights, but since you are adding melted butter, you can easily mix by hand as well. Once the sugar and butter are well-combined, add the eggs together with the vanilla, and combine it until blended. 
For the next step, you will be adding all of the dry ingredients, including the flour, baking powder, salt, cinnamon, and nutmeg. Stir them all into the dough, then finish off by adding in the raisins, chopped dates, and chopped walnuts. If you're using that stand mixer, stop before you get to the chunky bits. Instead, use a spatula or a spoon to stir these additions into the dough, it will work much better.
Bake the hermit cookies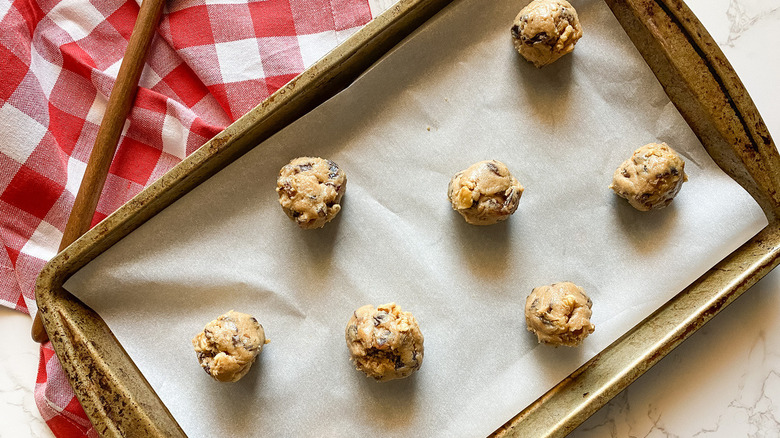 Kristen Carli/Mashed
When the cookie dough is ready to go, it's time to prepare a couple of cookie sheets. Carli is a parchment paper fan, so she lines each of her pans with a sheet. If you're Team Silpat, by all means use that instead. You can also go old-school and just lightly grease your baking sheets. Hermits, after all, are an old-fashioned cookie, and people were making them successfully for over 100 years before pan liners were in vogue. Use the method that you are used to, they all work just fine.
Once the cookie sheets are as ready as they're going to get, scoop out a tablespoon-sized lump of cookie dough, and roll it into a ball in your hands. Carli says the resulting cookie ball should be "about the size of a golf ball." Place the ball on the cookie sheet, and then repeat the process — swapping out sheets as they fill up — until you've rolled up all the dough. Bake the cookies in the oven that you have preheated for 15 minutes. When your timer goes off, your hermit cookies should be a light brown in color. Not only that — your kitchen should be smelling completely marvelous.
What to do with hermit cookies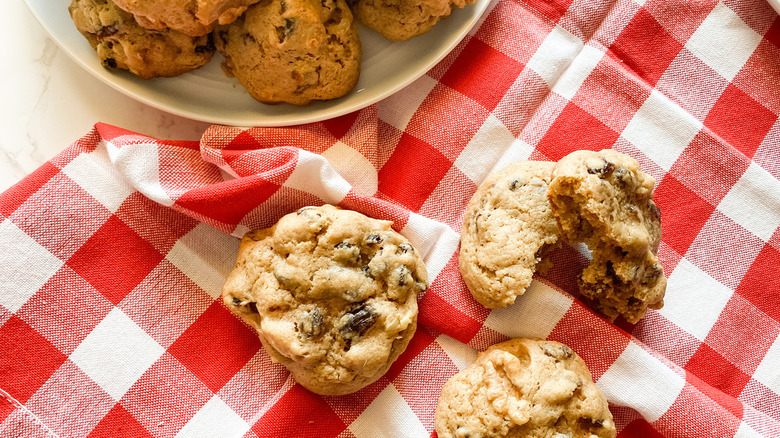 Kristen Carli/Mashed
When your cookies are done baking, you'll want to let them cool on wire racks for at least a few minutes before you eat or serve them, and the longer they cool, the chewier they'll become. Once you've had your fill, Carli suggests storing them at room temperature in an airtight (Ziploc-type) plastic bag for up to a week. You can also freeze the cookies either before or after they are baked, letting them return to room temperature before you eat (or bake) them. Well, these suggestions are, of course, in the unlikely event that you have any of these delicious treats left.
Carli notes, "I love these [hermit cookies] for breakfast, snacks, or dessert," and adds that they also make a great grab-and-go snack. Their sturdy, hearty nature makes them well-suited to care packages, and of course they are great to take on picnics or pack in brown-bag lunches. Make sure to tuck a few into your bug-out bag, too. Who knows, you might even single-handedly avert the apocalypse if you run into any cookie-loving zombies.
This recipe is sure to be a family favorite, and you will most likely be making this recipe many times again in the future! Serve them with a glass of cold milk, a cup of tea, or all by themselves — any way is delicious!
Hermit Cookie Recipe
These hermit cookies contain a healthy dose of dried fruits and nuts, they aren't too sweet, and they're the ultimate snack to enjoy on-the-go.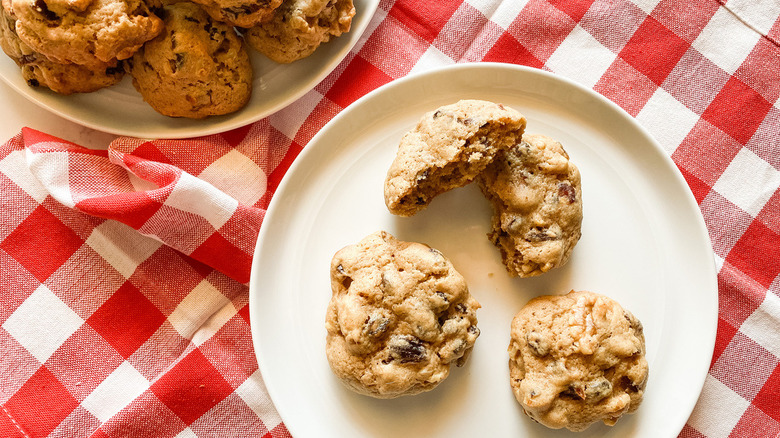 Ingredients
1 stick unsalted butter, melted
1 cup brown sugar
2 eggs
1 teaspoon vanilla extract
1 ¾ cups flour
3 teaspoons baking powder
½ teaspoon salt
1 teaspoon ground cinnamon
½ teaspoon ground nutmeg
1 cup raisins
1 cup chopped dates
1 cup coarsely chopped walnuts
Directions
Preheat oven to 350 F.
Combine the unsalted butter and brown sugar in a mixing bowl, beating until smooth.
Add the eggs and vanilla extract to the butter, beating until combined.
Add the flour, baking powder, salt, cinnamon, and nutmeg to the egg mixture, beating until combined.
Add the raisins, chopped dates, and walnuts to the cookie dough, and stir until combined.
Line two large baking sheets with parchment paper.
Scoop a tablespoon of the batter into your hands and roll into a ball. Place cookie onto the baking sheet. Repeat until all of the dough has been formed into cookies.
Bake cookies for 15 minutes, then let them cool before serving.
Nutrition
| | |
| --- | --- |
| Calories per Serving | 172 |
| Total Fat | 7.5 g |
| Saturated Fat | 2.9 g |
| Trans Fat | 0.2 g |
| Cholesterol | 23.5 mg |
| | |
| --- | --- |
| Total Carbohydrates | 25.7 g |
| Dietary Fiber | 1.5 g |
| Total Sugars | 15.9 g |
| Sodium | 102.2 mg |
| Protein | 2.5 g |