Easy Peanut Butter And Jelly Smoothie Recipe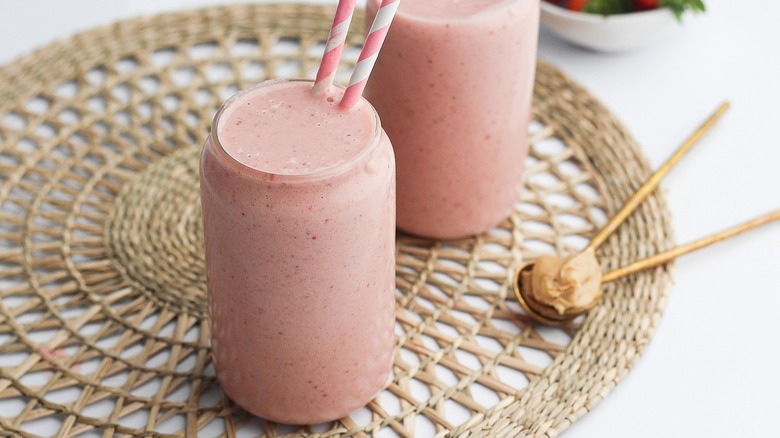 Susan Olayinka/Mashed
When it comes to making smoothies, the possibilities are virtually endless. You can add just about anything you want to a smoothie, though many people opt for fruits like strawberries, bananas, mangoes, pineapple, and blueberries. Of course, it's also really easy to get a serving of vegetables in with a smoothie as well. Any smoothie lover could easily toss in some spinach, kale, or celery into their blend and still enjoy a delicious (and nutritious!) experience.
Needless to say, it's very easy to get creative when it comes to smoothies. And, thanks to recipe developer Susan Olayinka's innovative peanut butter and jelly smoothie recipe, you can turn your favorite sandwich into a frozen treat! According to Olayinka, this smoothie tastes exactly like a sandwich. "You can taste sweet strawberries and also the salty peanut butter," she says, ensuring that you're getting a delicious combination of sweetness from the fruit and saltiness from the peanut butter.
If you're a fan of peanut butter and jelly sandwiches and are looking for the next best smoothie combination, this recipe will not let you down! Since it only takes a few ingredients, it'll be easy to whip this together and enjoy it on a warm sunny day in practically no time at all. It's an easy snack to savor, or even a light meal. It's also a great item to take pics of and show it off on social media, because your followers will want to have one and ask you for the recipe.
Gather the ingredients to prepare an easy peanut butter and jelly smoothie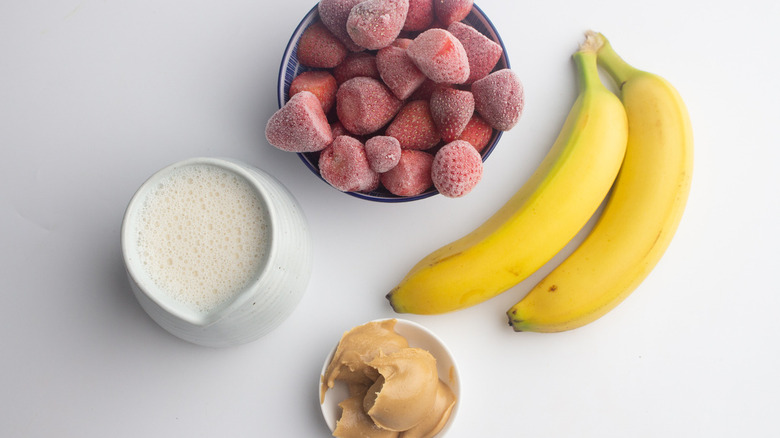 Susan Olayinka/Mashed
To get started on your smoothie, you'll need a few simple ingredients. First, you'll need frozen strawberries and some fresh bananas. You'll also need milk, and Olayinka notes that you could use any type that you like, including dairy or some sort of non-dairy or plant-based substitute. Finally, you'll need some of your favorite peanut butter to bring the flavor combination together. You can also try this recipe with almond butter or even Nutella if you want a sweeter, more decadent treat. Since every single option sounds amazing to us, we suggest that you try a different version each time you whip one up. Kudos to us for having and sharing such a great idea — are we right?
Put all of your smoothie ingredients into the blender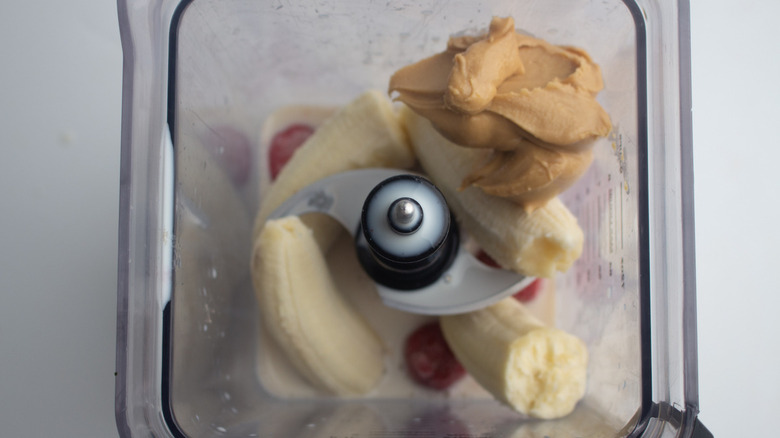 Susan Olayinka/Mashed
Once you have all of your ingredients together, you can go ahead and put them into your blender. You'll notice that the recipe calls for using frozen strawberries and fresh bananas — and there's a good reason for it! Once you start blending, the smoothie will come to a desired consistency and temperature, thanks to a balance of frozen and fresh fruit. If you used all frozen fruit, your smoothie would turn out more like ice cream. If you used all fresh fruit, it wouldn't have the refreshing coolness that we all crave from a smoothie. So, once you have the ideal mix of frozen and fresh fruit in the blender, along with the milk and peanut butter, go ahead and turn your blender on. It's all about balance, and in a very short time, you will be able to taste the deliciousness.
Blend your smoothie until you reach the desired consistency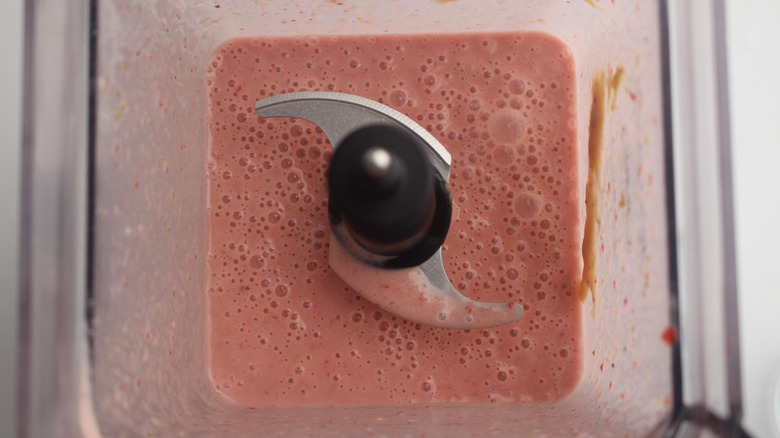 Susan Olayinka/Mashed
Once your smoothie blends, you'll see how the consistency really works using both fresh and frozen fruit! After you blend on high for 30 seconds, your smoothie should look something like the picture. Not too thick, but not too thin, either. When you hold the blender, it should feel cold to the touch, meaning that the frozen strawberries added the perfect coolness to your drink. 
Once you've reached your desired smoothie consistency, you can go ahead and pour the smoothie from the blender into smoothie glasses or whatever type of glass that you prefer. We suggest doing it up with a fun large glass and having cute straws on hand, just to make this treat extra special.
Add a drizzle of peanut butter as your garnish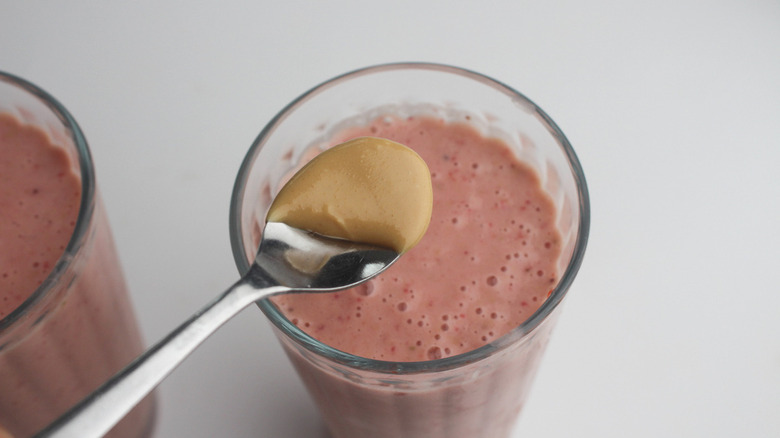 Susan Olayinka/Mashed
After you've poured your smoothie into your desired glasses, you can add some extra peanut butter as garnish. Since peanut butter is pretty thick when you get it straight from the jar, you may want to microwave it a little bit to help get it to a "drizzle" consistency. Start by microwaving a small amount of peanut butter in 10-second increments until it's slightly melted. Then, using a spoon, ladle some of the peanut butter over the smoothie, and drizzle it across onto the top of the smoothie to create a criss-cross pattern, or whatever pattern you'd like.
Add a strawberry garnish and a straw, then enjoy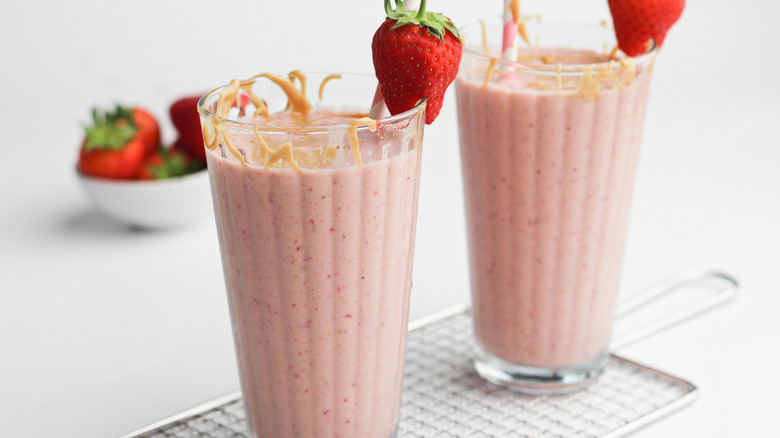 Susan Olayinka/Mashed
As a final garnish, you can add a whole fresh strawberry to the rim of your glass, and pop in a fun straw. Then, you're ready to enjoy this sweet delight! This smoothie is a great breakfast or snack, and it will leave you feeling as satisfied as if you just ate a peanut butter and jelly sandwich. With such simple ingredients and delicious flavor combinations, this smoothie will quickly become your favorite recipe and an easy go-to for those hot summer days. It's so creative and unique!
Easy Peanut Butter And Jelly Smoothie Recipe
Thanks to this innovative peanut butter and jelly smoothie recipe, you can turn your favorite sandwich into a frozen treat!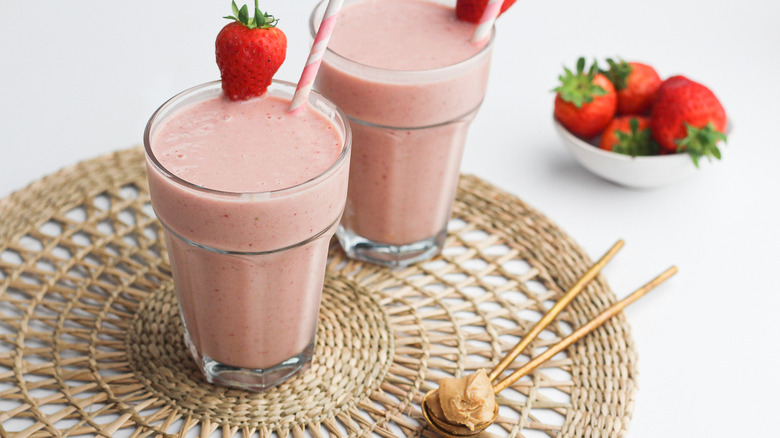 Ingredients
2 cups of milk
2 cups frozen strawberries
2 ripe bananas
4 tablespoons smooth peanut butter
Optional Ingredients
fresh strawberries, for garnish
Directions
Into a blender, place the milk, frozen strawberries, bananas, and peanut butter.
Blend on high for 30 seconds.
Serve smoothies in glasses, and top them off with optional extra peanut butter. Place a fresh strawberry on the side of each glass for an optional garnish, too.
Nutrition
| | |
| --- | --- |
| Calories per Serving | 495 |
| Total Fat | 24.9 g |
| Saturated Fat | 8.0 g |
| Trans Fat | 0.0 g |
| Cholesterol | 24.4 mg |
| | |
| --- | --- |
| Total Carbohydrates | 58.9 g |
| Dietary Fiber | 7.7 g |
| Total Sugars | 36.6 g |
| Sodium | 114.5 mg |
| Protein | 16.7 g |