Easy Ice Coffee Oat Breakfast Smoothie Recipe
Maren Epstein/Mashed
This ice coffee, banana, and oat smoothie is a perfectly quick, all-in-one breakfast you can easily enjoy when you're on-the-go, but it's also an ideal pick-me-up for curing that afternoon slump. It's a great boost to enjoy after an invigorating workout, and generally a refreshing drink you can whip up whenever sounds best to you. (Pro tip? Just use decaf coffee to enjoy the smoothie in the late afternoon or evening without compromising your quality of sleep.)
Chef and recipe developer Maren Epstein of Eating Works says, "This is definitely a meal in a cup. It's super filling with the banana, oats, and dates. It will keep you full for hours! The vanilla extract and coffee make it taste more like a sinful fancy coffee drink from a coffee house." Just make sure that you prepare this breakfast/snack/energy boost/evening treat/etc. shortly before you are going to consume it, because it's best enjoyed while fresh (and cold), and it really won't keep well. The good news is that as preparing one takes only one minute. There's never a need to worry about making a big batch you can portion out for later use — you can simply blend up a fresh one any time!
Gather the ingredients to prepare an ice coffee oat breakfast smoothie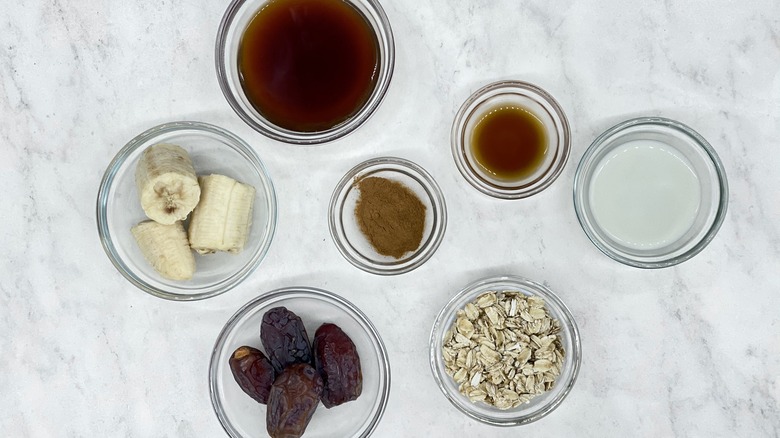 Maren Epstein/Mashed
A serving of this taste bud-pleasing concoction calls for 1 cup of ice coffee, ½ cup of oats, divided (as you'll use some as a nice crunchy garnish), 1 ½ frozen bananas, ½ cup of almond milk, about five ice cubes (about ½ cup), ¼ teaspoon of vanilla extract, a pinch of cinnamon, and three pitted Medjool dates.
You can use whatever your favorite black coffee may be (decaf is welcome, as previously noted) chilled to at least room temperature. And for the record, definitely opt for Medjool dates if possible, not standard dates. According to Healthline, Medjool dates have a "natural sweetness" that's pretty hard to beat. They are also jam-packed with fiber and natural sugars, and contain minerals such as calcium, iron, and potassium.
Blend all the ingredients together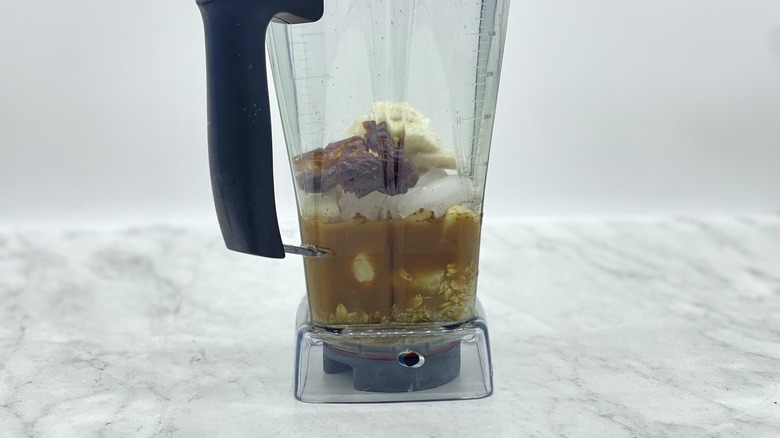 Maren Epstein/Mashed
Now, it's time to put this recipe together. We'll go slowly, step by step, and you are going to be extremely pleased with the end result.
First, make sure you have pitted dates for this smoothie recipe. Next, place all of the ingredients into your high-speed blender, keeping some of the oats reserved for later on to top off your smoothie. Then, blend everything on high until the mixture is even and smooth.
Now, it's time to get excited, because your smoothie is complete! This snack, meal, or anything in between that you want to have it for really could not be much simpler to mix together, but it truly is tasty and so refreshing. It's also a great way to satisfy your hunger without adding in lots of calories.
Serving ideas and savoring the end result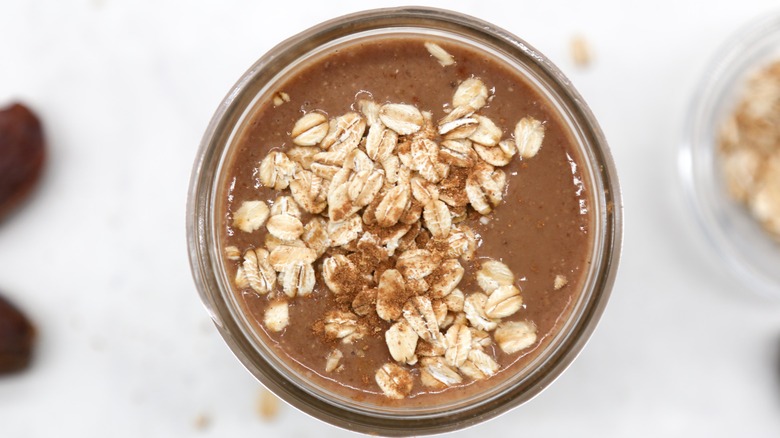 Maren Epstein/Mashed
Please note that you really need to serve and enjoy this smoothie ASAP for the best taste and consistency. And unless you have a bottle with a wide neck (or very wide diameter straw), it's best enjoyed out of a glass, potentially even with a spoon to help you gobble it up. Also, when served in a glass, you'll better appreciate the oats you sprinkle on the top that add a lovely look and a bit of texture.
Now, as tasty and filling as this smoothie is, you may note a distinct lack of one thing you need to really fuel you through a hard workout or to help in recovery after exercise, and that's protein. Fortunately, a scoop of your preferred protein powder will easily disappear into this smoothie, hardly impacting taste or texture at all while adding that fuel your body needs. Healthy meal in a cup, plus a protein shake to boot? Sounds like a winner to us.
The health benefits of a cup of coffee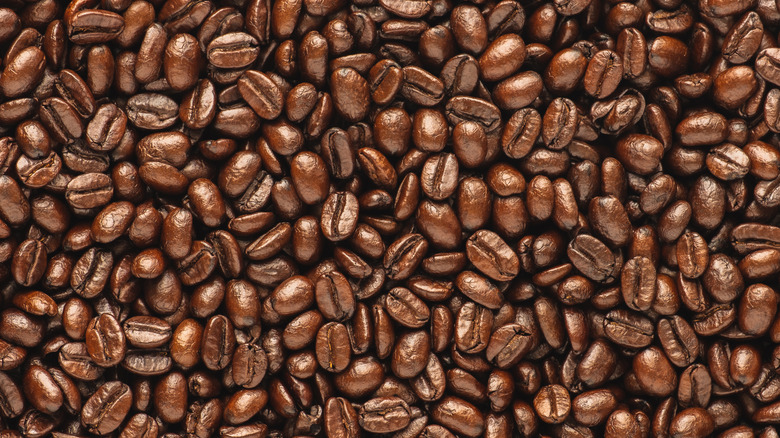 Shutterstock
Sure, there are dates and bananas that add sweetness to this smoothie, in addition to vanilla and cinnamon that add a nice spice profile, and almond milk and oats that balance everything out. But the major player here in terms of flavor is the coffee. As it happens, coffee is also a heavyweight when it comes to health benefits, too, at least when consumed in relative moderation.
According to Healthline, a cup of black coffee can be a short-term mood and energy booster. In the long term, regular coffee drinking could lessen your risk of developing Type 2 diabetes and help supply many essential vitamins to your body. Plus, it's downright delicious!
Easy Ice Coffee Oat Breakfast Smoothie Recipe
This ice coffee oat breakfast smoothie is the perfect on-the-go treat.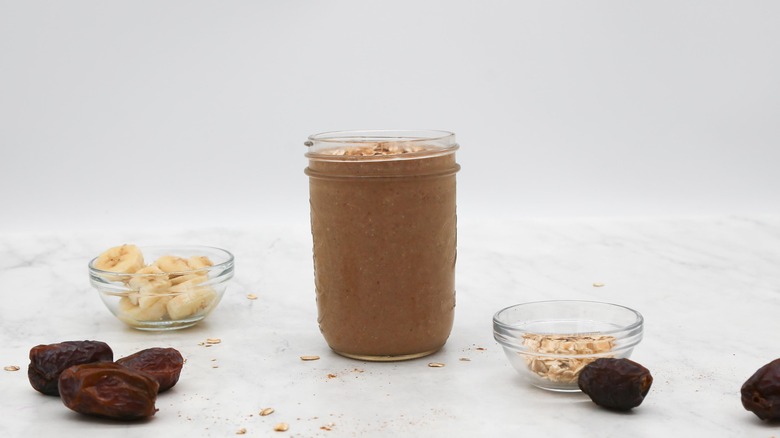 Ingredients
1 cup ice coffee
½ cup oats, divided
1 ½ frozen bananas
½ cup almond milk
3 Medjool dates, pitted
½ cup ice cubes
¼ teaspoon vanilla extract
pinch cinnamon
Directions
In a high-speed blender, combine the ice coffee, oats, bananas, almond milk, dates, ice cubes, and vanilla extract.
Blend on high until smooth, then pour the smoothie into a glass.
Garnish with more oats and a pinch of cinnamon, if desired, and serve immediately.
Nutrition
| | |
| --- | --- |
| Calories per Serving | 681 |
| Total Fat | 7.4 g |
| Saturated Fat | 1.6 g |
| Trans Fat | 0.0 g |
| Cholesterol | 0.0 mg |
| | |
| --- | --- |
| Total Carbohydrates | 147.0 g |
| Dietary Fiber | 18.4 g |
| Total Sugars | 69.2 g |
| Sodium | 98.8 mg |
| Protein | 17.4 g |