Cheesy Kale Chips Recipe
Susan Olayinka/Mashed
Kale has been having a moment for a while now. While the leafy green superfood isn't as massively trendy as it was a few years ago, it's definitely here to stay. There are a few good reasons this veggie is so popular: it's packed with vitamins, minerals, and antioxidants, and it tastes great. Even if you're not a fan, you can sneak it into anything from smoothies to desserts.
Another tasty, creative way to use up a bunch of kale is by making kale chips. You might not have had kale chips since the veggie's heyday, but now is a perfect time to revisit this savory, healthy snack. Recipe developer Susan Olayinka of The Flexible Fridge has a recipe for cheesy kale chips that is so good, you'll find yourself polishing off an entire plate of leafy greens without a second thought. Plus, it's a snap to make — just wash and dry the kale, add some seasonings, and bake until crisp. These kale chips are so simple, they'll surely become your go-to when a snack craving arises.
Get your ingredients together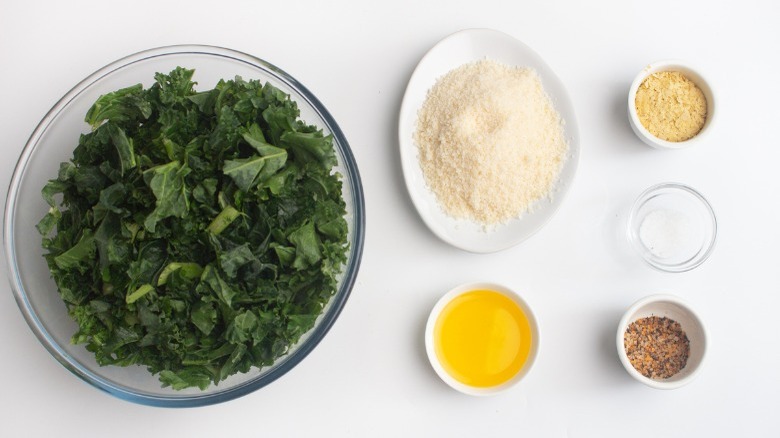 Susan Olayinka/Mashed
Obviously, the most important ingredient you'll need is kale. The most common variety of kale you'll find in the average supermarket is green curly kale, but recipe developer Susan Olayinka says you can use any variety you prefer, such as Tuscan kale or red kale. 
Though this is a meatless snack, the main seasoning used here is steak spice, along with salt. The chips get their cheesy flavor from nutritional yeast and a quarter cup of parmesan cheese. You'll also need some extra-virgin olive oil.
Wash and dry the kale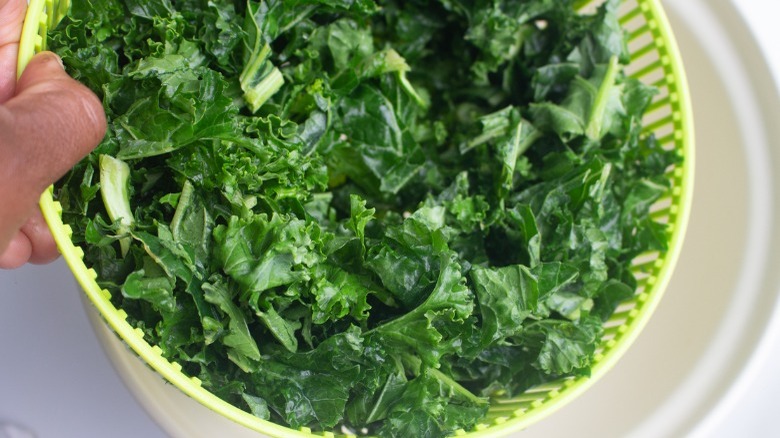 Susan Olayinka/Mashed
First, preheat your oven to 350 F. 
Then, put all the kale in the basket of a salad spinner and give it a good rinse. Using the salad spinner, dry the kale thoroughly. "It might take about three times to empty the salad bowl of water. Do this until the kale is dry to touch," says Olayinka. You want your kale to be as dry as possible in order to achieve maximum crispiness and flavor. 
"If somebody doesn't have a salad spinner, the best way to dry the kale is with tissue paper," she says. "I did this for years until I got a salad spinner."
Season the kale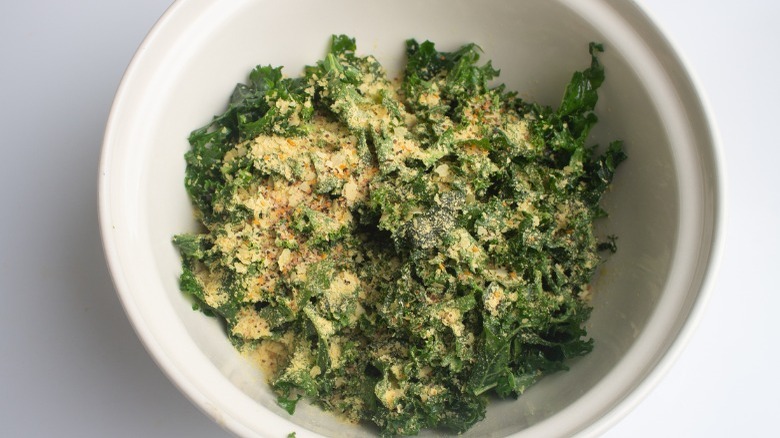 Susan Olayinka/Mashed
Now, put your clean, dry kale in a big bowl. Add the olive oil, nutritional yeast, steak spice, and salt. Give everything a good mix so the kale is evenly coated. If you don't have steak spice, "the best thing to use is garlic powder, onion powder, sea salt, smoked paprika, [and] chili powder," Olayinka says.
You'll be adding parmesan cheese later on in the process, but if you don't eat cheese or are vegan, Olayinka says these kale chips can be easily made plant-based by upping the nutritional yeast, which provides its own cheesy flavor. "Use about a tablespoon more of oil so the nutritional yeast will cling to the kale," she notes.
Bake the kale to perfection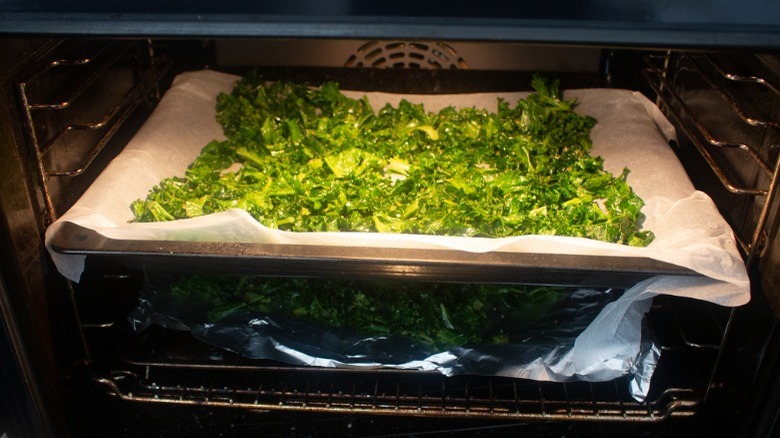 Susan Olayinka/Mashed
After you've seasoned your kale, it's time to transform them into chips. Pop them onto a big baking sheet (line it with parchment paper for easy cleanup!) and let it bake in your preheated oven for eight minutes.
After eight minutes has passed, take them out and sprinkle parmesan all over, leaving no leaf un-cheesed. Then, put them back into the oven for another three minutes, both to melt the cheese and give the chips that extra dose of crispiness. If you're skipping the parmesan, just let the chips bake for the full 11 minutes with no breaks.
Enjoy your kale chips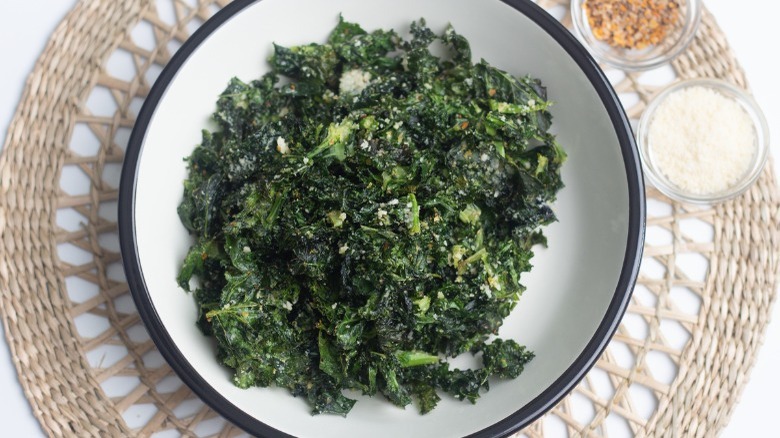 Susan Olayinka/Mashed
And that's it! Your kale chips are hot, crunchy, and ready to enjoy. These are best served straight out of the oven; Olayinka notes that they "will only keep well if left in an airtight container. If not, they will go soggy very quickly." If you're making kale chips and don't think you can eat them all yourself, it's best to just share them with friends instead of putting them away and hoping they'll retain their crispness.
And if you feel they need any accompaniment, all chips go well with dip, even chips made from vegetables. Olayinka recommends enjoying these cheesy kale chips with onion dip or "any type of hummus." Happy eating!
Cheesy Kale Chips Recipe
This cheesy kale chips recipe is so good (and good for you), you'll find yourself polishing off an entire plate of leafy greens without a second thought.
Ingredients
7 ounces chopped kale
2 tablespoons extra-virgin olive oil
2 tablespoons nutritional yeast
½ teaspoon steak spice
⅛ teaspoon salt
¼ cup parmesan
Directions
Preheat the oven to 350 F.
Place the kale in a salad spinner and wash it in the basket. Use the salad spinner to dry the kale well.
Transfer the kale to a large mixing bowl and add the extra-virgin olive oil, nutritional yeast, steak spice, and salt.
Transfer the marinated kale to a large baking tray and bake for 8 minutes.
Sprinkle the chips with parmesan cheese then cook for a further 3 minutes.
Nutrition
| | |
| --- | --- |
| Calories per Serving | 183 |
| Total Fat | 12.6 g |
| Saturated Fat | 4.2 g |
| Trans Fat | 0.3 g |
| Cholesterol | 28.0 mg |
| | |
| --- | --- |
| Total Carbohydrates | 4.7 g |
| Dietary Fiber | 2.5 g |
| Total Sugars | 1.1 g |
| Sodium | 161.5 mg |
| Protein | 14.0 g |