These Are The Top 2021 Food Trends So Far, According To Grubhub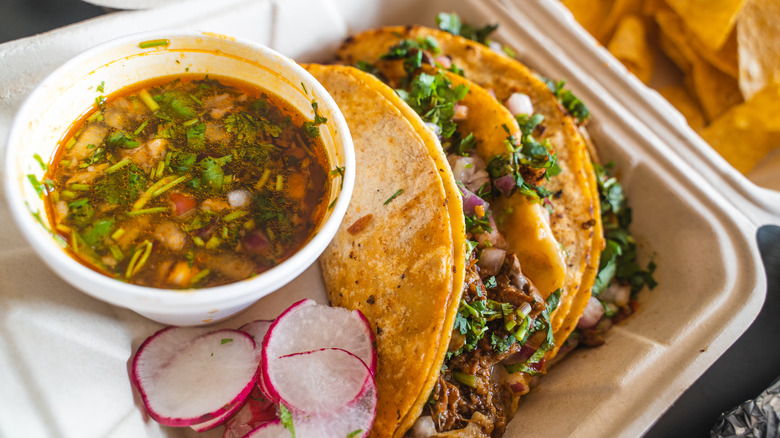 Shutterstock
So what's everyone been up to lately? And by "up to" we mean eating, of course. The food delivery people at Grubhub track this kind of thing because, well, it's fascinating. Isn't it interesting to find out what's in those delivery bags your neighbors are getting?
Grubhub's "State of the Plate" report gives insight as to what's been trending in the world of restaurant delivery. The company looked at the hundreds of thousands of orders the app received from January through June of 2021 to create the mid-year report that spills the bubble milk tea on just what everyone is ordering. 
The most interesting lists revealed what foods saw the biggest jumps in popularity this year. One notable trend that can be gleaned is that plant-based versions of popular foods are growing in favor — at least among Grubhub customers. Wraps made with plant-based sausage products grew the most — up more than 500 percent over 2020. A plant-based version of the ubiquitous chicken wing — barbecue cauliflower "wings" — also grew in popularity by more than 300 percent. Do these trends indicate a real shift in the source of our food? Time will tell.
Meat alternatives, Nashville hot chicken, and Southern side dishes are trending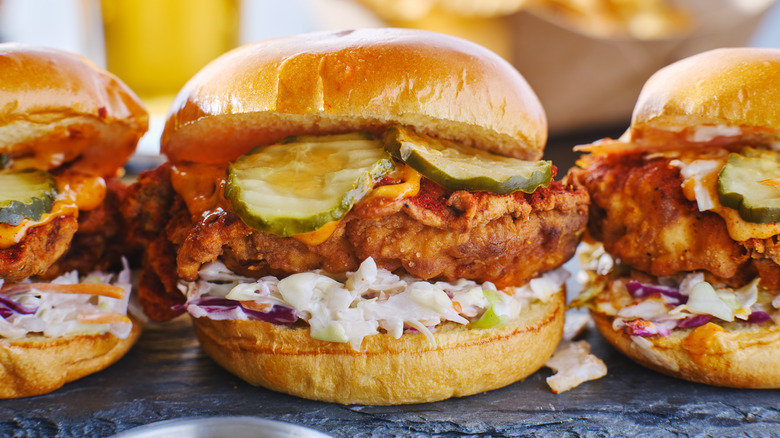 Shutterstock
So, what were the 10 foods that grew the most in popularity so far this year? They are: plant-based sausage wraps (+549%), bubble milk tea (+505%), birria tacos (+500%), everything omelets (+454%), strawberry banana cream smoothies (+430%), spicy miso tonkotsu ramen (+354%), churro waffles (+339%), beef empanadas (+333%), and Korean barbecue cauliflower wings (+302%).
Grubhub also tracked the side dishes that grew the most. Unlike the entrées list, which included more novel items like birria tacos and the spicy, rich tonkotsu pork ramen, the sides were more mainstream, but shared a largely Southern background. The most popular side dish trends were cajun fries (+630%), red beans and rice (+612%), corn chowder (+603%), jalapeño bites (+465%), and biscuits and gravy (+368%).
Grubhub tracked the most popular desserts of early 2021 as well. The comforting theme of classic pies and chocolate treats stuck out, with chocolate french silk pie (+698%), cinnamon apple pie (+584%), frozen custard (+486%), and cookies & cream milkshakes (+458%) growing the most.
We say "yes" to all the yumminess above and to the delivery services (and people) that bring almost any delicious thing right to our doorsteps. It will be interesting — and tasty — to see what comes to everyone's doors in the next half of 2021.