Zoë François Reveals What Makes Her Perfect Chocolate Chip Cookie
When it comes to crafting the ultimate chocolate chip cookie, there are a few important variables to take into account that can make a perfect batch every time. That list includes chilling the dough before forming it into balls, making sure to cream the butter with white and brown sugar to make the dough, chilling the dough before forming it into balls to bake, and setting the oven to 400 degrees Fahrenheit, according to Modern Honey. While these helpful tips always can make a cookie shine, it takes a refined baker's touch to get the most out of your tasty dozen. 
Just ask Zoë François. The popular blogger, bestselling author, and now personality on the Magnolia Network has built an entire career for herself based on her technical prowess as she whips up the ultimate breads, cakes, and cookies (via Zoë Bakes). The baker first learned the tools of the trade studying at the Culinary Institute of America and has since written multiple cookbooks documenting the proper methods for how to handle baked goods, not to mention instructional videos and features in magazines that continue to give great insight for home bakers.
Making the perfect chocolate chip cookie comes down to a personal decision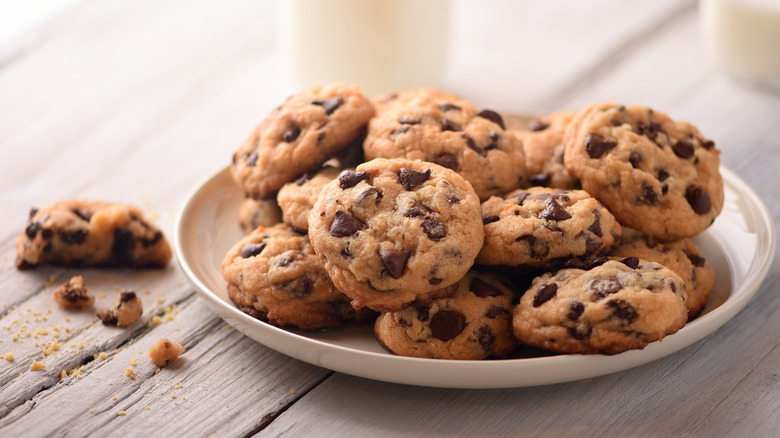 Shutterstock
When you want to whip up a batch of chocolate chip cookies, there is one very personal decision you have to make: Do you go for the soft, chewy cookie, or a crispy, crunchy treat? According to Zoë François, both options work great, but the ultimate choice is yours to make. At a recent Magnolia Network presser, which Mashed was present for, François was asked about the best traits needed in the perfect cookie, and she said, "Chocolate chip cookies can go in so many directions. For me, crispy on the outside, a little bit soft and gooey on the inside. That's the one for me, but there is no right or wrong answer here."
She added, "It's like everybody has their individual sense of what that is. Whether it's the perfect one their grandmother made or something they had in a bakery. So there's ways to tweak a cookie to make it exactly how you want it." 
So, next time you second guess your own baking prowess, remember François' advice and follow your heart — using your own judgment, you can't go wrong with this time-tested dessert.