TikTok Can't Stop Talking About This Copycat Vegan Big Mac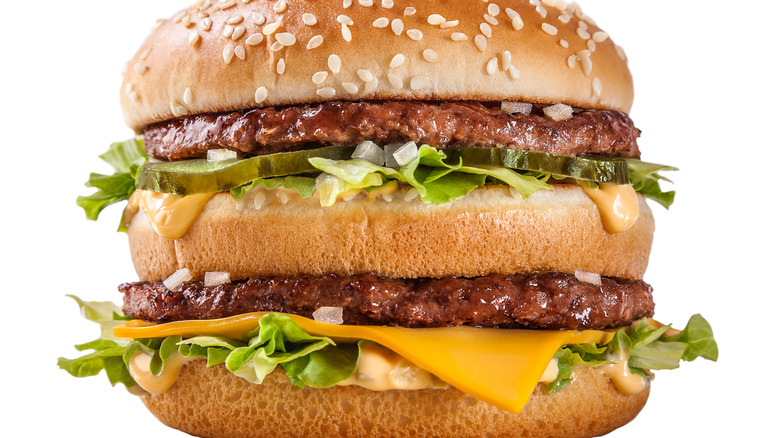 Shutterstock
With two slices of American cheese and a mayo-based secret sauce, a double-beefed McDonald's Big Mac is far from plant-based – but that doesn't mean that vegans can't recreate the meal at home without using any animal products. British vegan TikToker Ben Rebuck behind the account @bensvegankitchen has shown nearly 40,000 viewers and counting exactly how to do it.
Rebuck's "banging" vegan Big Mac is as simple as whipping up a quick sauce to be layered with the rest of the "burger" ingredients. His recipe includes finely diced yellow onions and pickles, vegan mayonnaise, yellow mustard, paprika, and white wine vinegar, which you can whisk together in a jar and keep on hand for about a week in the fridge, he says. "Honestly, the rest is just assembling it," he assures viewers. Watch his video for a full tutorial on how to mimic McDonalds' most famous mouthful with your choice of plant-based sauce, cheese, and meatless burger patties.
Which plant-based products to buy for your own vegan Big Mac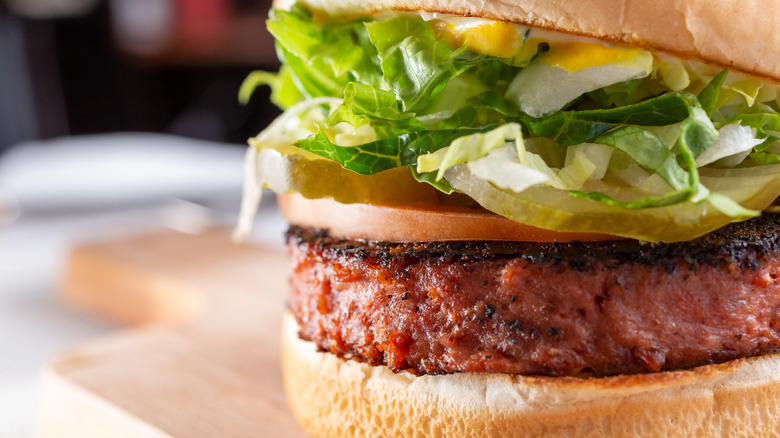 Shutterstock
A plant-based Big Mac is only as good as the ingredients you use to put it together, so you'll want to make sure you're a fan of the brands of vegan mayonnaise, dairy-free cheese, and meatless burger patties before you do all of that assembly. In the TikTok post, Rebuck says that Hellmann's vegan mayonnaise is "very good," and he cooks his Meatless Farm patties to charred perfection on an oiled grill pan. As for the cheese, Rebuck says he uses Vitalite, while commenters on the post — many of whom were skeptical this would taste as good as the real thing — also recommended Follow Your Heart, Kinda Co, and Field Roast brands.
"I used to love McDonald's, but their vegan options are so bad," Rebuck told Newsweek. "I knew it'd be easy, as the sauce is the only tricky bit — but that was quite simple to veganize. It just takes a little bit of ingenuity to get that same flavor at home." And simple it was: Rebuck told Newsweek that this was his first attempt at making a vegan Big Mac. His viewers had one piece of constructive criticism: Toast that bun next time.