Subway Is Giving Away 1 Million Sandwiches. Here's How To Get One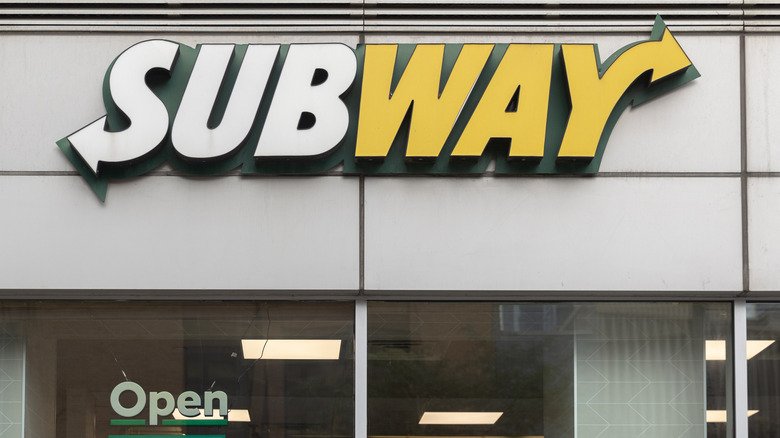 Bloomberg/Getty Images
We all love a free sample, but what about a free sub? We promise we're not pulling your leg. As reported by PR Newswire, Subway plans to give away 1 million six-inch sandwiches for free across more than 10,000 of its locations on Tuesday, July 13. The global sandwich empire is reportedly offering this special promotion as part of its "Eat Fresh Refresh" campaign, with the hopes it will encourage people to try the chain's new offerings. So if you've always wanted to try a new sandwich but have been hesitant to do so, now's your chance to do so with zero chance of buyer's regret!
According to CNN, this deal hits just as the chain has revamped its entire menu in an effort to attract new and old Subway customers following declining sales during the coronavirus pandemic. The chain is also totally upgrading its app experience and has added new delivery options and various locations around the world to make it even easier than ever to get your hands on its yummy subs. Talk about starting fresh indeed!
To prepare for the launch, many locations are closing early on July 12 to prepare, so if you had dinner plans for a meatball sub this Monday, make sure you get your orders in early!
Free sandwiches will only be offered to the first 50 customers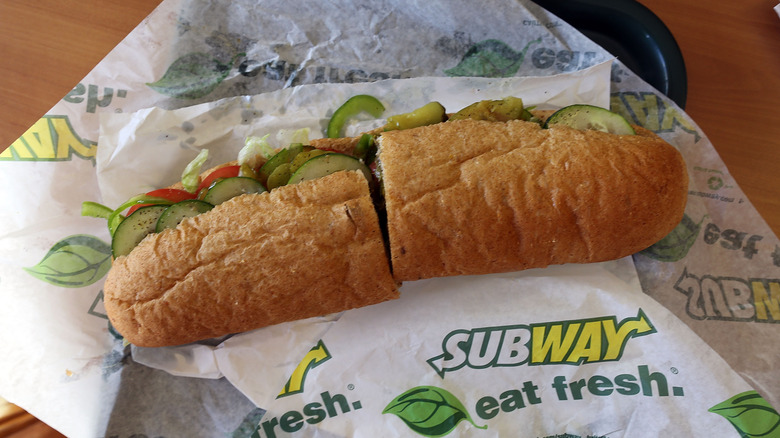 Joe Raedle/Getty Images
To mark the new launch, the first 50 guests who enter participating U.S. Subway locations this Tuesday will have the chance to try the brand new Turkey Cali Fresh sub totally free of charge. This sandwich features oven-roasted turkey, hickory-smoked bacon, mayo, spinach, red onion, tomato, and smashed avocado on multi-grain bread. Free avocado? Yeah, consider us there! In addition to the free Turkey Cali Fresh subs, the chain will also be debuting more than 20 new menu items for purchase, including ingredient upgrades like mozzarella and hickory-smoked bacon (via CNN).
Curious as to how you can get your hands on one of those free turkey subs? You may want to make sure you take an early lunch break. According to PR Newswire, the offer is only available to the first 50 guests who visit Subway stores in person from 10 a.m. to 12 p.m. local time on Tuesday, July 13. Locations will only offer the special deal to guests who request it, so be sure you mention that's the reason you're there if you want it. Though there's no purchase necessary to get the sandwich, the special promotion will only be available while supplies last, so it may be worth it to get there early if you want to try out the tasty new turkey sub. Our stomachs have never been more ready.
The menu changes coming to Subway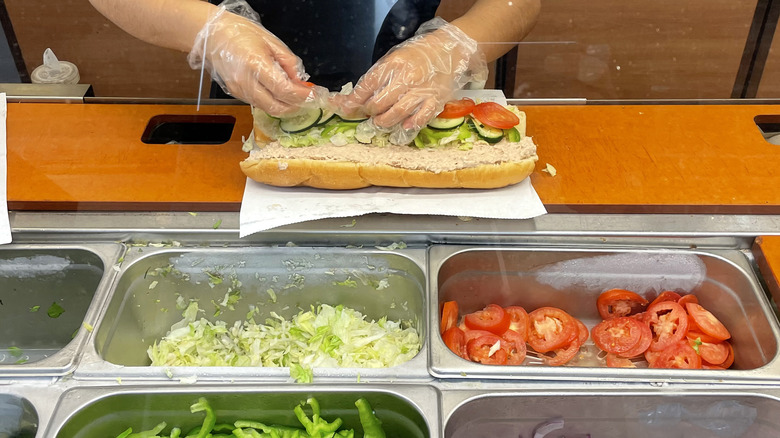 Justin Sullivan/Getty Images
According to Subway, the updated menu being launched along with the giveaway will introduce both new and returning sandwiches and ingredients. The new and improved ingredients are smashed avocado, fresh BelGioioso mozzarella cheese, a Parmesan vinaigrette, hickory-smoked bacon, black forest ham, oven roasted turkey, steak, rotisserie-style chicken, and roast beef. The sandwich chain will roll out two updated bread options as well: Artisanal Italian and Hearty Multigrain.
The new sandwiches include two Cali Fresh options, one with beef and one with steak. Both contain hickory-smoked bacon, smashed avocado, fresh mozzarella, mayo, spinach, red onion, and tomatoes on multigrain bread. Then there is the Subway Club and All-American Club, both of which have turkey, black forest ham, tomato, lettuce, and red onions. The Subway Club also contains roast beef and comes on multigrain bread, while the All-American features bacon and American cheese on Italian. The fan favorite roast beef sandwich is returning.