Old-Fashioned Green Beans And Potatoes Recipe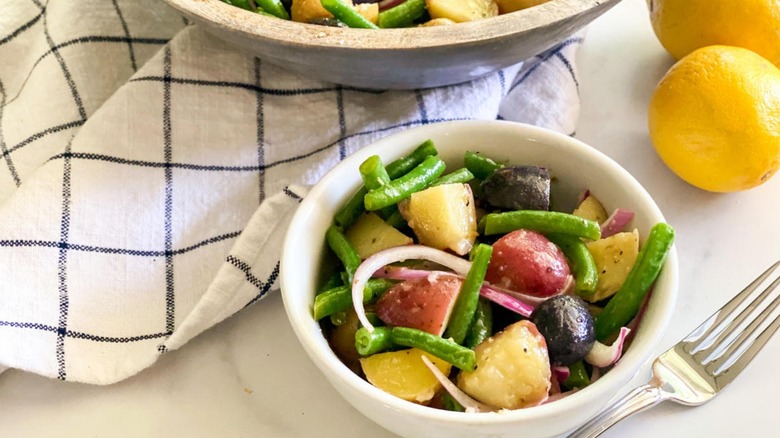 Miriam Hahn/Mashed
Are you flipping through cookbooks for a simple summer dish? Look no further! We've found just what you need. Miriam Hahn, wellness coach and recipe developer for You Care Self Care, gave us one of her barbecue-side secrets. We assure you, this old-fashioned dish will taste just like home. 
Whether your family is vegan, vegetarian, or loves a good steak, this dish makes a flexible entrée or side. Red potatoes are an amazing source of fiber, vitamin C, and potassium with low cholesterol. The waxy potatoes are also filled with vitamin K, a natural vitamin that strengthens bones and regulates blood calcium levels. Not only that, but green beans are a low-fat complex carb that hits their peak season between late summer and fall. The entire dish is packed with plenty of healthy minerals to help our bodies thrive through the summer. So this is a win-win! Add this to your list of tasty and heart-healthy choices for your family!
Throwing together this fare is so fair it takes no time at all. Altogether, prep time requires 10 minutes, and about 8 minutes goes into the cooking if you multi-task. Up to 6 adults can be served using this recipe. Let's dive in already!
Gather the ingredients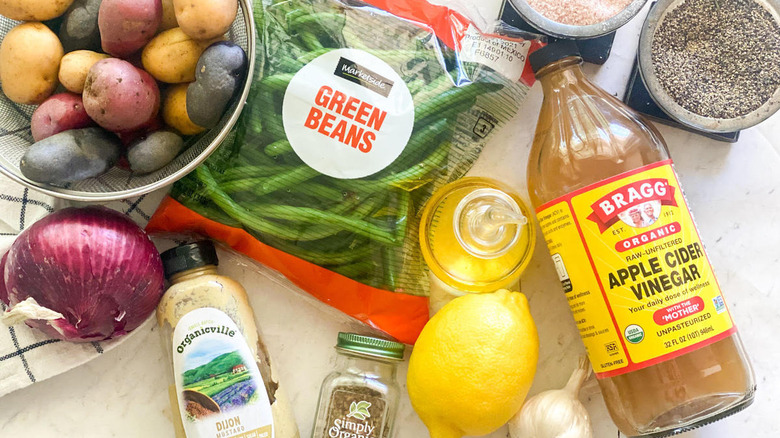 Miriam Hahn/Mashed
Grab the kids and make the shopping list! You'll have a quick trip on your hands here, and may even find a few items in your pantry or garden.
Collect your major ingredients first: 1½ pounds (or 15 small) multi-colored potatoes, 12 ounces of green beans, and ¼ of a sliced red onion. For the dressing we'll need some olive oil, apple cider vinegar, 1 crushed clove of garlic, and 1 teaspoon of Dijon mustard. Additionally you'll need zest from a lemon, salt (Himalayan pink salt is pictured), ¼ teaspoon of black pepper, and ¼ teaspoon of dried oregano.
Cut your potatoes to size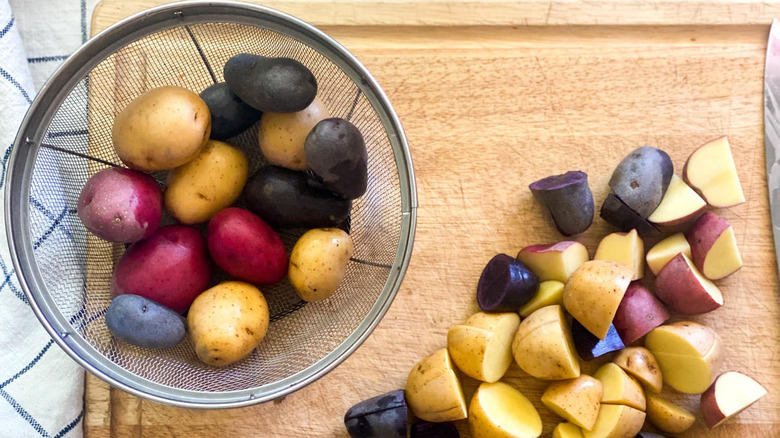 Miriam Hahn/Mashed
Start off this savory summer dish by washing your 1½ pounds of multi-colored mini potatoes and chopping them accordingly. If the potatoes are rather large, chop them into cubes, but if they're small, you can quarter them, according to Hahn. If you find fingerling potatoes that are about 1-inch long, those won't need to be cut to size at all.
Next, you'll want to put the potatoes in a medium-sized pot of water, adding a lid. Bring it to a boil and cook them for 5 to 7 minutes. Be sure the potatoes maintain a bit of firmness.
Trim and steam the beans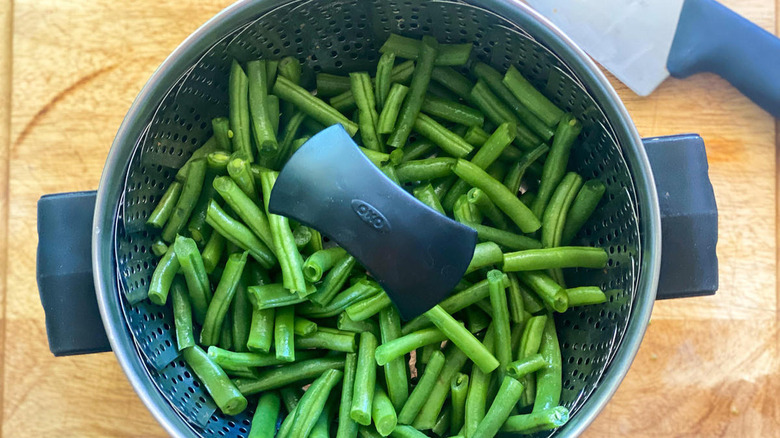 Miriam Hahn/Mashed
Meanwhile, you can wash the green beans and trim away the tips. Chop the beans down to 2-inch pieces for this dish. Place them into a steamer basket and place it over a pot of boiling water. Steam them for about 8 minutes total, but allow them to retain some crunch. Hahn tells us, "If you don't have a steamer basket, just cook them in boiling water for about 3 to 5 minutes." 
If you're not a fan of green beans, Hahn says they can easily be swapped for asparagus for an equally pleasing taste. That is literally all the cooking you have to do. Yes, we're serious!
Mix the zesty dressing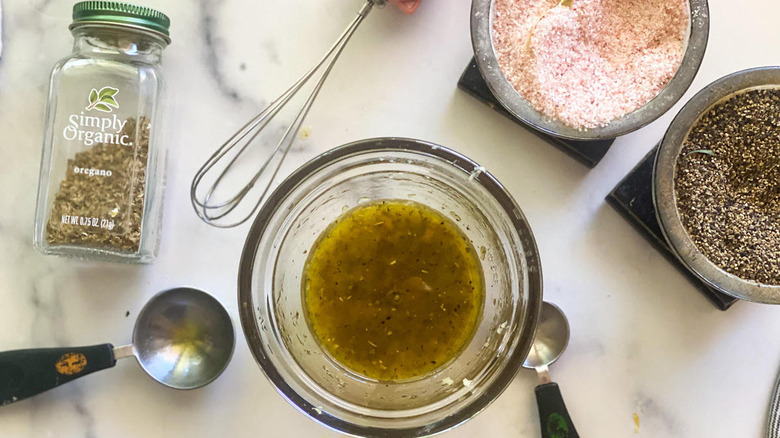 Miriam Hahn/Mashed
To assemble a homemade, French Nicoise-like dressing, mix these simple ingredients together: 3 tablespoons of olive oil, 2 tablespoons of apple cider vinegar, 1 crushed clove of garlic, 1 teaspoon of Dijon or brown mustard, the zest of one lemon, 1 teaspoon of salt, ¼ teaspoon of black pepper, and the same amount of oregano.
Whisk the ingredients together in a small mixing bowl until fully blended, and then set the dressing to the side.
Toss it all together in a large dish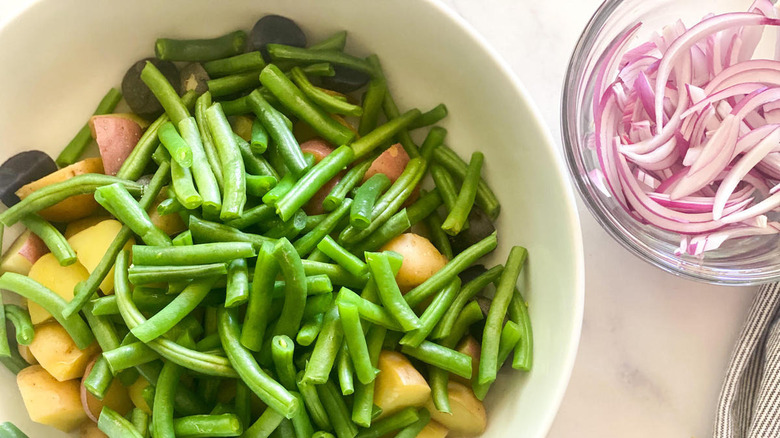 Miriam Hahn/Mashed
For your final steps: in a large serving dish, place the cooked potatoes along with the green beans. Slice up ¼ of a red onion and incorporate that in with the beans and potatoes. Once everything has been tossed well, pour the dressing over all the ingredients. 
Continue to intermingle the beans, potatoes, and onions with the dressing until they are fully covered in the zesty sauce. Once you're finished, sprinkle some extra oregano on top for garnish and your side is served!
Some like it hot, some like it cold!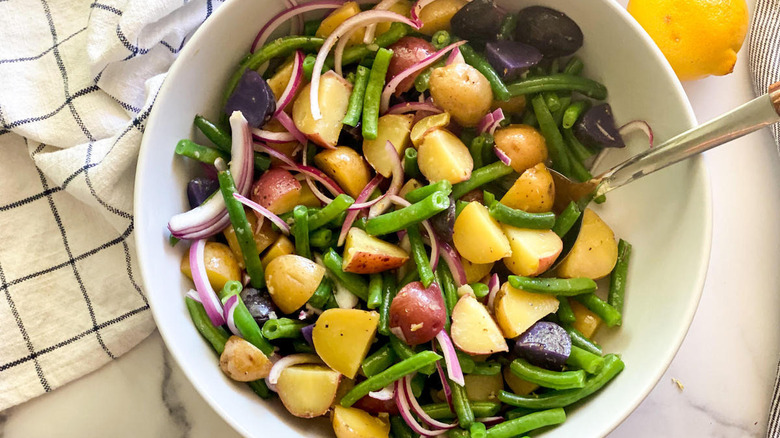 Miriam Hahn/Mashed
You can enjoy this dish slightly warmed or it can double as a chilled summer salad! 
Hahn tells us, "My favorite way to have this dish is cold the next day after making it. Then the flavors have had a chance to really blend and it is even more delicious. I love it for entertaining but also love having a cold salad in my fridge ready for a quick lunch. I usually add a splash of vinegar if I am eating the next day as the dressing can get soaked up by the potatoes."
This should keep in the fridge for a few days afterward and can make for great finger food for the kids! We hope you enjoy serving this to your family and friends. Until next time!
Old-Fashioned Green Beans And Potatoes Recipe
This tasty green bean and potato salad can be served up warm or cold, making it the perfect side dish for your next barbecue or summer meal!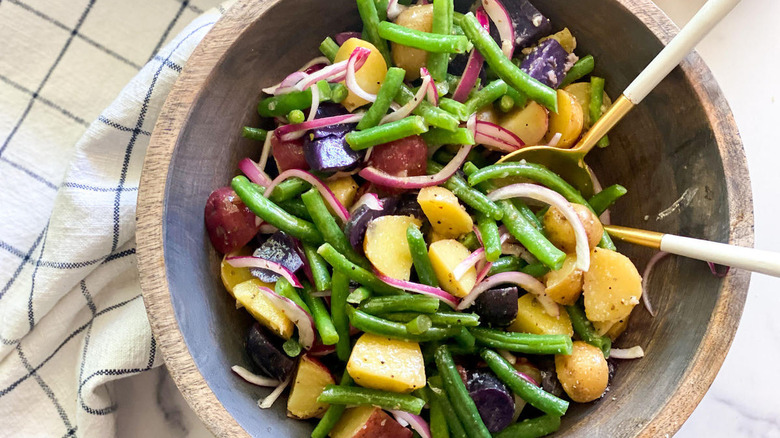 Ingredients
1 ½ pounds (about 15) mini multi-colored potatoes
12 ounces green beans
3 tablespoons olive oil
2 tablespoons apple cider vinegar
1 clove garlic, crushed
1 teaspoon Dijon mustard
Zest from one lemon
1 teaspoon salt
¼ teaspoon pepper
¼ teaspoon oregano, plus more for garnish
¼ red onion, sliced
Directions
Quarter the potatoes if you are using the ones that are about 2 inches. If you are using larger potatoes, chop them into cubes.
Put the cut potatoes in a medium pot and cover with water. Bring to a boil and cook for about 5 to 7 minutes until the potatoes are cooked but still firm.
Meanwhile, trim off the ends of the green beans and chop them into 2-inch pieces. Add them to a steamer basket and place it over a pot of boiling water. Steam them for about 8 minutes.
While the potatoes and beans are cooking, make the dressing: mix together the olive oil, vinegar, garlic, mustard, lemon zest, salt, pepper, and oregano.
Add the cooked potatoes and green beans to a bowl and add the sliced onions.
Top with the dressing and stir. Taste for seasonings adjust as necessary.
Garnish with extra oregano. Eat right away or chill and serve as a cold salad.
Nutrition
| | |
| --- | --- |
| Calories per Serving | 172 |
| Total Fat | 7.0 g |
| Saturated Fat | 1.0 g |
| Trans Fat | 0.0 g |
| Cholesterol | 0.0 mg |
| | |
| --- | --- |
| Total Carbohydrates | 25.5 g |
| Dietary Fiber | 4.5 g |
| Total Sugars | 3.2 g |
| Sodium | 407.9 mg |
| Protein | 3.6 g |