National French Fry Day 2021: Where To Get The Best Food Freebies And Deals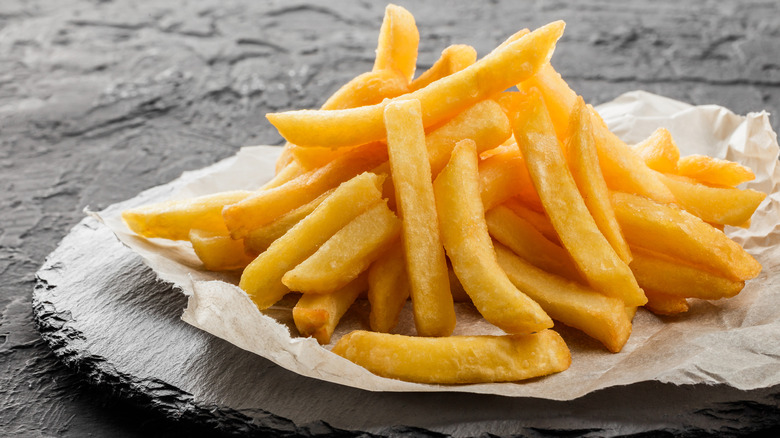 Shutterstock
What do we want? French fries. When do we want them? Today. Why? Because they're free. Celebrating National French Fry Day, restaurants around the country are peddling free fries in honor of the ubiquitous burger-joint side — with the occasional caveat. USA Today reports McDonald's and Wendy's are giving away free fries with a purchase when customers order via their mobile apps. Arby's aficionados who subscribe to the company's email announcements get free fries (curly or crinkle) through July 18 when they show the email coupon. And Wayback Burgers is giving customers a free side of French fries with any burger or sandwich ordered through the app on Tuesday. 
MassLive says Burger King customers get free fries with a $1 purchase placed through the app. At Smashburger, the deal is this: Pay $1 for an order of Smashfries with any sandwich order and the chain will donate a dollar to local Boys and Girls Clubs. Per Chew Boom, both Checkers and Rally's are also jumping on the altruism bandwagon, offering $1 fries with proceeds (up to $100,000) going to No Kid Hungry. Other deals cited by Chew Boom include free curly fries from Jack in the Box for orders placed via the app. Walk-Ons is giving out free waffle cheese fries when you sign up with the mobile app. In an oops moment, Five Guys missed the memo (via Facebook). Make a note for next year, guys!
Why do we celebrate French fries?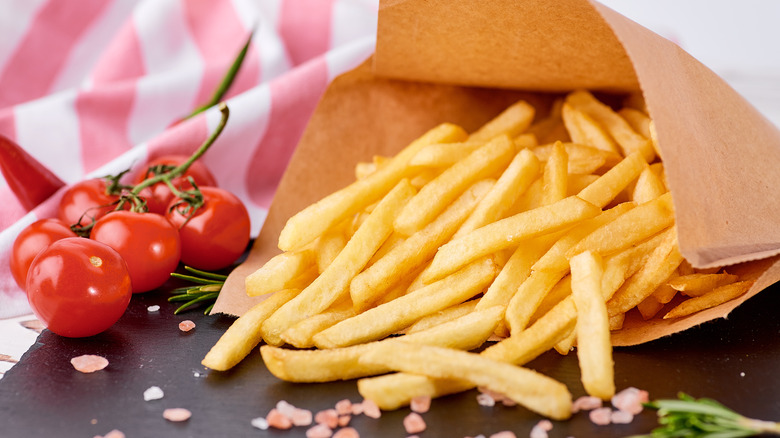 Shutterstock
While the U.S. celebrates National French Fry Day on July 13, it's interesting to note French fries may not have originated in France. According to International Business Times, the fried potato strings, wedges, and crinkles we know and love may have originated in Belgium. One theory suggests the confusion may stem from WWI U.S. soldiers who discovered the dish in a predominantly French-speaking part of Belgium. 
There may be something to that. After all, moules-frites (mussels with fries) is a staple on Belgian menus (via Saveur). Others claim that the fried potatoes have their roots in France, noting references to 18th-century Paris street vendors who peddled them at Pont Neuf. Whatever their origin, french fries are big, really big, especially in the realm of fast food. In 2017, Eat This Not That! listed McDonald's French fries as the most popular fast food order on the planet. So, on July 13, when the server asks, " Do fries go with that shake?" the answer is a resounding yes, please!