The 'Best Time' To Eat Dessert Might Surprise You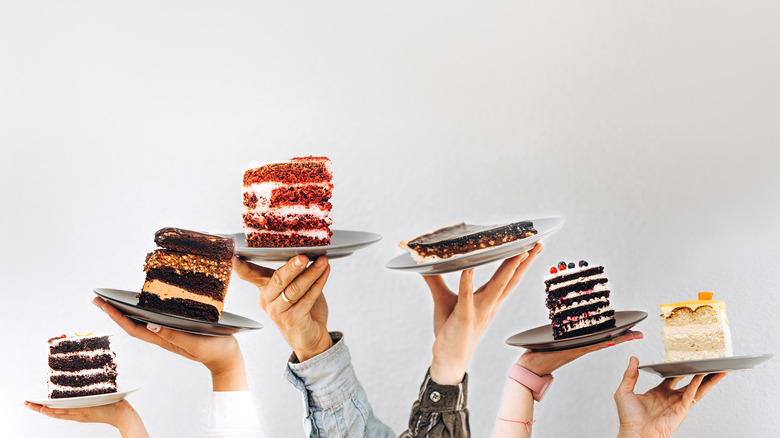 Shutterstock
We are hard wired to love desserts. According to the Davidson Institute of Science Education, we develop a taste for the sugary sweets based on the foods we are exposed to in our youth. Per the Institute of Food Technologists, Americans like dessert. At least once a week, 57% of adults indulge in desserts that range from juicy fruit and cookies, to ice cream and gelato, and everything in between. After all, who can resist a Hostess cupcake or a Krispy Kreme doughnut? All of that sugary goodness is a temptation any time of the day, but when is the best time to eat dessert? It's a question for the ages. Is it after a big Thanksgiving Day's luncheon? Or a yummy apple fritter with breakfast? Or maybe it's after a night on the town eating sushi?
Luckily, there are many pies and cupcakes to eat while we ponder this question. Others who have come before us also asked this question and the answer may not be what you expect. Is it after dinner? Shape says no. Its experts suggest that an hour after lunch might be the sweet spot for enjoying your M&Ms and Mars bars. But, perhaps, there is a better time. 
Experiment to determine the best time for you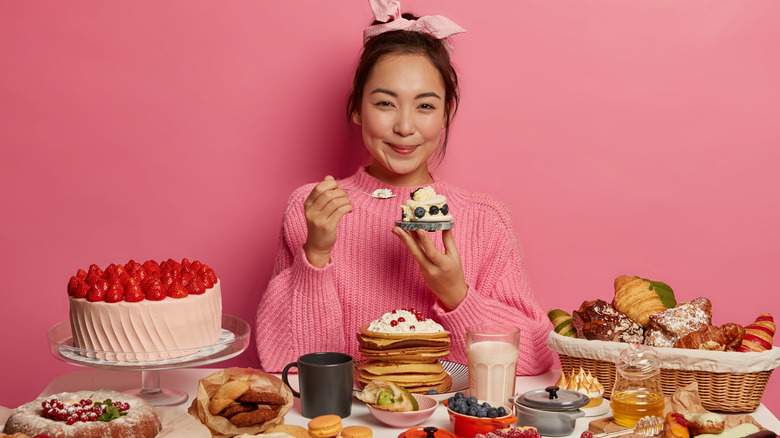 Shutterstock
Food Network also asked Wendy Lopez, MS, RDN, CDCES to throw her thoughts into the debate. As a dietician, Lopez shares that many of us impose artificial rules about dessert on ourselves and suggests that said outlook and relationship with dessert might be the most unhealthy aspect of dessert itself. Lopez goes on to explain that, when you make up rules about when you can and cannot eat dessert, that kind of rigidity can lead to craving and wanting desserts even more. Instead, she further explains that when you do not make dessert a treat or a reward, it starts to become less of a temptation and you can actually begin to figure out if and when you want to enjoy it.
Lopez encourages dessert lovers to experiment with both dessert and the time it is consumed to determine when is the best time to enjoy it. She recommends leading a healthy lifestyle and listening to your body as the ultimate guideposts to follow. Lopez also notes that if you have a chronic health condition, you should speak to your doctor. Australian pâtissier Adriano Zumbo seems to agree with this philosophy. Zumbo quipped (via BrainyQuote), "Sugar brings happiness. Eating it once or twice a week in a dessert, that's what life is about. There is nothing wrong with it." We concur.