Carl's Jr. Fans Won't Want To Miss This 80th Anniversary BOGO Deal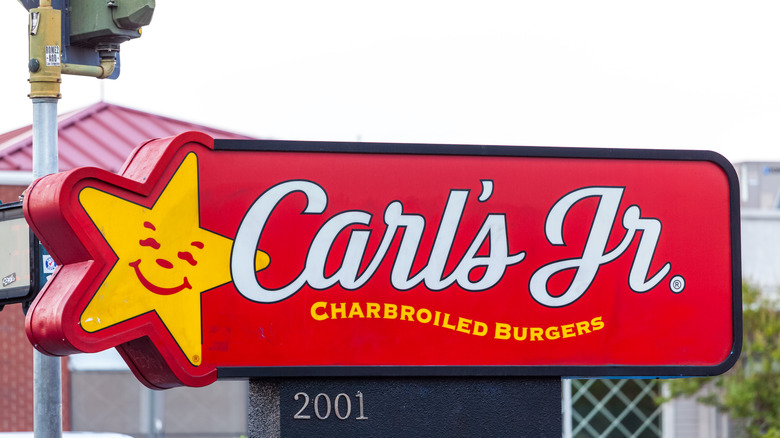 Carl's Jr. (also known as Hardee's in some states) is beloved by both everyday folks and burger aficionados for their charbroiled fare. The chain first started as a mere hot dog cart back in the 1940s, run by a truck driver named Carl Karcher and his wife, Margaret. Today, Carl's Jr. is a fast food force to be reckoned with, with more than 1,000 locations around the world — over 2,500 if you count Hardee's (via Carl's Jr.). As evidenced by their presence on OnlyFans, the chain isn't afraid to shake things up a bit, so it's no surprise that Carl's Jr. has big plans for their 80th birthday this Saturday, July 17.
As we learned from a press release on Chew Boom, the original Carl's Jr. location in Anaheim, CA will be having a full-on celebration this Saturday, July 17, complete with a special birthday-themed menu available for purchase. Guests who visit this historic spot will have the option to order a yummy strawberry cheesecake shake, a chocolate Oreo shake, and a colorful unicorn shake. There's even going to be a hot dog cart on the premises to pay tribute to the Karcher family's original business. So if you're anywhere in the Orange County area, you'll definitely want to swing by and check it out!
Buy one classic burger, get another one for just 80 cents
Nowhere near Southern California? Not to worry. Famous Star fans everywhere will still be able to get into something good through another special offer. To commemorate the fact that the brand is turning 80, participating Carl's Jr. locations around the country will allow guests the chance to buy one of their classic burgers for a regular price and get a second one for just 80 cents plus tax (via Chew Boom). That's two full sized burgers for less than the price of a meal. Not bad at all!
The burgers you can choose from for this BOGO deal include their Famous Star with Cheese, Western Bacon Cheeseburger, or Big Carl, all of which feature their juicy, signature charbroiled beef patty. To redeem the offer, you'll want to sign up for the Carl's Jr. mailing list in order to receive the special QR code needed to get the deal. This offer is a one-time, one-day only deal, so you won't want to let it pass you by.