Aldi Shoppers Are Loving These Frozen Lemonade Bars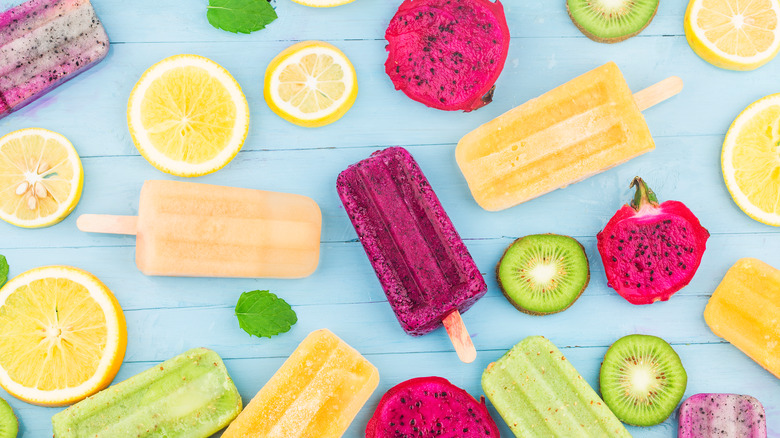 vuda chen/Shutterstock Images
On a sweltering summer day, nothing is more satisfying than a refreshing treat to help you cool down from the heat. And frozen snacks are an iconic summer staple.
Frozen bars are heavenly goodness during the hottest months of the year, and can be plant-based, gluten-free, and sugar-free, if you want them to be. While kids love frozen bars after a sweaty afternoon full of outdoor activities, adults can also enjoy these tasty treats at a picnic in the park or lounging by the pool. The best part is, these refreshing snacks are super easy to make at home, and there's a large variety of options to choose between. Whether you are craving chocolate, fruit, or even something boozy (yes, booze pops are a thing), there are some easy summer ice pops you can whip up yourself.
But if you are planning an outdoor party or backyard barbecue, sometimes you need a quick and easy dessert to satiate a big group of guests. Luckily, Aldi has the perfect solution for you!
Support Alex's Lemonade Stand Foundation by shopping at Aldi this July
If you want to pick up something sweet at the store that also supports a good cause, then Aldi has what you are looking for.
For the month of July, Aldi shoppers can pick up an assortment of lemony goods by the brand Alex's Lemonade Stand Foundation (ALSF). "Alex's Lemonade Stand Foundation is an American pediatric cancer charity inspired by Alexandra 'Alex' Scott, a girl from Connecticut who used lemonade stands to raise money to help find a cure for the disease that took her life at the age of eight," as Southern Living explained. For every ALSF product purchased, you help support the foundation.
For all you lemon lovers out there, ALSF offers a large selection of lemon-themed products including food, drink, and home decor. But one product that customers are especially loving right now are its frozen lemonade bars. These bright and beautiful snacks come in three mouthwatering flavors: lemonade, strawberry lemonade, and pink lemonade. In a recent Instagram post, user @aldi.mademedoit revealed their thoughts on these yummy snacks, "I'm not lying when I say these are the best popsicles ever!!! I'm so glad they came back! Will for sure be stocking up!" Be sure to go pick up some of these treats before the end of July.