Hostess Just Introduced 3 Limited-Edition Cupcake Flavors That Are Perfect For Summer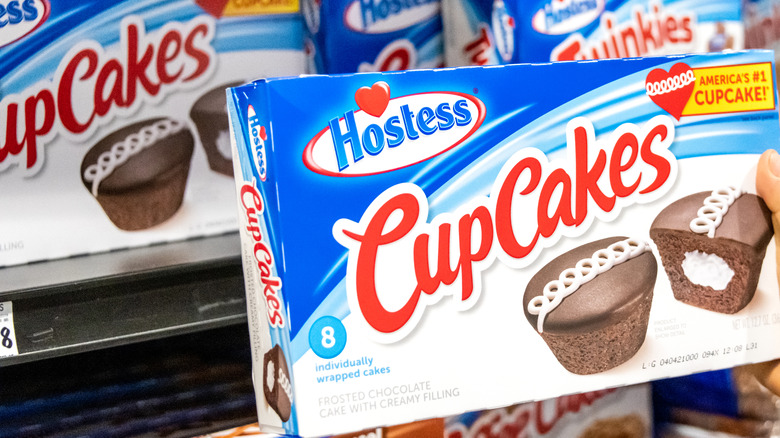 Shutterstock
Certain flavors are summertime classics, and Hostess has three limited-edition cupcakes that need to be enjoyed before they disappear. As shared by Brand Eating, the three cupcake flavors are Key Lime, Strawberry, and Sundae. According to the Hostess website, these cupcakes are available through July 25 at participating retailers. Since they are limited editions and they hit store shelves around June 28, it might be best to act quickly before these flavors fade like the long summer days.
Hostess describes the Key Lime cupcake as a "golden cake with a slightly tart creme filling." Although that description isn't necessarily key lime, it does seem to mimic that flavor profile. The bright key lime colored icing does make a stronger connection. For the Strawberry cupcake, the cake, itself, is strawberry flavored. While the creme description and icing is unclear, it can be assumed that it is the classic filling and icing. Lastly, the Sundae cupcake offers ice cream icing with a chocolate cake. It brings those classic sundae flavors without having to worry about melting. The Key Lime cupcakes are sold in eight-count multi-packs. The Strawberry and Sundae cupcakes are available in both eight-count multi-packs and two-count single serve packages.
Why do Hostess cupcakes have that squiggle?
While there are many cupcakes, there is only one cupcake with a signature squiggle on top. Hostess cupcakes are known for that iconic design, but it wasn't always part of the sweet decor. When Hostess first sold its cupcakes in 1919, there was only a straight line on that icing, per BakeryandSnacks.com. Adding the soon-to-be infamous loop-like design allowed the company to sell the cupcakes at a premium price.
While Hostess might be known for its Twinkies, a brand representative told BakeryandSnacks.com that its cupcakes are the biggest seller. In 2019, the brand sold 600 million annually. Given the popularity of the cupcakes, it makes sense that the brand offers both year-round flavors and special limited-edition offerings. Sometimes the special flavors are a reason to rediscover that classic treat. From summer inspired treats to the upcoming S'Cream filling cupcake (available September 6 per Hostess), there is always a reason to enjoy another snack cake. Wonder what flavor will be coming for the holiday season?