Easy Pupusa Recipe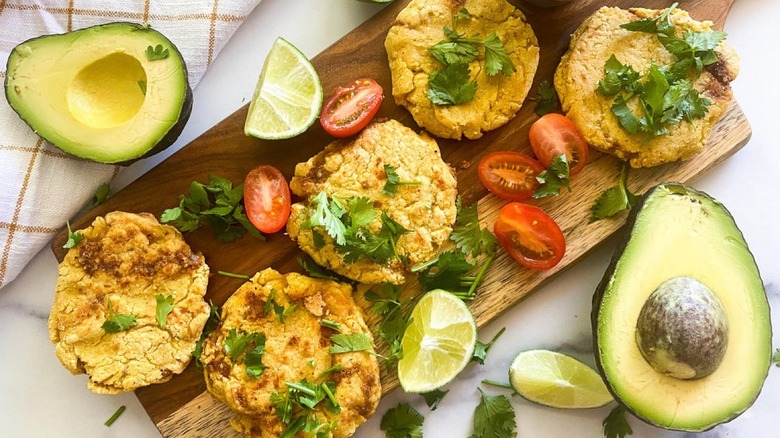 Miriam Hahn/Mashed
Have you been craving something different? If you want to spice up the menu for Taco Tuesday, trust us: Cancel that takeout order and let's make a traditional Latin dish from Central America. Recipe developer and wellness coach Miriam Hahn offered us her recipe so you can learn to craft these beauties at home. Her method serves 12 and takes about 40 minutes to prep and cook. La verdad, dinner will never be the same.
According to SalvadorianRecipes.com, pupusas are stuffed corn tortillas originating from, that's right, El Salvador. Nestled in the north west corner of Central America, you'll find the home of these juicy delights. Pupusas differ from the original tortilla because of their filling that oozes from inside. But pupusas are also different from arepas, because of the type of corn used and the way they're made.
In Hispanic culture, an invitation into the kitchen is a gesture of acceptance. So, wash your hands and follow us. Vamanos!
Just six ingredients? Sí.
Miriam Hahn/Mashed
Bueno, okay, let's begin. The customary fillings are frijoles beans, cheese, and chícharron cooked pork, but we'll give you the basics and you can add fillings as you wish.
All you'll need are simple items, including salt (pink Himalayan salt is pictured here, but any will do), refried beans, shredded cheese, melted butter, and water. The most important ingredient is masa harina, a corn-based dough sometimes called a flour that's used to make tortillas and other notable Latin dishes. 
Mix and mold your masa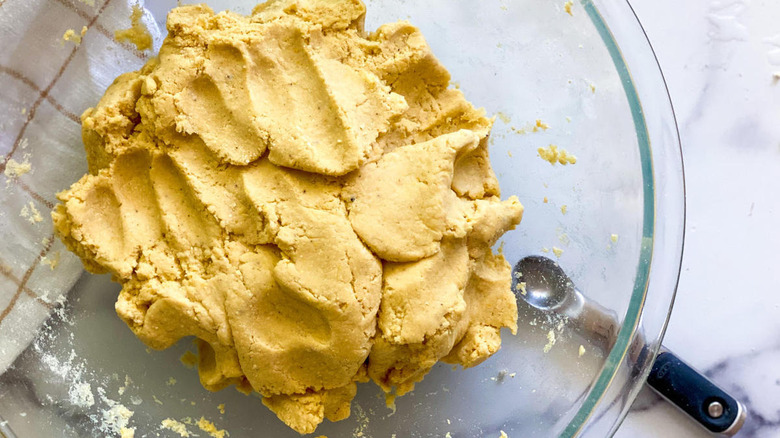 Miriam Hahn/Mashed
The first step is to measure out four cups of masa harina flour into a large mixing bowl. Add half a teaspoon of salt and then combine them until they're fully mingled. Bring a pitcher with three to three and three-quarter cups of slightly warm water and pour the majority of it into the flour. Blend the wet mixture together with your hands.
Periodically add more water as needed, until you have a moist, dough-like consistency. Once you have a thick masa dough in your hands, pour in the melted butter and combine again.
Roll the masa into balls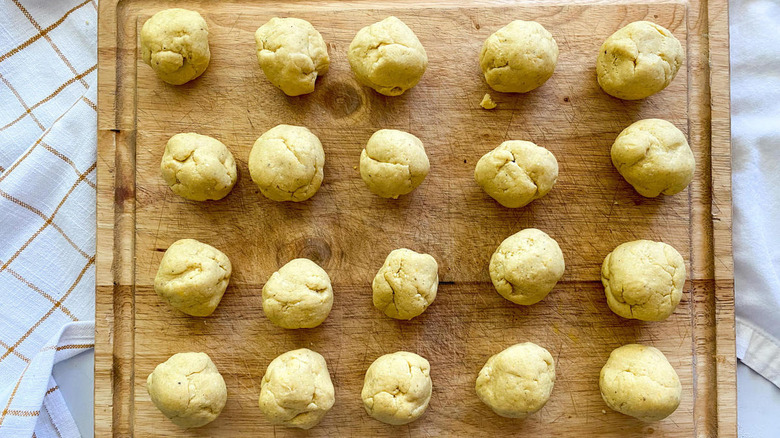 Miriam Hahn/Mashed
Separate the dough into equally sized balls, as pictured above. Hahn tells us this method should yield between 20 and 25 balls of masa dough. It is essential to create balls with enough dough to be flattened out, hold the filling, and close back up to conceal the fillings. If you're adding extra filling, you'll need to make the balls bigger. Keep this in mind as you roll out the ball size. We'll be doing this next.
Press out and stuff the dough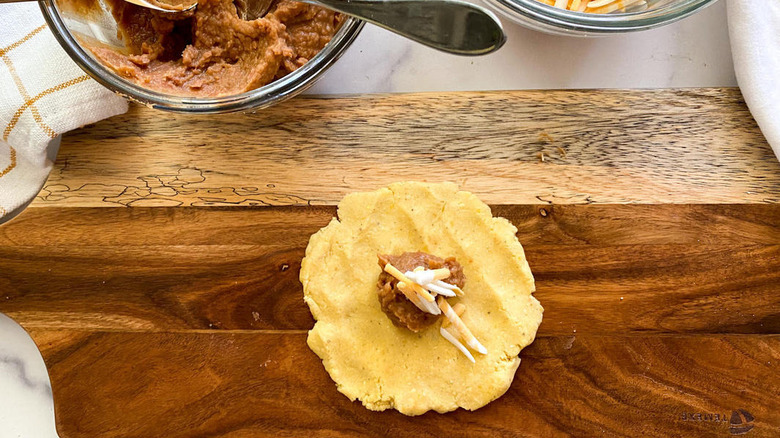 Miriam Hahn/Mashed
Flatten one masa ball into a disc. "The thickness should be around an eighth of an inch, but it doesn't have to be exact," says Hahn. Then scoop half a tablespoon or more of beans into the masa and add a pinch of shredded cheese. If you'd like to add extra ingredients, do so here.
When the pupusa is full, cup the dough in your hands, bending the outer edges up and inward to seal the fillings neatly inside. Re-flatten the pupusa into a disc. 
Repeat this step until all the pupusas are stuffed.
Cook your exquisite pupusas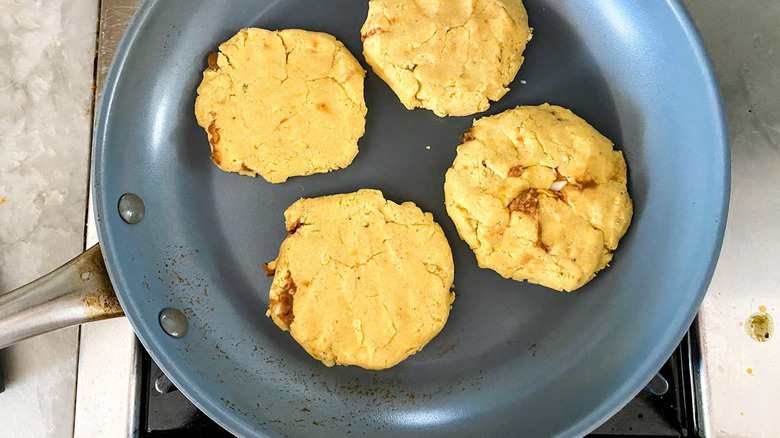 Miriam Hahn/Mashed
On the stove, heat up a skillet or griddle on medium heat. If you have a non-stick pan, you're set! For a stovetop griddle, you can spray it, add butter, or even add oil to prevent sticking.
Once the pan is hot, add your pupusas. Hahn tells us it's best to cook them for three to four minutes on each side, until they're golden brown. "You need a little patience with the cooking as they are pretty hands-on," says Hahn. 
Once they're finished, remove them from the pan and cool them slightly before serving.
Serve your pupusas deliciosas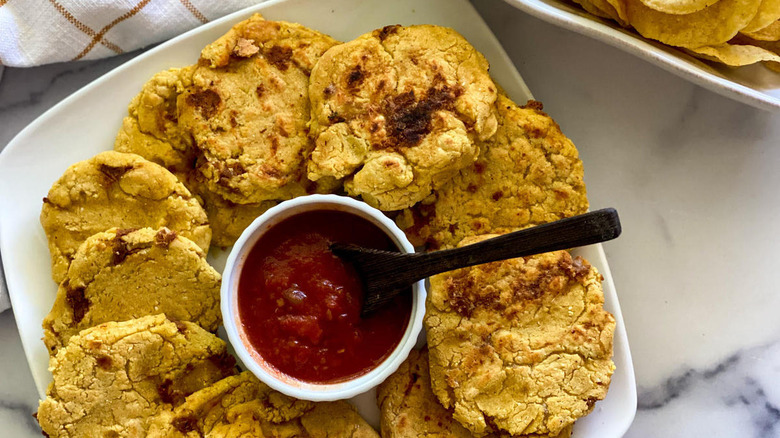 Miriam Hahn/Mashed
Pupusas are traditionally served with curtido, a Salvadorian coleslaw, or with salsa roja, a tomato sauce. Hahn also suggests avocado, cilantro, and tomatoes. This is considered a full meal, especially when ground meat is included in the pupusas. When we asked what sides pair well with these delectables, Hahn told us, "These are great for Taco Tuesday with a great big Mexican salad with avocado and lime." 
We're sure you'll love feeding these to your family any day of the week and thoroughly hope you'll relish this taste of Central America!
Easy Pupusa Recipe
Cancel that takeout order and let's make this traditional Latin dish from Central America. This easy pupusa recipe with its oozing filling is a juicy delight.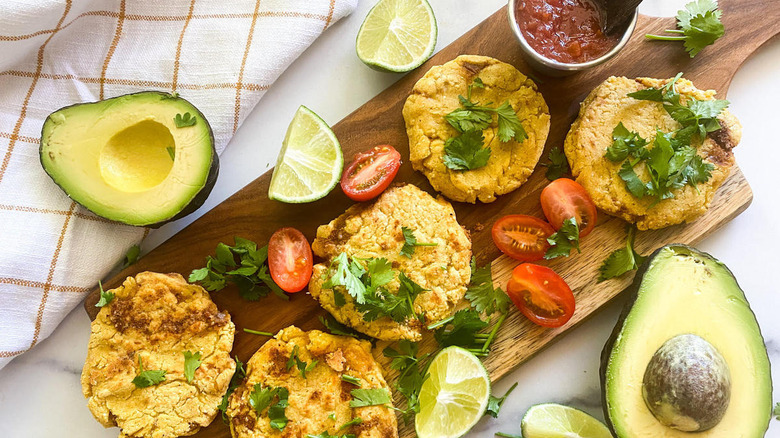 Ingredients
4 cups masa harina
½ teaspoon salt
3 to 3 ¾ cups warm water
2 tablespoons butter, melted
1 can refried beans
½ to 1 cup shredded cheese
Directions
Combine the masa harina and salt in a large bowl.
Add the water a little bit at a time, mixing the dough with your hands until you get a Play-Doh consistency.
Add the melted butter and mix with your hands again to combine.
Separate the dough into 20 to 25 balls.
With your hands, flatten the dough balls into 4- to 5-inch round discs. Scoop ½ tablespoon of beans into the center of each disc, then add a pinch of cheese.
Bring the edges of the disc towards the center to close it back up into a ball, then flatten it into a disc again.
Heat a non-stick skillet to medium heat. Place however many pupusas you can fit into the skillet and cook them for 3 to 4 minutes on each side.
Place the cooked pupusas on a cooling rack as you cook the remaining pupusas in batches.
Serve your pupusas.
Nutrition
| | |
| --- | --- |
| Calories per Serving | 217 |
| Total Fat | 6.5 g |
| Saturated Fat | 3.0 g |
| Trans Fat | 0.2 g |
| Cholesterol | 12.3 mg |
| | |
| --- | --- |
| Total Carbohydrates | 34.2 g |
| Dietary Fiber | 3.8 g |
| Total Sugars | 0.2 g |
| Sodium | 283.5 mg |
| Protein | 6.8 g |