Easy Yellow Cake Recipe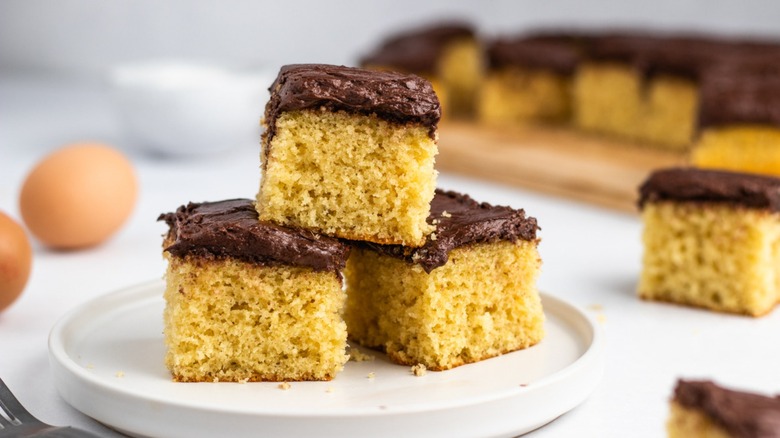 Catherine Brookes/Mashed
When we want to whip up a quick cake, most of us will just grab a box. Crack a few eggs, measure out some oil and water, then mix, pour into a pan, and bake. Easy-peasy! A little too easy, though. 
While boxed cakes taste just fine, and you can even make a few boxed cake ingredient swaps to make them taste even better, throwing one of those together really doesn't give us too much pride in our accomplishment unless we're true cooking rookies who've barely made it past Water Boiling 101.
Surprisingly enough, it's not that much harder — although it is way more satisfying — to make a cake from scratch. This recipe from Catherine Brookes of Blue Sky Eating involves a bit more measuring than a box mix (oh no, where did those teaspoons and tablespoons go?), but that homemade taste makes those few more minutes' worth of work worthwhile. As Brookes put it, "Using fresh ingredients usually ends up with a better taste and texture."
Get the ingredients together to make this yellow cake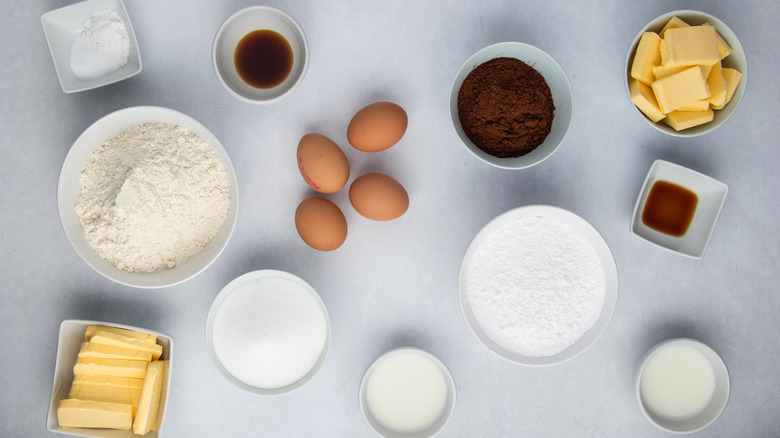 Catherine Brookes/Mashed
In order to make the cake itself, you'll need nothing more than some basic household staples: unsalted butter, granulated sugar, eggs, milk, vanilla extract, all-purpose flour, baking powder, and baking soda. Yes, there is a difference between baking soda and baking powder, so you need both. At least there's no danger of getting the two mixed up. 
As to why this double dose of leavening, Brookes says, "The cake uses quite a lot of lift to make it nice and fluffy. Baking soda has more lifting powder, but too much can leave a slightly tangy taste, so using the combination of both works well." She also notes that you can substitute gluten-free flour for the all-purpose kind on a 1:1 basis.
To make the chocolate buttercream frosting, you'll need a few more items. This frosting recipe calls for salted butter, but if you've only got the unsalted kind on hand, just add slightly less than a quarter teaspoon of salt. The frosting also calls for powdered sugar, cocoa powder, and a little more vanilla and milk.
Make the quick cake batter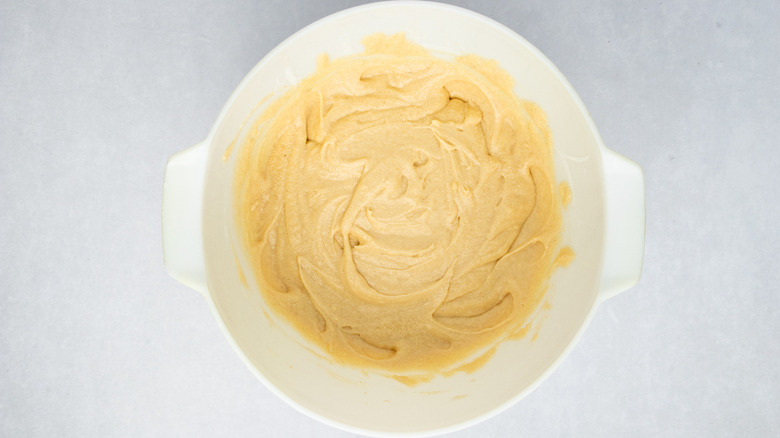 Catherine Brookes/Mashed
The batter won't take too long at all to put together, but there is one thing you'll need to do well in advance, and that is to take the butter out of the fridge to soften. In fact, should you have the unsalted and the salted kind, take out both, since the butter for the frosting will also need to be at room temperature. 
Preheat your oven to 350 F while you're at it, and also dig out a 13x9-inch pan. Grease the pan and then either flour it or line it with parchment paper. Brookes favors the latter method, and it does have the benefit of providing "handles" to lift the cake out of the pan. If parchment paper isn't something you typically have on hand, but you still want those handles, you can always line the pan with aluminum foil, then grease it to make sure the cake releases cleanly.
Mix the unsalted butter, granulated sugar, eggs, 4 tablespoons of the milk, a teaspoon and a half of the vanilla, the flour, baking powder, and baking soda with an electric mixer set on medium speed for about two minutes until everything is well combined. If you'll be beating by hand, begin by creaming the butter and sugar, then stirring in the eggs, milk, and vanilla. Then mix the dry ingredients together in a separate bowl (you can even sift for bonus points!), and stir them into the egg mixture a bit at a time.
Bake the cake, then let it cool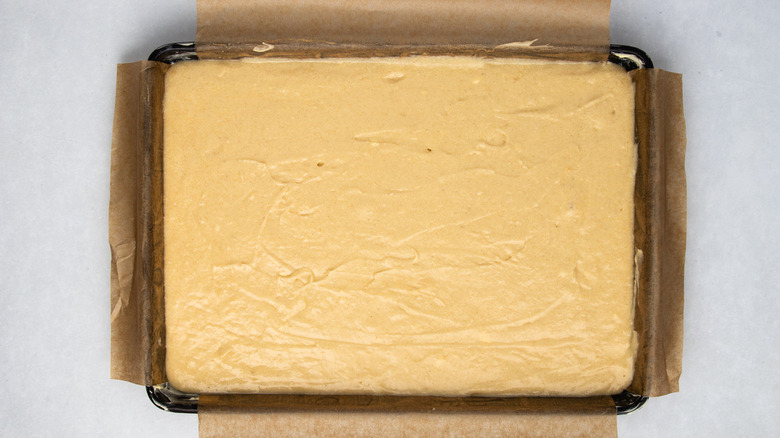 Catherine Brookes/Mashed
Pour the cake batter into the pan and spread it out so it's nice and even. Bake the yellow cake for 30 minutes, then check to see whether it's done by inserting a skewer (or toothpick or thin knife blade) into the center. When you pull the skewer back out again, it should be clean or maybe have just a few moist crumbs clinging to it. If it comes out wet, give the cake another five minutes in the oven before checking again.
When you're sure the cake is done baking, take it out of the oven but let it sit in the pan for about 10 minutes before you attempt to remove it. Since this is a sheet cake, it's okay to just leave it in the pan. You can frost, cut, and serve the slices from there. But if you do remove the cake from the pan, let it sit on a wire rack until it's completely cool. 
Make and spread the chocolate buttercream frosting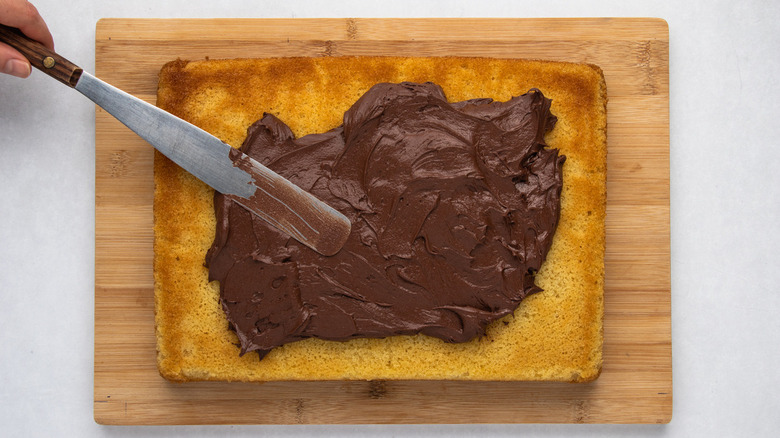 Catherine Brookes/Mashed
For the frosting, beat the salted butter together with the remaining one teaspoon of vanilla until the mixture is smooth and creamy. Brookes suggests using an electric hand mixer, although a stand mixer will also work here, as will beating by hand if your arm muscles are up to the task. 
Sift the powdered sugar together with the cocoa powder, then add these in to the butter a bit at a time. Mix well after each addition. If the mixture feels too stiff and dry, add in a tablespoon of the milk and stir this in well. Once you've added all of the dry ingredients and as much of the remaining milk as you need (up to five tablespoons), beat the frosting again for one more minute to ensure that it's as smooth and glossy as a frosting should be.
Once the cake is completely cool, spread the frosting on top with a knife, a rubber spatula, or any other kind of fancy frosting-spreading tool you might have in your kitchen arsenal. Slice the cake into 12 pieces, or 24 smaller ones if you prefer. Brookes advises that this cake should keep for up to four days when stored at room temperature as long as you keep it in an airtight container.
How to jazz up this basic yellow cake recipe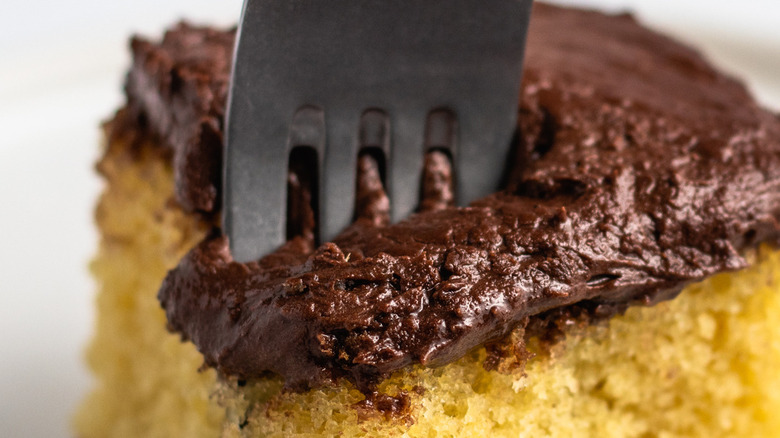 Catherine Brookes/Mashed
While you can definitely enjoy this easy yellow cake on its own or with the chocolate frosting that it's so often paired with, Brookes suggests you could also try changing it up a bit. "The simple vanilla cake will go well with lots of other flavours!" she tells us. "You could go for vanilla, strawberry, lemon, cream cheese, or peanut butter frosting." 
Try a few ingredient swaps with the cake itself, too, like replacing or supplementing the vanilla extract with almond, rum, or another flavoring. In fact, you could even replace all or part of the milk in either the cake or the frosting (or both!) with coffee or your favorite liqueur.
Easy Yellow Cake Recipe
While boxed cakes taste juste fine, the homemade taste of this easy yellow cake recipe makes those few more minutes' worth of work worthwhile and satisfying.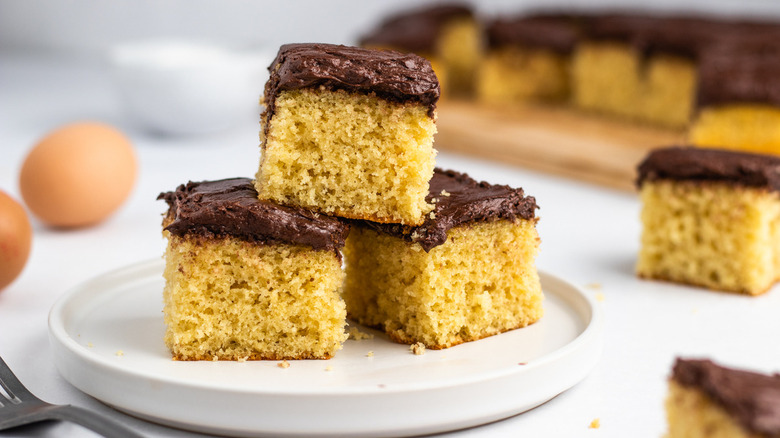 Ingredients
1 cup unsalted butter, softened
1 cup + 2 tablespoons granulated sugar
4 large eggs
9 tablespoons milk, divided
2 ½ teaspoons vanilla extract, divided
2 ¼ cups all-purpose flour
2 ½ teaspoons baking powder
1 teaspoon baking soda
⅔ cup salted butter, softened
2 ½ cups powdered sugar
½ cup cocoa powder
Directions
Preheat the oven to 350 F.
Grease and flour a 13x9-inch baking pan, or line it with parchment paper.
Mix the unsalted butter, sugar, eggs, 4 tablespoons milk, 1 ½ teaspoons vanilla, flour, baking powder, and baking soda on medium speed for about 2 minutes until well combined.
Spread the cake batter in the pan.
Bake the cake for 30 to 35 minutes.
Leave the cake in the pan for about 10 minutes before turning it out onto a wire rack to cool completely.
Beat the salted butter and the remaining teaspoon of vanilla extract until smooth and creamy.
Sift in the powdered sugar and cocoa powder, a little at a time, mixing until smooth after each addition.
If the frosting is too thick, mix in a tablespoon of milk. You can add up to 5 tablespoons of milk if needed, one at a time.
Blend the frosting at high speed for another minute.
When the cake has cooled completely, spread the frosting over the top before slicing.
Nutrition
| | |
| --- | --- |
| Calories per Serving | 523 |
| Total Fat | 28.2 g |
| Saturated Fat | 17.3 g |
| Trans Fat | 1.0 g |
| Cholesterol | 130.9 mg |
| | |
| --- | --- |
| Total Carbohydrates | 64.7 g |
| Dietary Fiber | 2.0 g |
| Total Sugars | 44.1 g |
| Sodium | 294.2 mg |
| Protein | 5.8 g |