Homemade Avocado Hummus Recipe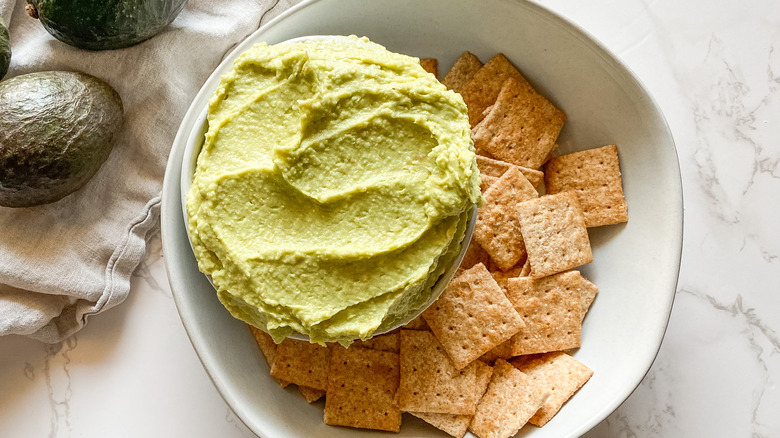 Kristen Carli/Mashed
Hummus is having a real moment, and we're really glad it is. After all, this delectable dip isn't just tasty — it delivers a whole load of goodness, too. While chickpeas have played an important role in Middle Eastern cooking for centuries, it took off in the west during the 2000s, and when food companies found a way to deliver — and keep — hummus fresh and tasty (via The Atlantic). Taste aside, there are many reasons why hummus is so popular. Chickpeas can play a role in lowering cholesterol levels in your bloodstream, and they are so rich in protein, they can curb unhealthy cravings, as well as keep your blood sugar levels stabilized (via HuffPost).
Private practice registered dietitian of Cambelback Nutrition & Wellness Kristen Carli's version of hummus comes packed with a bit of extra goodness. "Avocado helps to make this super creamy and decadent. This also has added fiber for those that are trying to increase their fiber intake," she says. And for those of you who are worried about the here-today, gone-not-long-after quality of your avocado, do not fret. Carli notes, "The lemon juice is key in this recipe. The lemon juice will prevent the avocado from changing color." Sounds like a win-win situation all the way around in our book!
This is what you need to prepare avocado hummus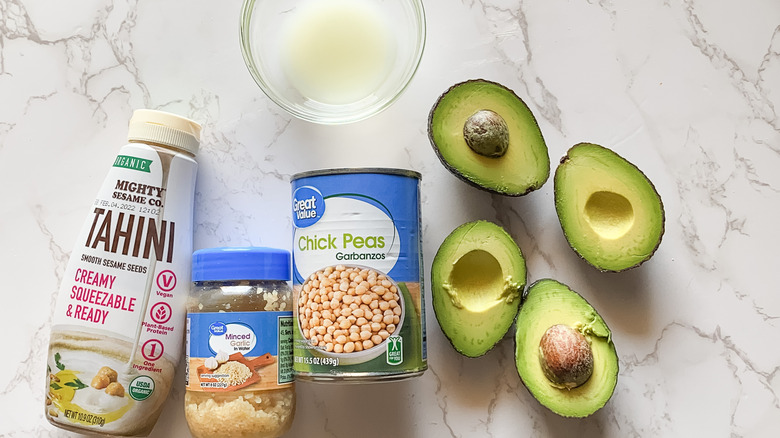 Kristen Carli/Mashed
First off, you'll want to round up all of the ingredients you'll need to prepare this tasty dip. Carli's version of avocado hummus begins with the same ingredients as traditional hummus: chickpeas, garlic, tahini, lemon juice, olive oil, salt, and pepper. But to that, she adds ripe avocados. Vegans will know to save the water that canned chickpeas come in, because the nutritious liquid — also known as aquafaba — does a respectable job of replacing egg whites in many dishes (via The Vegan Society).
If you decide to use dried chickpeas instead of those out of a can, The Spruce Eats reported that you can either soak the beans overnight, or rinse and boil your chickpeas for a minute. Remove them from the heat, and leave the beans for an hour. You can then use them as you would use canned chickpeas.
What to do about your chickpeas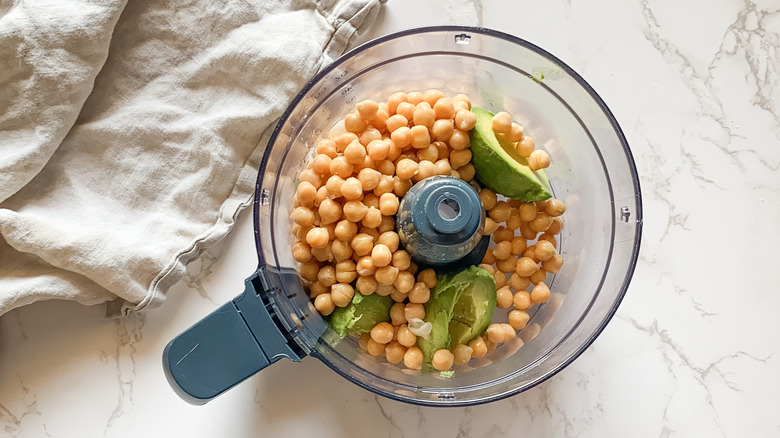 Kristen Carli/Mashed
How you proceed with your chickpeas depends entirely on your own preference, because the internet is currently divided between team peel-your-chickpeas and team it's-fine-the-way-it-is. There is no denying that peeling these slippery little guys can be a tedious job, but there are those that feel spending the extra time popping them out of their skins is well worth the time, because doing that is meant to leave you with a silkier hummus (via Midwest Living). But Carli is a pragmatist. "I wouldn't waste time trying to peel chickpeas before blending," she says, and adds, "If chickpeas aren't available to you, white beans like great northern beans or navy beans will also work well."
Hummus can be made with a food processor, a blender, or even a mortar and pestle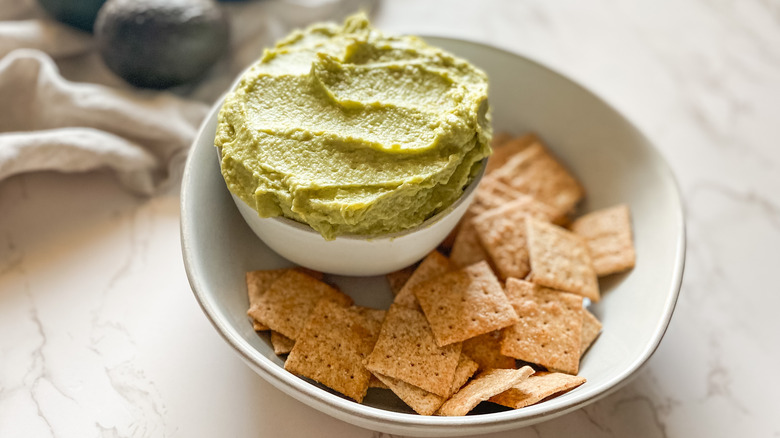 Kristen Carli/Mashed
Making your hummus can be as simple as adding all of your ingredients together in the food processor and blitzing all that for about three minutes until the mixture is nice and smooth. (That's literally all you have to do!) But if you don't have a machine, The Spruce Eats suggested you might want to break out your blender, and put it to good use. Simply layer the required ingredients in your blender by starting with the chickpeas and tahini first, then follow that up with the rest of the items.
Serve, and enjoy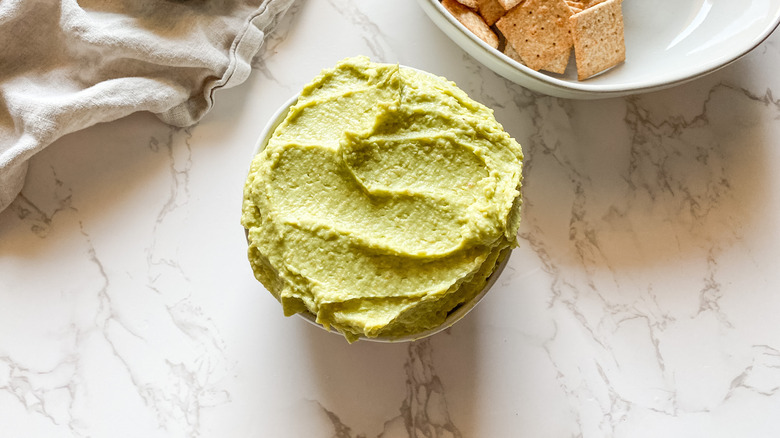 Kristen Carli/Mashed
This tasty dip may be stored in your refrigerator for up to four days — if there is any left to store, that is. This yummy recipe is a great choice to prepare whenever you're having guests over — it makes the perfect addition to any appetizer buffet. Serve a bowl of fresh avocado hummus on a platter, accompanied by slices of cucumber, peppers, carrots, and an assortment of yummy crackers. It's fresh, healthy, and really delicious! Plus, all of your friends will be raving about it and asking for the recipe, and that's always a great feeling.
Homemade Avocado Hummus Recipe
Serve a bowl of fresh avocado hummus on a platter, accompanied by slices of cucumber, peppers, carrots, and an assortment of yummy crackers.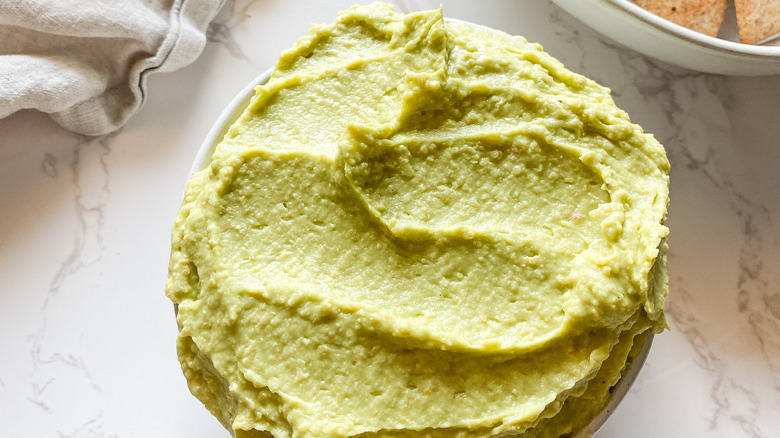 Ingredients
2 avocados
1 (15-ounce) can chickpeas, drained and rinsed
1 tablespoon minced garlic
2 tablespoons tahini
¼ cup lemon juice
¼ cup olive oil
1 teaspoon salt
½ teaspoon pepper
Directions
In a food processor, add the avocados, chickpeas, minced garlic, tahini, lemon juice, olive oil, salt, and pepper.
Process until smooth, about 3 minutes.
Serve with your favorite crackers and veggies.
Nutrition
| | |
| --- | --- |
| Calories per Serving | 320 |
| Total Fat | 23.5 g |
| Saturated Fat | 3.2 g |
| Trans Fat | 0.0 g |
| Cholesterol | 0.0 mg |
| | |
| --- | --- |
| Total Carbohydrates | 24.1 g |
| Dietary Fiber | 9.6 g |
| Total Sugars | 3.6 g |
| Sodium | 380.7 mg |
| Protein | 7.3 g |