Disneyland's 2021 Haunted Mansion Gingerbread House Is Spookier Than Ever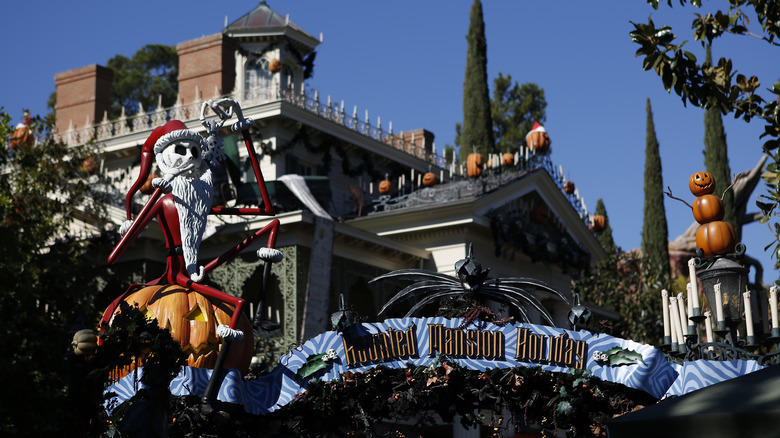 Bloomberg/Getty Images
When Disneyland's 2021 Halloween Season commences on September 3, it will incorporate 20 years of scary into one big celebration for the popular Haunted Mansion Holiday attraction. As reported by Nerdist, the theme park's annual event began in 2001 when Walt Disney Imagineers first thought it would be fun to decorate Disneyland's mainstay Haunted Mansion ride with all the trimmings of Tim Burton's 1993 film "The Nightmare Before Christmas." 
Each year, a giant gingerbread house takes center stage in the mansion's grand ballroom centered around a specific theme from Burton's movie. In case you haven't seen it yet, Screen Rant describes "The Nightmare Before Christmas" as the perfect mash-up between Halloween and Christmas. The movie centers on Jack Skellington, a resident of Halloween Town who grows tired of living the spooky life day after day. Jack wanders to the edge of town where he passes through a tree-shaped door and, you guessed it, discovers Christmas. 
Disneyland is bringing two decades of Haunted Mansion Holiday to life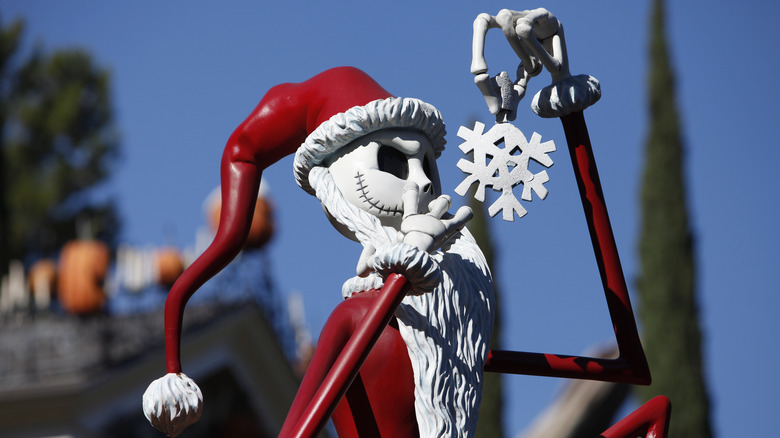 Bloomberg/Getty Images
Popsugar offers a mock-up of the 2021 Haunted Mansion Gingerbread House that shows all the elements incorporated from past years including main character Jack Skellington, his ethereal canine buddy, Zero, love interest Sally, and the pestering ghoul Oogie Boogie, among other details. "We went back to the graveyard to dig up all of our ideas from the past 19 years," designer Tim Wollweber told Disney as noted in Popsugar's article. "This year's Franken-house stitches together favorite elements from the previous 19 houses!"
Creating the annual gingerbread house is a master feat. According to All Hallows Geek, at least a dozen Disney pastry chefs collaborate to bake and build the massive confectionary. A Popsugar report from 2017 revealed Disney's official ingredient list, starting with 200 pounds of gingerbread, 200 pounds of powdered sugar, and 4 gallons of egg whites – plus the secret ingredient: 200 hours of Disney Culinary Magic. 
Not only is Disneyland's 2021 Haunted Mansion Gingerbread House a trip down memory lane with a few spooky detours en route — but visitors will want to keep an eye peeled as Yahoo says 2021's design incorporates hidden Easter eggs, or secret hidden details for the biggest fans to find. The Haunted Mansion Holiday event runs from September 3 to October 31.