Simple Vegetable Stir Fry Recipe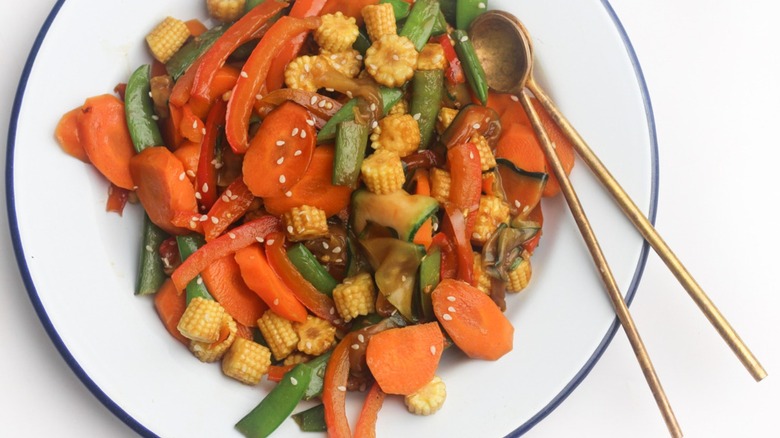 Susan Olayinka/Mashed
Summertime means an abundance of fresh, delicious produce. Once the weather warms up and all kinds of good items come into season, you may find yourself regularly heading to the local farmers market to see what you can fill up your basket with. In time, however, the thrill of eating each veggie on its own may start to pale, and you're in the mood for new ways to enjoy some old favorites. Recipe developer Susan Olayinka of The Flexible Fridge has a great idea for home cooks: Why not combine a few of these tasty veggies in a stir fry?
As Olayinka puts it, "We are big veggie stir fry lovers in our house," and explains the reason why, besides the fact that stir fries taste great, is because, "They are very easy to make, [as] the stove top does all the work." Olayinka refers to this particular recipe as "an old standby" — something her and her family have been enjoying for many years. And now, you too can enjoy this scrumptious stir fry right in your own kitchen.
Visit a farmers market or supermarket produce section to stock up on veggies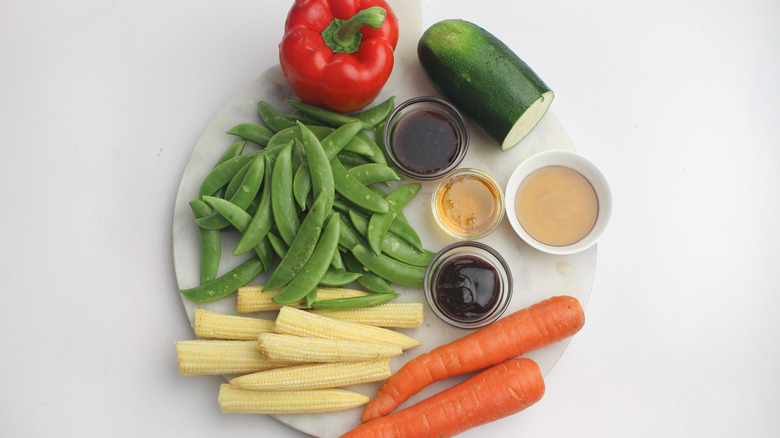 Susan Olayinka/Mashed
The first step in making this vegetable stir fry involves a shopping trip, since, of course, you'll want to use fresh veggies. Well, at least four of the vegetables involved can be fresh: the red bell pepper, sugar snap peas, carrots, and zucchini. The last one, in fact, is something you may not even need to pay for, if you have neighbors who love to garden and send over freshly picked zucchini throughout the season. The fifth vegetable involved, however, is a different story. While you can grow baby corn in your own garden (It's just regular corn, picked early.), if you want to buy it, you're probably only going to find it in a jar or a can.
In addition to the veggies, you'll need a few seasonings. The ones Olayinka uses in this recipe are soy sauce, honey, and hoisin sauce. For the frying, she likes to use sesame oil.
Prep all the different veggies for this simple stir fry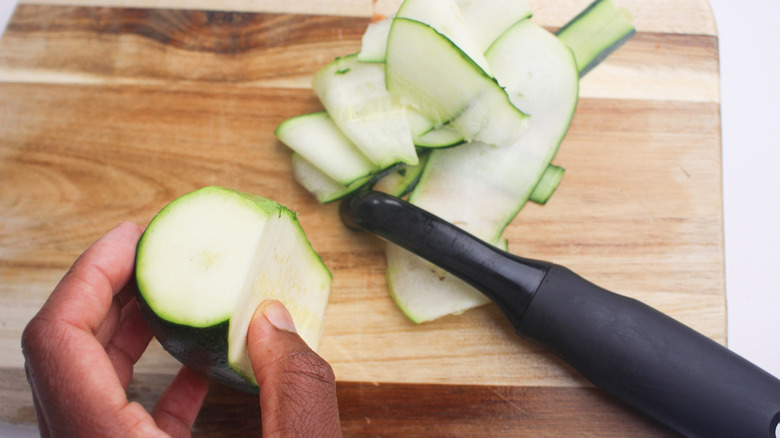 Susan Olayinka/Mashed
The most time-consuming part of preparing this vegetable stir fry is getting the different veggies ready, and with a good knife, a vegetable peeler, and a cutting board, it won't take too long at all. Chop the red pepper into 1-inch squares, and slice the sugar snap peas into pieces about 1 inch long. Peel the carrots, and slice them into coins. Next, take that vegetable peeler, and use it to turn the zucchini into wide, flat ribbon-like slices. If you have a fancy spiralizer, feel free to put it to use, too. You'll only be using half the zucchini, though, unless you really, really like the stuff (or are desperate to get rid of it any way you can). 
Mix up the stir fry sauce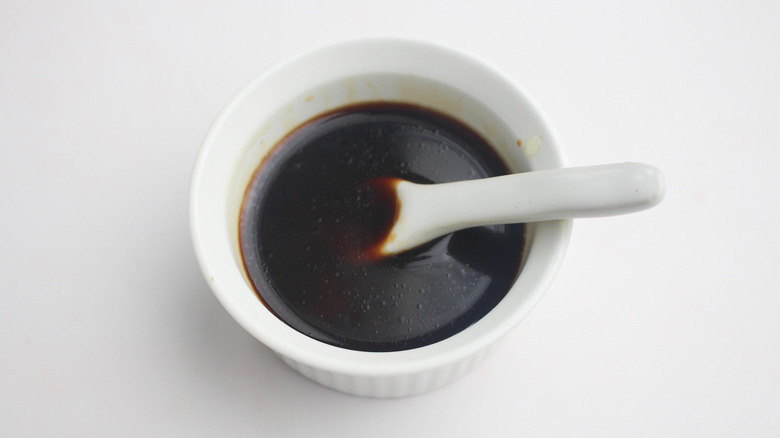 Susan Olayinka/Mashed
The next step couldn't be much easier. In a small bowl or even a mug or measuring cup, combine the soy sauce, honey, and hoisin sauce. If you're not really into hoisin (It does have that fermented, almost molasses-like flavor that some people find off-putting.), Olayinka says you can just leave it out, or suggests swapping it for kecap manis, black bean sauce, oyster sauce, or a chili paste such as sambal oelek. Once you've mixed your sauces, taste them to make sure you've got the flavor balance just right, and make any necessary tweaks. Set the sauce aside for now.
It just takes a few minutes to fry up the veggies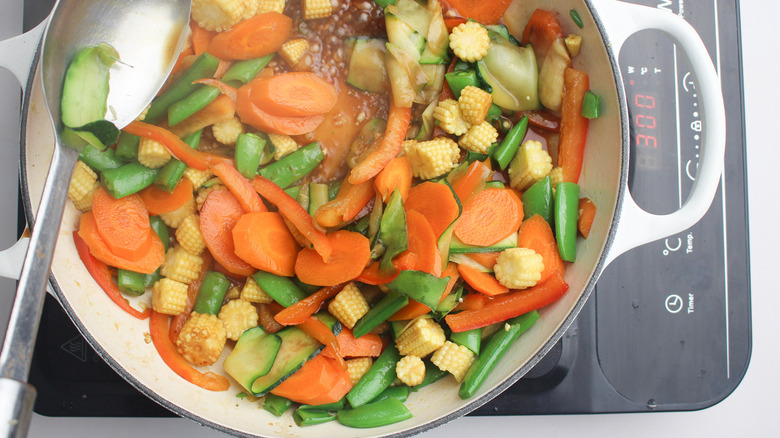 Susan Olayinka/Mashed
Heat the oil in a large frying pan or wok over medium heat. While Olayinka uses sesame oil in this recipe, which will add its own unique flavor to the dish, other good stir fry oils include peanut, grapeseed, avocado, coconut, or just plain vegetable oil. Speaking of ingredient swaps, you can also change up the veggies, too. Olayinka's suggestions are broccoli, parsnips, cabbage, green or yellow bell peppers, onions, and/or Chinese (Napa) cabbage.
Add the veggies to the pan, and cook, stirring constantly, for four minutes. Now add the combined condiments, and cook and stir the mixture for one more minute. That's it! Seriously, you're all done now, however Olayinka adds that this dish tastes best if you can serve it straight away.
Serve this as a side dish, or add protein to make it a one-pot meal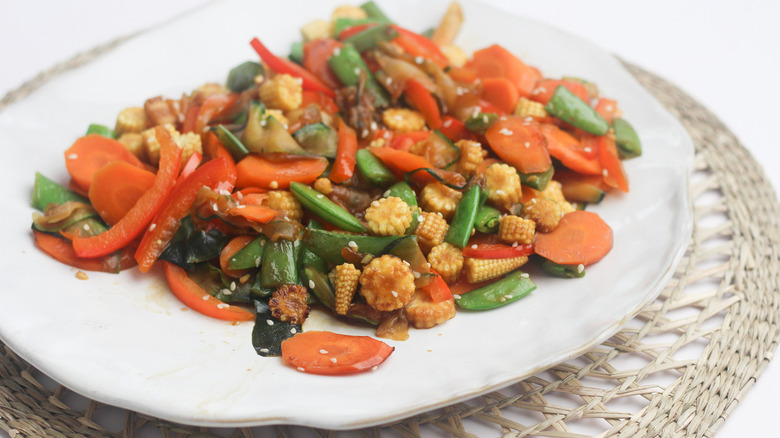 Susan Olayinka/Mashed
One of the great things about this simple stir fry is its versatility. Olayinka notes, "I just love how you can change up the vegetables and even the sauce and you have a great side." You can also add on a few upgrades to turn this side dish into a one-pot meal. Olayikna suggest adding carbs such as cooked noodles or rice to add some bulk, with these being stirred in right at the end or used as a base to make a bowl.
To add some protein to this stir fry, you could keep it veggie with tofu, or add some beef, pork, chicken, or shrimp. Should you have access to any interesting specialty meat markets, you could even use something more exotic like bison. The protein can be cooked along with the veggies, but if you're using meat — especially poultry — be sure to slice it super thin so it's done cooking by the time the veggies are ready.
Simple Vegetable Stir Fry Recipe
Put those fresh veggies from the farmers market to good use with this simple vegetable stir fry recipe.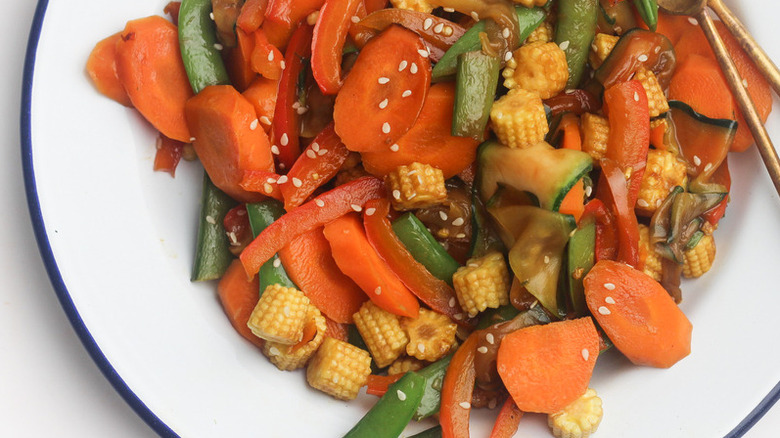 Ingredients
1 red bell pepper, chopped
3 ½ ounces sugar snap peas, sliced
2 carrots, sliced
½ zucchini, shaved
4 ½ ounces baby corn, sliced
2 tablespoons soy sauce
2 tablespoons honey
1 tablespoon hoisin sauce
1 tablespoon sesame seed oil
Directions
Chop the red bell pepper into 1-inch squares.
Slice the sugar snap peas into 1-inch pieces.
Peel and slice the carrots into coins.
Use the vegetable peeler to shave the zucchini into flat ribbons.
Slice the baby corn into 1-inch pieces.
Mix the soy sauce, honey, and hoisin sauce.
Add the sesame oil to a large frying pan or wok, and turn the heat to medium-high.
Add the vegetables to the pan, and cook, stirring continuously, for 4 minutes.
Add the sauce to the pan, and continue to cook and stir for another minute.
Serve, and enjoy!
Nutrition
| | |
| --- | --- |
| Calories per Serving | 279 |
| Total Fat | 8.8 g |
| Saturated Fat | 0.9 g |
| Trans Fat | 0.0 g |
| Cholesterol | 0.2 mg |
| | |
| --- | --- |
| Total Carbohydrates | 48.2 g |
| Dietary Fiber | 6.4 g |
| Total Sugars | 32.1 g |
| Sodium | 1,068.9 mg |
| Protein | 6.9 g |