Buddy Valastro Just Revealed His Most Memorable Projects On Cake Boss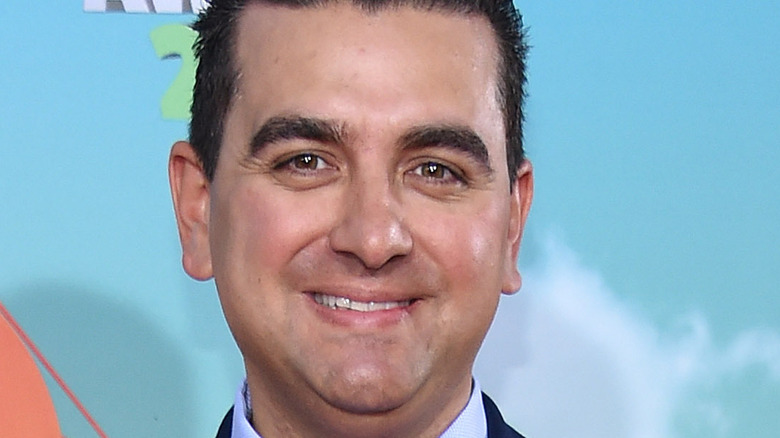 Shutterstock
Leave it to Gigi Hadid to get Buddy Valastro to reveal his sentimental side. In celebration of the supermodel's upcoming Harper's Bazaar cover, she realized her lifelong dream of "interning" for the Cake Boss. The first day's task: A cake-decorating video with Valastro himself, featuring plenty of icing embroidery and frosted flowers. While piping their floral masterpieces, the cake lovers talked about their admiration of each other's work and standouts from the "Cake Boss" canon.
"Buddy, you don't understand, I'm your biggest fan, I've been watching you my whole childhood," Hadid hugs Valastro at the beginning of the video. With that, Valastro promptly gifts her a crisp chef's coat, several bags of pastel-hued icing, and stories about his sweet career. The Cake Boss' favorite everyday treat to make, he says, is a Carlo's Bake Shop bestseller: The lobster tail. It's one of the most difficult pastries to make, Valastro tells Hadid, and the technique is special to him because he learned it from his father. "If I was going to the electric chair, that would be the one," he says.
Valastro's standout cakes include a Transformer, a dinosaur, and his wife
The Cake Boss' "most memorable" cake, he tells Hadid in the Harper's Bazaar video, is the life-size replica he made of his wife, Lisa Valastro, for her birthday in the premiere of the third season (via IMDb). It had been her dream birthday cake, he said, and was complete with her curly blonde hair and a bouquet of flowers. While Valastro's presentation of the cake included a heartfelt speech, it did not include tears (via YouTube).
"I've only cried twice in my life about cake," Valastro tells Hadid. The first time was about his giant, moving, flaming Bumblebee cake inspired by the "Transformers" film. "That was my favorite cake that I ever made," he says. "Oh yeah, that was sick," Hadid agrees. The second cake that brought him to tears, he reveals, was the spiky, bumpy-backed Zuul dinosaur he created in the second season of "Buddy vs. Duff." "I just couldn't believe that we were able to do it," he says. At the end of their decorating session, Valastro and Hadid agree to have the supermodel guest star in a future episode of "Cake Boss" — and maybe they'll be able to create a tearjerker together.