Impossible Foods Has Good News For Chicken Nugget Fans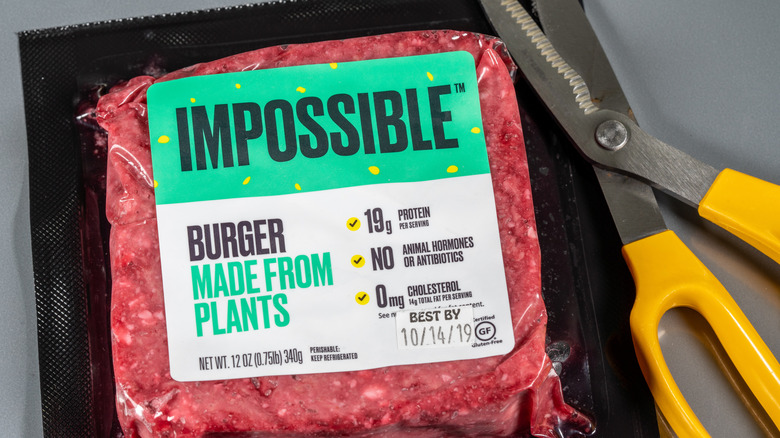 Shutterstock
If chicken nugget day was practically a weekly holiday at your school's cafeteria, you'll be pleased to know that yet another brand is coming out with a version of the nostalgic dish. Only this time, it won't be made from chicken at all. Impossible Foods Inc. — the company behind the "bleeding" Impossible Burger — plans to debut a vegan chicken nugget this fall, Bloomberg reports. Unlike the company's faux beef product line, the nuggets will be free of heme, the controversial genetically modified ingredient that makes its burgers taste so meaty.
Attendees at a trade show later this month will be the first to taste the nuggets, which get their chicken-like mouthfeel from textured soy protein and sunflower oil, according to Bloomberg. The news about the upcoming product comes roughly one week after Impossible Foods' top competitor, Beyond Meat, launched a plant-based chicken tender (via the Beyond Meat website). Based on photos shared by Bloomberg, the Impossible nuggets look just as golden brown, crispy crusted, and wonkily shaped as the real thing.
Where you'll be able to find Impossible Foods' upcoming nuggets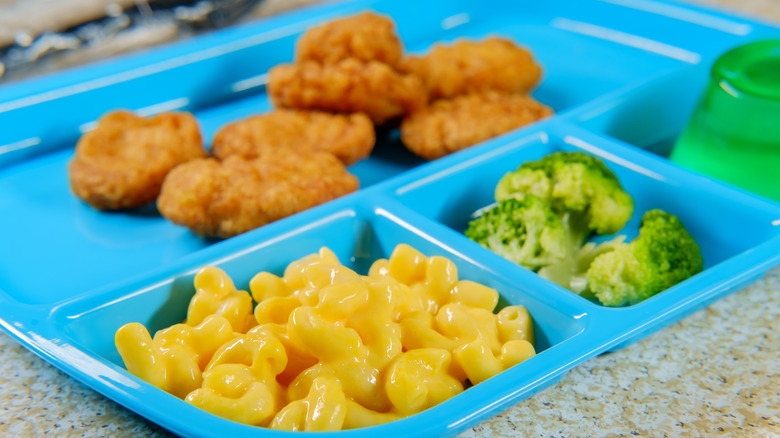 Shutterstock
Similar to the way Impossible Foods launched its burgers and sausages, the company will release its nuggets at restaurants before retailers, Bloomberg reports. Though the brand is late to a vegan chicken market with already established players like Lightlife and Gardein, its prospects could be promising since Americans spend more money on chicken than any other meat. Additionally, Bloomberg notes, restaurants ordered 15% more chicken substitutes this year than last year, suggesting that alt-chicken menu options are here to stay.
Impossible Foods designed its nuggets "with schools in mind" and has already gotten the green light from the USDA to serve its burgers in public schools. However, the company could run into one problem concerning its ingredients: The nuggets are high in sodium and breaded with refined flour, while most nuggets approved for schools contain whole grains, a nutritionist told Bloomberg. Still, Bloomberg speculates that if the nuggets are free of genetically modified soy, Impossible Foods could better compete with Beyond's new chicken, which contains an additive considered unsafe by European food officials.