This Moldy Chick-Fil-A Bun Is Turning Heads
Imagine walking into a Chick-fil-A for a Grilled Chicken Club Sandwich. You open the box hoping for lemony, herby, and juicy chicken breast, smokey bacon, and gooey Colby Jack cheese sandwiched between a toasted brioche bun (via the Chick-fil-A website) – except, the bun has mold on it. That appears to be exactly what happened to a Chick-fil-A customer.
A Reddit user posted pictures of a Grilled Chicken Club Sandwich from Chick-fil-A a few days ago. The images show an upside-down burger with green mold on the bottom of the bun. Unlike Burger King's ad campaign last year that deliberately showed a Whopper decomposing and slowly getting moldy over time, Chick-fil-A's moldy burger wasn't a genius marketing idea to show the fast-food chain's move away from preservatives and artificial ingredients (via Business Insider).
Besides, Chick-fil-A isn't the only chain that has had to face the problem of moldy bread. According to LeicestershireLive, a 34-year-old man in the U.K. too got handed a burger from McDonald's with a moldy burger bun in 2019. And, Reddit users have serious theories as to why fast-food chains have a moldy bun problem.
Reddit users have many theories about moldy burger buns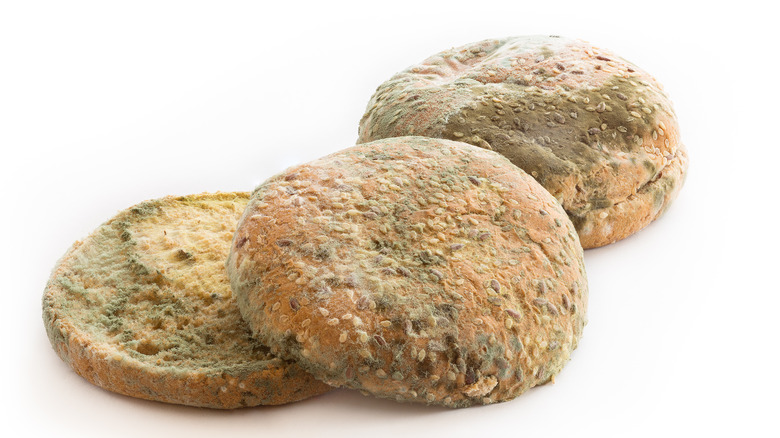 Shutterstock
One Reddit user wrote that it was likely that the Chick-fil-A outlet making the Grilled Chicken Club Sandwich in the pictures stocked up on buns and didn't rotate the stock correctly. The result, they said, was a customer being handed an old and moldy bun without its expiry date being checked first.
Another user offered an interesting theory. The user said that Chick-fil-A buns come in bags and that employees remove them from the bag, slather butter on them, and pop them in the toaster at an incredibly fast pace. That, coupled with the fact that the buns are lined on a tray, makes it easy for employees to miss moldy buns, especially if they happen to be on the underside of the bottom bun that faces the tray.
In a separate thread, a Reddit user claimed that hamburger buns, in particular, contain high amounts of sugar which makes them ideal for mold breeding at the slightest contact with water. Other users speculated that not closing a package properly, a change in humidity levels, poor hygiene, and a lack of artificial preservatives all play a role in making buns moldy.