Padma Lakshmi Melts Hearts In Latest Instagram Post With Her Daughter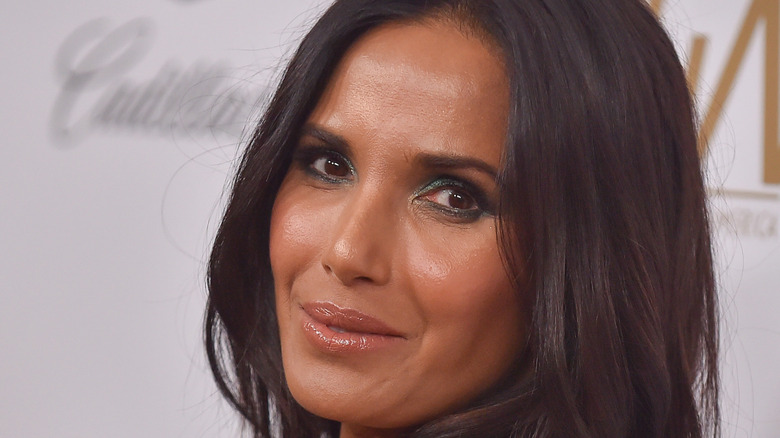 Shutterstock
Bravo's Top Chef host Padma Lakshmi is all about her family and spending time with her 11-year-old daughter, Krishna. According to The Daily Dish, Lakshmi revealed in an interview that when her daughter was little she was always with her, even when she filmed. Lakshmi recalled, "She's grown up on set. Six weeks after being born, she was at the D.C. season [Season 7 in 2010]. And she has her own trailer so that even if we go really late, she can have regular child hours, although Krishna likes to stay up."
The mom of one clearly loves her baby girl and is happy to share special mommy-daughter moments with her followers and fans. Per People, Lakshmi took to social media in May to post a photo of the two with their arms lovingly wrapped around each other and both decked out in black jeans and shirts. Lakshmi captioned the photo, "Twinning & winning with my girl." The celebrity chef even gushed about her mini-me to the publication saying, "Krishna is a great cook, and loves experimenting with ingredients. It's been great to see her gain confidence and simply have fun in the kitchen." So sweet, right? We love that she is following in her mom's footsteps. But it's Lakshmi's latest post with her daughter that really has our hearts melting.
Lakshmi shares her summer dreams vibe
In an Instagram post, Lakshmi shared a sweet, carefree photo of her and her daughter napping together under the sun. She captioned the snap, "Summer dreams.... #fbf #littlehands." Mother and daughter look so relaxed and peaceful as Lakshmi's head rests on an oversized pillow and Krishna's forehead is nuzzled next to mom's cheek. The photo, which has been liked over 34,000 times, is a true testament to the beauty of the bond between Lakshmi and Krishna and will make parents want to break out the hammock and cuddle up with their own children. One person posted, "This tugs at my heartstrings." Another follower wrote, "Remind little hands of these moments of deep bonding and the sheer pleasure of enjoying each other's company. They last for such a short period of time." So true.
In fact, the comment got us thinking back to June when Lakshmi celebrated Krishna's completion of the school year with a special post acknowledging how proud she was of her daughter for making it through her studies with such "grace" and "strength." The culinary goddess wrote, "It's been the honor and privilege of my life to be your mom. I just wish it wasn't going by so fast! I love you to the moon and back my dear."