Creamy Tomato Basil Soup Recipe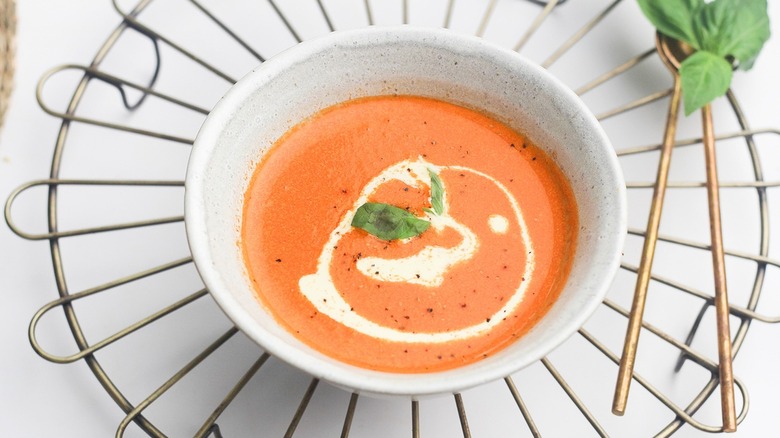 Susan Olayinka/Mashed
No matter what the weather is like outside, there's nothing better than a delicious bowl of soup for dinner. While many of us do prefer to eat soup when it's chilly outside, the classic dish can be enjoyed at anytime, and it makes a great main course, lunch, or even snack. When you're in the mood for soup, it's tempting to opt for a store-bought kind that comes in a can. While canned soup does provide convenience, it's actually pretty easy to make your own soup right at home — and the flavors and freshness that you can achieve are truly unbeatable!
Recipe developer Susan Olayinka from The Flexible Fridge has the perfect go-to tomato soup recipe. It's a little bit creamy, a little bit tangy, a little bit herby, and a whole lot of delicious. "I love making tomato soup," Olayinka explains of her recipe. "It's probably one of the easiest soups I know so I love making it." Best of all, this creamy tomato and basil soup recipe takes less than a half hour to make and only requires a few simple ingredients. If you've been craving tomato soup, skip the stuff in a can and opt for this easy recipe instead — you won't be disappointed!
Gather the ingredients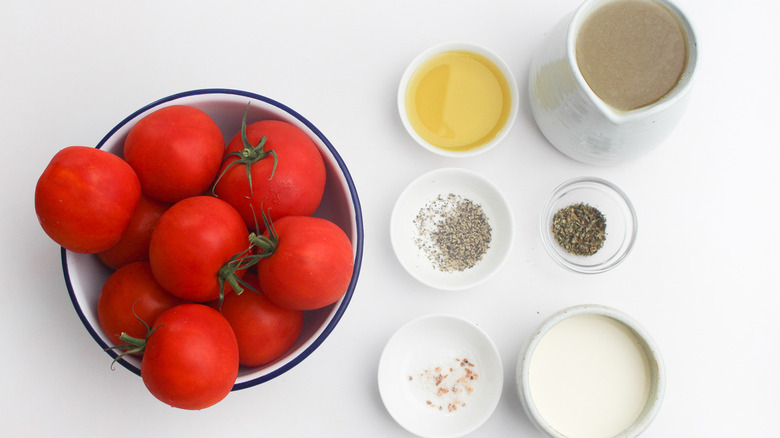 Susan Olayinka/Mashed
To make your creamy tomato and basil soup, you'll need to gather the proper ingredients. Of course, you'll need tomatoes, which are the star of the show. You'll also need olive oil, dried basil, salt, pepper, chicken stock, and heavy cream. Olayinka notes that you can easily replace the chicken stock with vegetable stock if you want to keep the recipe vegetarian. Finally, for garnish, you'll want some fresh basil to top off your soup. This basil garnish is optional, but it really helps tie the dish together and adds great color and fragrance to your soup.
Start by chopping your tomatoes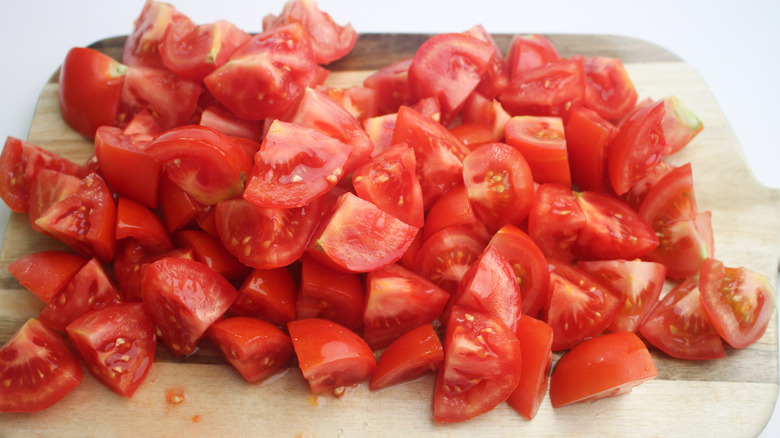 Susan Olayinka/Mashed
It wouldn't be tomato soup without the tomatoes — so you'll get started on those first! To prepare the tomatoes, you'll simply need a cutting board and a knife. You can rinse off each of the tomatoes first, and then carefully cut each one into chunks. The size of the chunks doesn't really matter, since you'll be cooking down and eventually blending up the tomatoes. However, you'll want them small enough that they'll break down evenly when you cook them on the stovetop, so aim for about 1-inch chunks. 
Cook your tomatoes, dried basil, and chicken stock on the stovetop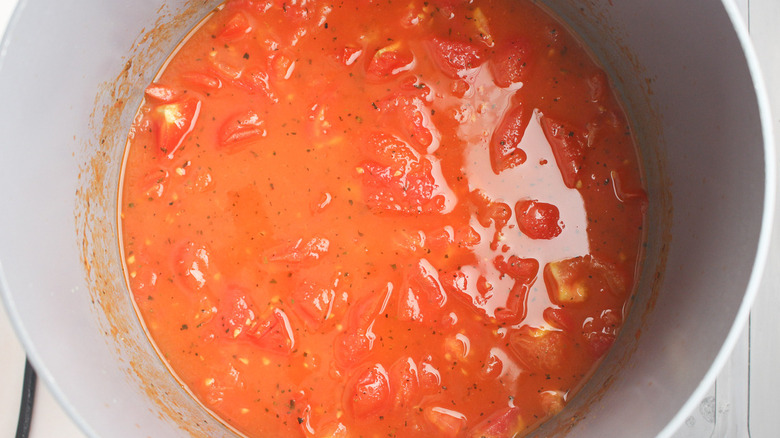 Susan Olayinka/Mashed
Now that you've chopped up your tomatoes, you can move on to the cooking stage. Put a pot over medium-high heat on your stovetop and add in the olive oil. After that heats up a bit, go ahead and add in your chopped tomatoes, dried basil, salt, and pepper. Mix these ingredients together, and continue doing so until the tomatoes begin to soften, which will take about 5 minutes. At this point, pour in your chicken stock (or vegetable stock), stir, and allow this entire mixture to cook for 10 minutes.
Blend your cooked tomato soup mixture, then pour it through a sieve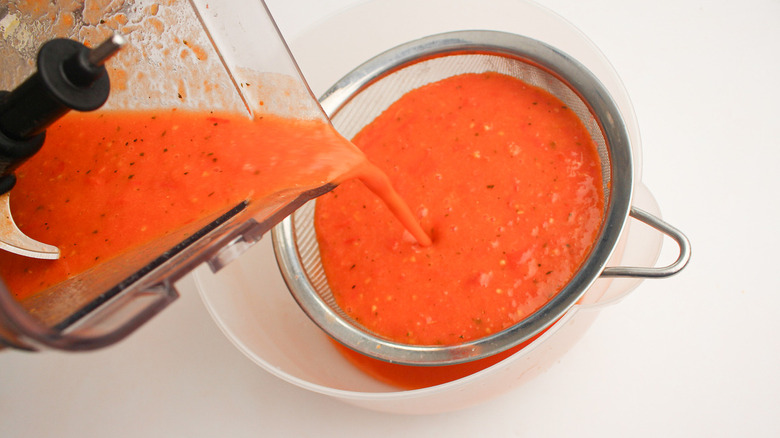 Susan Olayinka/Mashed
After your tomato soup mixture is done cooking on the stovetop, transfer it into a blender. Blend on high for about 10 seconds, until the mixture is nice and smooth. There will probably still be a few chunks, however, and this isn't a problem at all. Go ahead and grab your handy sieve and pour the contents of the blender right into it — be sure to have a bowl on the other side to catch your soup! By doing this, you'll sift out all of the leftover chunks or tomato seeds so you're left with super smooth tomato soup.
Put the soup back on the stovetop and mix in heavy cream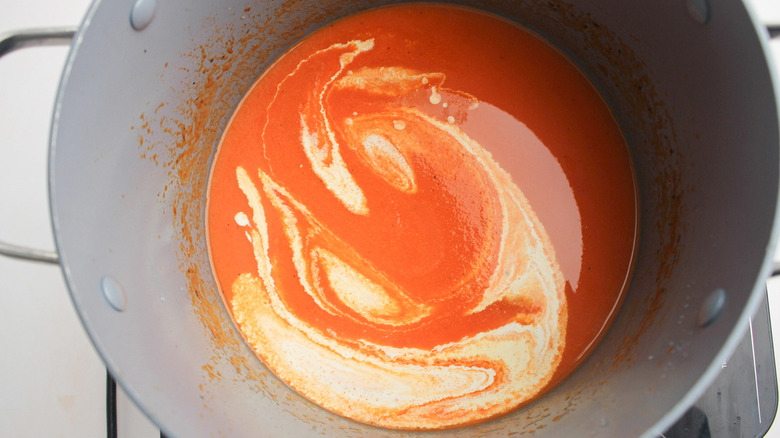 Susan Olayinka/Mashed
Once you've sifted the chunks out of your soup, you can take the smooth liquid and pour it right back into the pot that you were using earlier. Turn your stovetop back onto medium-high heat, and then go ahead and pour in the heavy cream. Allow your soup to cook like this for another 3 minutes. This way, the heavy cream will become seamlessly incorporated into your soup. Also, your soup may have lost some heat during the blending and straining process, so it'll heat back up during this 3-minute cooking period!
Top your tomato soup with fresh basil and enjoy!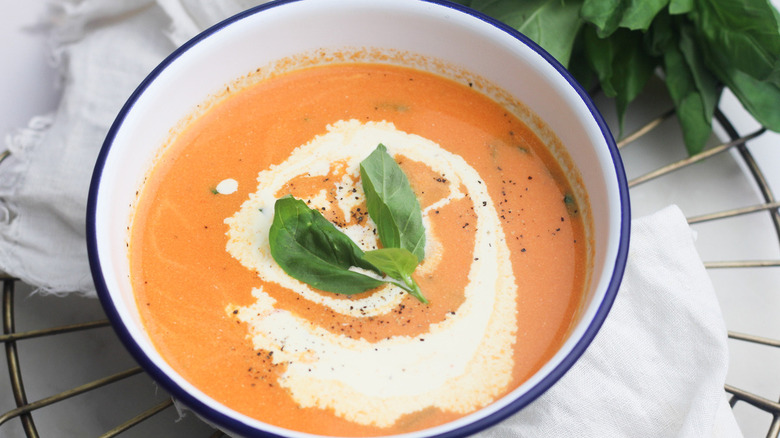 Susan Olayinka/Mashed
After your soup is done cooking, you're ready to serve and enjoy. Carefully ladle some soup into your favorite bowl, and then top with some fresh basil. Olayinka notes the silky and smooth texture that your soup will have, along with a delicious tanginess thanks to the tomatoes. You'll also notice creaminess from the heavy cream, as well as plenty of body and flavor from the fresh tomatoes and stock. Pair this soup with bread, a grilled cheese sandwich, or breadsticks, or simply enjoy it on its own! The warmth and freshness of this creamy tomato basil soup will keep you coming back again and again — and with such an easy recipe, you can whip this soup up whenever you want!
Creamy Tomato Basil Soup Recipe
This creamy, tangy homemade tomato soup is ready in under 30 minutes with just a few ingredients. Why go for the canned stuff when you can make it at home?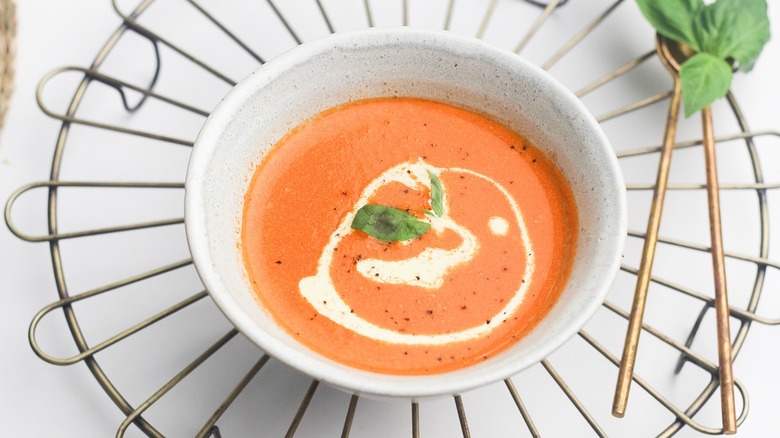 Ingredients
10 vine tomatoes
2 tablespoons extra-virgin olive oil
½ teaspoon dried basil
⅛ teaspoon of salt
⅛ teaspoon of black pepper
2 cups of chicken stock
¼ cup of heavy cream
Optional Ingredients
Fresh basil (for garnish)
Directions
Chop up the tomatoes into quarters and then set aside.
Place the olive oil into a large pot on the stovetop and turn the heat to medium-high heat.
Add the chopped tomatoes, dried basil, salt, and black pepper, and mix together for 5 minutes until the tomatoes start to soften.
Pour the chicken stock into the pot and cook for 10 minutes on medium-heat.
Place the contents of the pot into a blender, blend on high for 10 seconds, and then pour it all through a sieve into a large bowl.
Place the sieved tomato soup back into the pot and turn the stovetop to medium-high heat.
Pour in the heavy cream and cook for another 3 minutes.
Serve in a bowl and top with optional fresh basil garnish.
Nutrition
| | |
| --- | --- |
| Calories per Serving | 210 |
| Total Fat | 14.3 g |
| Saturated Fat | 4.8 g |
| Trans Fat | 0.0 g |
| Cholesterol | 24.0 mg |
| | |
| --- | --- |
| Total Carbohydrates | 16.7 g |
| Dietary Fiber | 3.7 g |
| Total Sugars | 10.4 g |
| Sodium | 265.5 mg |
| Protein | 6.1 g |