Mediterranean Quinoa Salad Recipe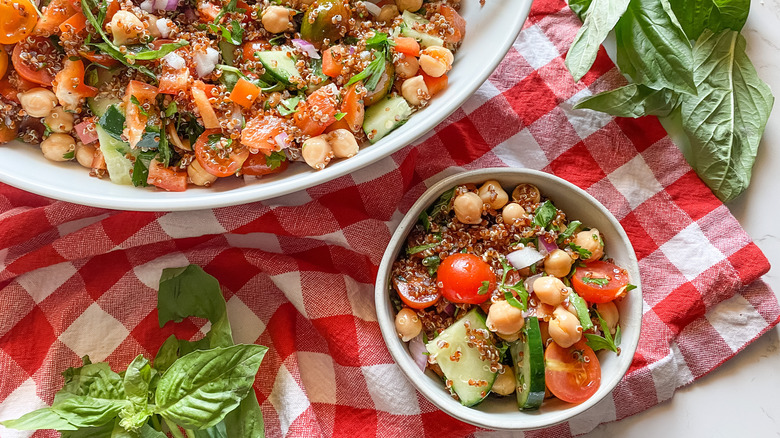 Kristen Carli/Mashed
If you happen to be a fan of quick, easy, and healthy meal options, we have the perfect recipe for you — one that also has plenty of color and versatile adaptable ingredients. Thanks to recipe developer and private practice registered dietician Kristen Carli of Camelback Nutrition & Wellness, you can have a flavorful salad ready in under half an hour. This Mediterranean salad is filled with vegetables, legumes, fresh herbs, and a tangy dressing. If you have a bag of quinoa in your pantry, this salad is the perfect reason to use it. Carli lists her favorite ingredients to include, but adds that you can swap out vegetables, herbs, and other add-ins depending on what you have around.
Even better, Carli remarks, "I love this as a meal prep lunch option." Make a batch at the start of the week, and you'll have extras for a few days. The flavors in the salad will even start to intensify after time as the dressing acts as a marinade. Once you whip up this delicious Mediterranean salad, chances are, it'll become a weekly regular.
Gather the ingredients to prepare Mediterranean quinoa salad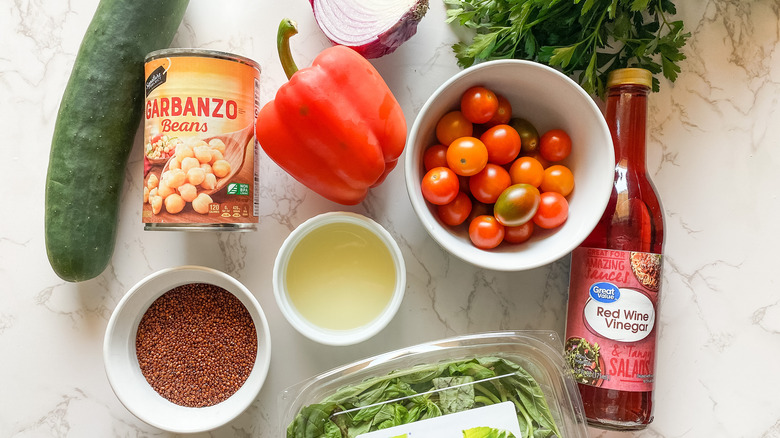 Kristen Carli/Mashed
For starters, you will need to pick up quinoa if you don't already have some. It's a delicious high protein seed that acts as a grain. Quinoa comes in different varieties including white, red, and black. Carli notes, "I love using red quinoa, but any variety works." Next, you'll need some fresh vegetables to build up your salad. Cucumbers add plenty of texture to the dish. Meanwhile, grape tomatoes are a good option, because they keep their shape and are pleasantly sweet. For a sharper flavor, red onion does the trick, while red bell peppers add extra crunch and sweetness.
As far as protein goes, Carli opts for chickpeas which are firm enough to remain whole in the salad, even after a few days. Parsley and basil are her seasoning herbs of choice for a fresh herbal aromatics. Finally, Carli keeps the dressing simple by mixing lemon juice, olive oil, red wine vinegar, salt, and pepper together. This salad is definitely open to adaptation, and Carli remarks, "If you are wanting more ingredients to add in, I love throwing in kalamata olives, mint, and other herbs to add extra flavor."
Cook the quinoa in a medium saucepan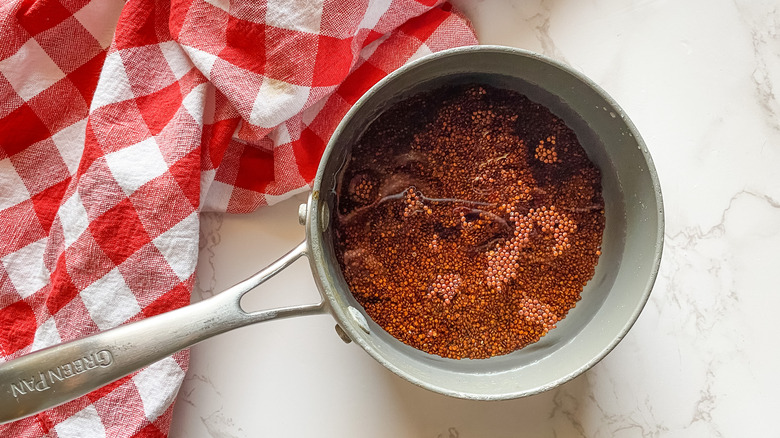 Kristen Carli/Mashed
The first step to prepare this refreshing salad requires cooking the quinoa so that it has time to cool down before you mix in the other ingredients. To do so, set a medium saucepan on the stovetop, and add in the quinoa and water at a two to one ratio. Bring the contents of the saucepan to a boil, then reduce it to a simmer. Cover the saucepan, and continue to cook the quinoa for 15 minutes. Once the time is up, drain any extra water, and set the cooked quinoa aside to chill.
Add the vegetables, herbs, chickpeas, and quinoa to a large bowl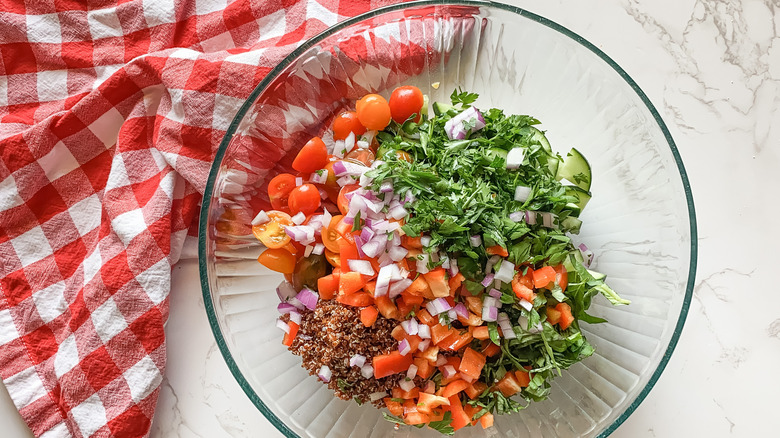 Kristen Carli/Mashed
Next, you're going to set out a bowl that's large enough to fit all of the contents of your salad. Then, add the diced cucumbers, red onion, and red bell pepper, the grape tomato halves, chickpeas, chopped parsley, and the julienned basil. Carli chops the different ingredients into a variety of sizes so that each bite is filled with a medley of flavors. Finally, you can add the cooked quinoa into the salad bowl as well.
Stir in the salad seasoning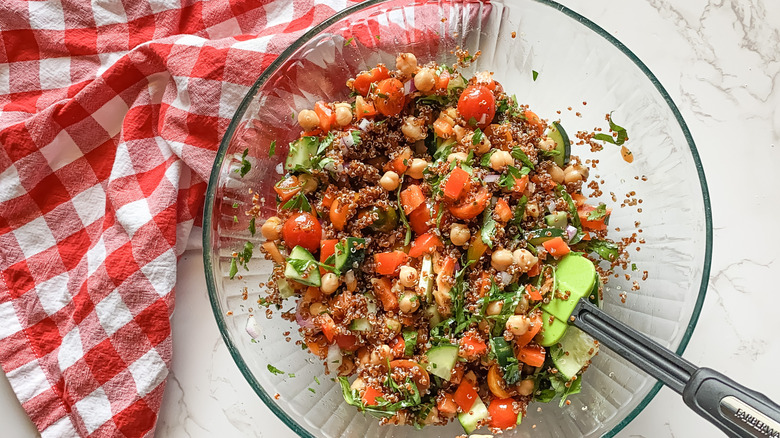 Kristen Carli/Mashed
You can mix the salad dressing in a small jar before pouring it into the salad, or add each ingredient directly to the bowl. Add the lemon juice, olive oil, red wine vinegar, salt, and pepper to the rest of the ingredients. With a big wooden spoon or spatula, stir the contents of your salad so that everything is well combined. You can give your salad a quick taste test to make sure the flavors are balanced to your liking, and adjust accordingly.
Serve this delicious and healthy salad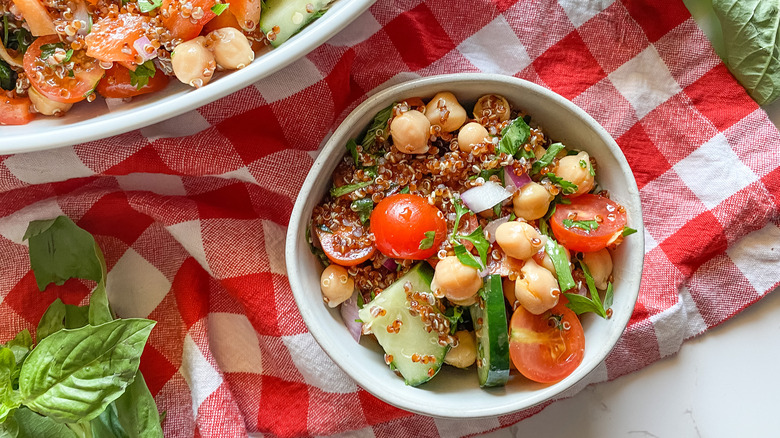 Kristen Carli/Mashed
Once all the ingredients are mixed together, this delicious Mediterranean quinoa salad is ready to serve. Carli is a huge fan and says, "It is so yummy and easy." She recommends keeping it in the fridge up to four days, and remarks, "I make a batch on a Sunday and eat it for lunch Monday [through] Wednesday." This is definitely a convenient salad to prepare for your weekly meal prep rotation.
Since it can be adapted for the vegetables you have on hand, you'll just need to have some pantry ingredients around to make this simple salad. Don't be fooled by the basic recipe, because this Mediterranean salad really packs in the flavor! It's filling enough to be served alone, but you can always serve it with a side of chicken or steak if you want extra variety.
Mediterranean Quinoa Salad Recipe
Once you whip up this delicious Mediterranean quinoa salad, chances are, it'll become a weekly regular.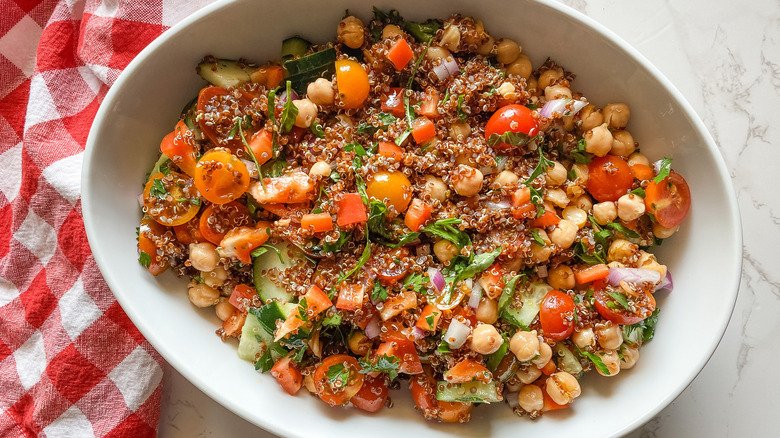 Ingredients
1 cup quinoa
2 cups water
1 cup cucumbers, diced
4 ounces grape tomatoes, halved
¼ red onion, diced
1 red bell pepper, diced
1 (15-ounce) can chickpeas, drained and rinsed
¼ cup parsley, chopped
2 tablespoons basil, julienned
¼ cup lemon juice
¼ cup olive oil
2 tablespoons red wine vinegar
1 teaspoon salt
½ teaspoon pepper
Directions
Add the quinoa and water to a medium-sized saucepan.
Bring the contents to a boil, and then lower the heat to a simmer.
Cover the saucepan, and cook the quinoa for 15 minutes.
Once the quinoa is ready, drain any excess water, and set it aside to chill.
In a large bowl, add the cucumbers, tomatoes, onion, bell pepper, chickpeas, parsley, and basil.
Add the chilled quinoa to the bowl.
Pour in the lemon juice, olive oil, and vinegar, and sprinkle on the salt and pepper.
Stir everything to combine the ingredients evenly.
Nutrition
| | |
| --- | --- |
| Calories per Serving | 301 |
| Total Fat | 12.9 g |
| Saturated Fat | 1.6 g |
| Trans Fat | 0.0 g |
| Cholesterol | 0.0 mg |
| | |
| --- | --- |
| Total Carbohydrates | 38.2 g |
| Dietary Fiber | 7.5 g |
| Total Sugars | 5.0 g |
| Sodium | 571.0 mg |
| Protein | 9.7 g |