Easy Caprese Skewers Recipe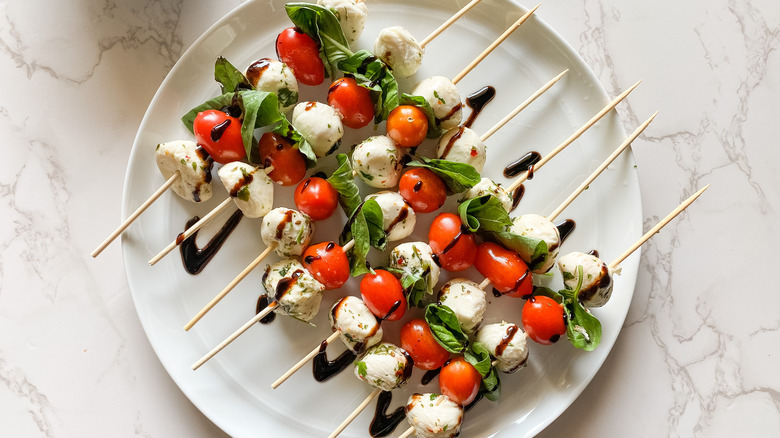 Kristen Carli/Mashed
When summer weather rolls around, it can be difficult to motivate yourself to cook. After all, at the end of a long, hard work day, the thought of using multiple pots and pans to prepare a meal can be anything but exciting. None of this means you can't still prepare fresh, delicious food. Case in point: these caprese skewers, courtesy of recipe developer and private practice registered dietician Kristen Carli. This scrumptious combination of tomato, mozzarella, basil, and balsamic glaze can really be enjoyed any time of day, and it's an especially great choice if you need to prepare a light plate or appetizer for a group. The best part? Including the skewers, you only need five ingredients, and you don't have to touch your stove, oven, microwave, or even air fryer. You don't even need a cutting board!
These caprese skewers are super simple to put together, and can be ready in only a few minutes — what more could you ask for in a recipe? Plus, if you make this dish during summer, you'll be able to showcase the wonderful flavors of tomatoes that are in season.
The history of caprese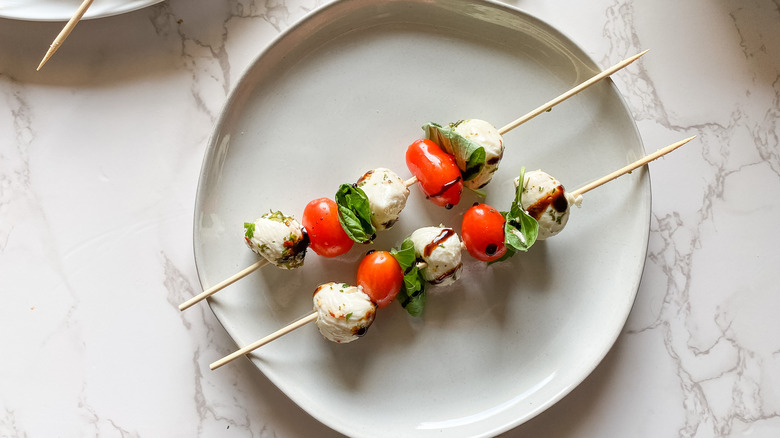 Kristen Carli/Mashed
While it isn't always served in skewer form, caprese salad — the classic combination of tomato, basil, and mozzarella, often garnished with balsamic vinegar or extra-virgin olive oil — has been a regular fixture of Italian cuisine for a long time. According to Italy Magazine, the exact origin of the caprese salad is unknown, but it's said to have gained popularity in the 1950s, when it was enjoyed by the king of Egypt during a visit to the Italian island of Capri. Thankfully, you don't have to be a king in order to enjoy this delicious Italian dish today, as this caprese skewer recipe makes it easy.
Gather your ingredients to prepare these easy caprese skewers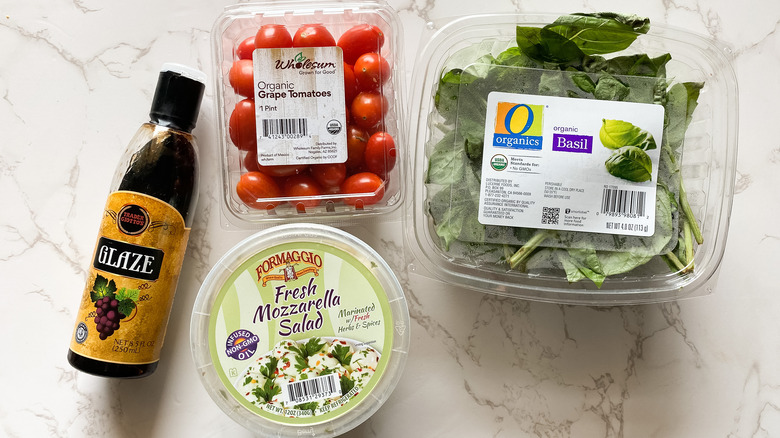 Kristen Carli/Mashed
Even though these caprese skewers only have a few ingredients, it's still important to make sure you have everything ahead of time. After all, you wouldn't want to realize right before your party guests arrive that you've run out of basil! For these skewers, you'll obviously need skewers, just the standard kind you'd use for kebabs. You'll also need grape tomatoes (which are big enough to fit on a skewer but small enough to still be bite-sized), balls of marinated mozzarella cheese, some fresh basil leaves, and balsamic glaze. Carli notes that if you don't have grape tomatoes, cherry tomatoes will work fine, too. 
Prep your caprese skewer components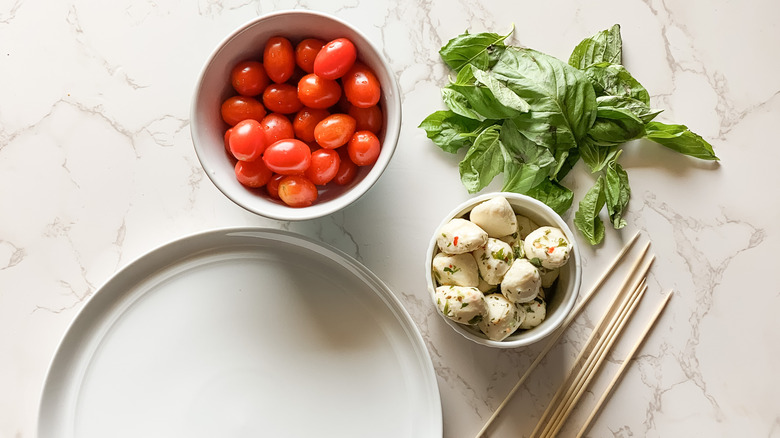 Kristen Carli/Mashed
This step will make assembling these skewers easier than you can even imagine. It's known as mise en place, which may sound fancy, but all it really means is measuring and prepping your ingredients in advance. In this case, all you need to do is measure out the tomatoes and marinated mozzarella in small bowls, separate out the basil leaves, and make sure you have a measuring spoon on hand for the balsamic glaze. (Oh, and don't forget the skewers!) If you're unable to find marinated mozzarella balls, Carli notes, "You can easily marinate them yourself by placing them in a bowl of olive oil, basil, oregano, and garlic."
Not only will this make your life easier, prepping everything turns these skewers into an easy collaborative project suitable for all ages. Gather a group of helpers and set up an assembly line, and before you know it, you'll be ready to serve your caprese skewers and let everyone in your family or crowd dig right in.
Assemble the skewers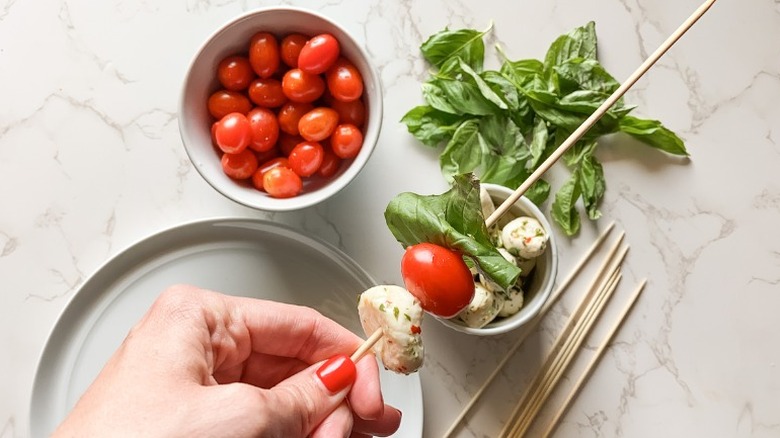 Kristen Carli/Mashed
Now it's time to put everything together. Whether you're working on this recipe solo or with a helper or two, this will be a total snap. Start by grabbing a skewer and sliding one of those mouthwatering marinated mozzarella balls onto it. Then, add one grape tomato and a basil leaf that's been folded in half, unless it's small enough to comfortably fit on the skewer without folding. That's your basic caprese formula! Repeat that one more time on the skewer, and then add one more ball of mozzarella for good measure. After all, you can never have too much cheese. Then, repeat that same process with all the skewers.
Glaze the dish, and dig in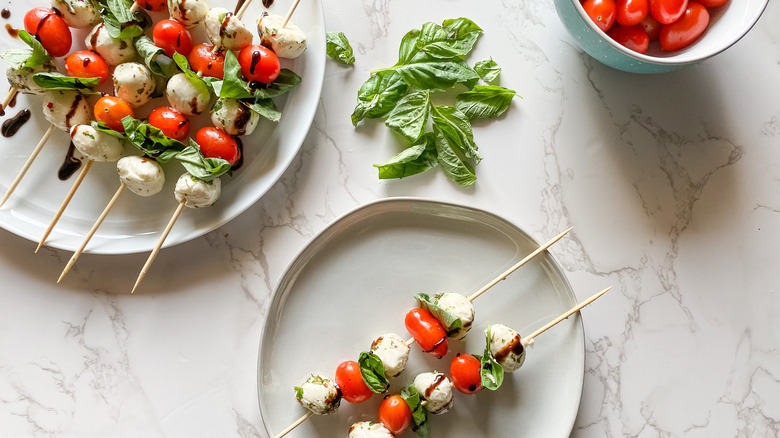 Kristen Carli/Mashed
Place all your skewers on a big serving plate. Don't they look beautiful? Well, refrain from digging in, because you're not done quite yet. Take your balsamic glaze, and drizzle it over everything. Carli says she prefers balsamic glaze for topping these caprese skewers "because it is thicker and sweeter than balsamic vinegar."
If you're thinking these caprese skewers seem like a great fit for a group gathering, you're certainly not the only one. "I love these served at a party, potluck, or family gathering. They make a great addition to your typical party food — burgers, hot dogs, potato salad, fruit salad, etc. They are also always a hit with kids," Carli says.
Easy Caprese Skewers Recipe
These easy caprese skewers can be enjoyed any time of day, and they're an especially great choice if you need to prepare a light plate or appetizer for a group.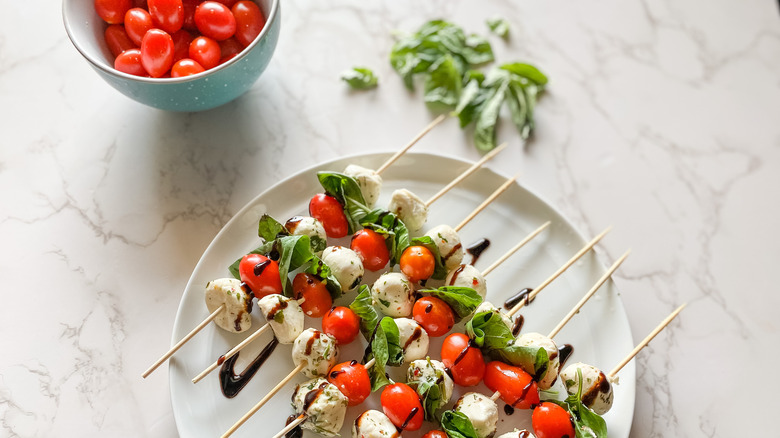 Ingredients
12 ounces marinated mozzarella balls
½ cup grape tomatoes
¼ cup basil leaves
1 tablespoon balsamic glaze
Directions
Using skewers, add a mozzarella ball, a grape tomato, a folded basil leaf, another mozzarella ball, another tomato, another folded basil leaf, and end with one last mozzarella ball.
Repeat this process with the remaining skewers.
Plate all of the caprese skewers on a large platter. Drizzle the platter of skewers with balsamic glaze.
Nutrition
| | |
| --- | --- |
| Calories per Serving | 175 |
| Total Fat | 12.7 g |
| Saturated Fat | 7.5 g |
| Trans Fat | 0.0 g |
| Cholesterol | 44.8 mg |
| | |
| --- | --- |
| Total Carbohydrates | 2.3 g |
| Dietary Fiber | 0.2 g |
| Total Sugars | 1.4 g |
| Sodium | 356.9 mg |
| Protein | 12.7 g |