Why Chris Hemsworth's Recent Trip To KFC Has People Talking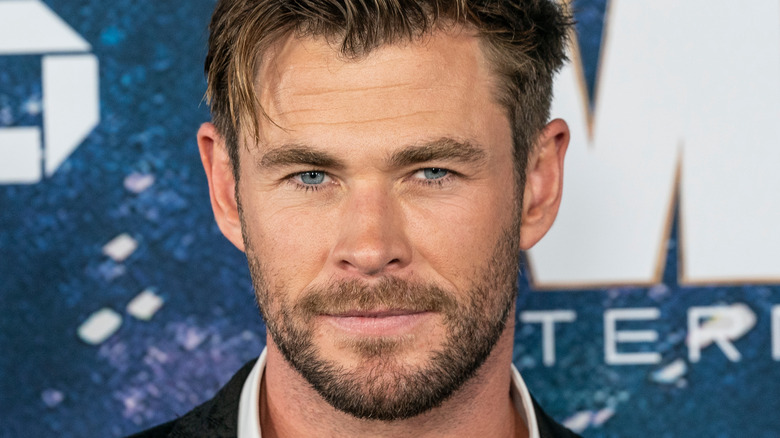 Shutterstock
One of the highest paid stars in Hollywood, Forbes reports that Australian movie star Chris Hemsworth commands more than $15 million plus a share of profits every time he wields Thor's mighty hammer. Of course, that means Hemsworth needs to stay fit and maintain that godly figure.
While filming his Marvel movies Hemsworth eats six to eight times a day, according to his trainer Luke Zocchi, who told Page Six the star eats a few big meals with foods like fish, sweet potatoes, and brown rice, and then smaller, protein heavy meals throughout the day to keep him energized. Hemsworth supplements these meals with plenty of workouts to build muscle, incorporating boxing and weight training into his routine. Of course every once in a while, everyone needs a break, and in Hemsworth's case, that involves a lot of fried chicken. 
A Huge Fast Food Order
LadBible reports that star Chris Hemsworth recently visited a KFC drive-thru in New South Wales, Australia. But of course that alone isn't news — the massive order he placed was what got people talking. Hemwsworth reportedly ordered 15 original chicken pieces, a regular size Zinger combo, and four regular popcorn chicken meals. The cost for this fried chicken extravaganza? An affordable $72.25. Hemsworth couldn't have been nicer to the KFC crew, posing for pictures with the workers, smiling all the while.
The outlet reports this isn't the first time Hemsworth has placed a superhero-sized order. A few months back, Hemsworth visited a restaurant named Chargrill Charlie's with his trainer, Luke Zocchi. The two men asked for an entire barbecue chicken, a chicken roll, medium fries, and a large salad. The co-owner of the restaurant, Ryan Sher, said the two were, "totally fuss-free, super friendly and great with our staff, taking photos with the team. It certainly made our day."