Authentic Frogmore Stew Recipe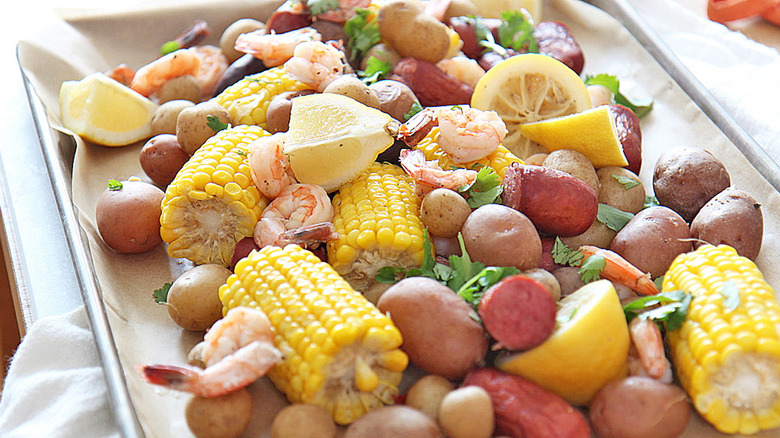 Jason Goldstein/Mashed
Don't let the name of this succulent stew deter you from making it — there are no frogs in it. As a matter of fact, according to recipe developer Jason Goldstein of Chop Happy, frogmore stew is actually named for a Lowcountry fishing community located on St. Helena Island near Hilton Head and Beaufort, South Carolina. "It is a seafood boil ... perfect for picnics, summer barbecues, or birthdays," Goldstein notes.
True to a traditional seafood boil, this recipe is brimming with delicious ingredients. There are plenty of hearty veggies, meat, seafood, and seasonings. If you are expecting company or if a group of guests unexpectedly pop by, this recipe would be perfect for feeding a group. Plus, it takes just five minutes to prepare and 15 minutes to cook. You could even prepare it over a fire pit or campfire if you're enjoying the beautiful outdoors and don't want to wander back inside to whip up your meal.
This meal is bursting with flavor, and your guests won't want to stop at just one serving. It's also so easy to prepare that it can be ready in a snap.
Gather the ingredients to prepare authentic frogmore stew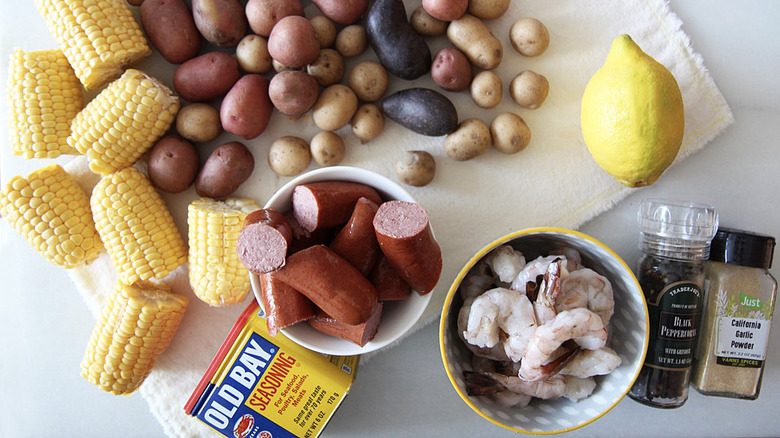 Jason Goldstein/Mashed
For this recipe, you'll need a couple pounds of small potatoes, half a dozen ears of corn, sliced andouille sausage, a bottle of Old Bay Seasoning, salt, pepper, garlic powder, a juiced lemon, shrimp, chopped parsley, and enough water to boil this tasty concoction.
Goldstein recommends small potatoes for this recipe, because they cook so much easier. There's a wide variety of small potatoes out there that can spruce up this dish as far as color and flavor. "Yukon golds are awesome for the buttery texture. If [they are] small, leave whole, but if [they are] big, cut in[to] smaller sizes," Goldstein says.
The beauty of Old Bay Seasoning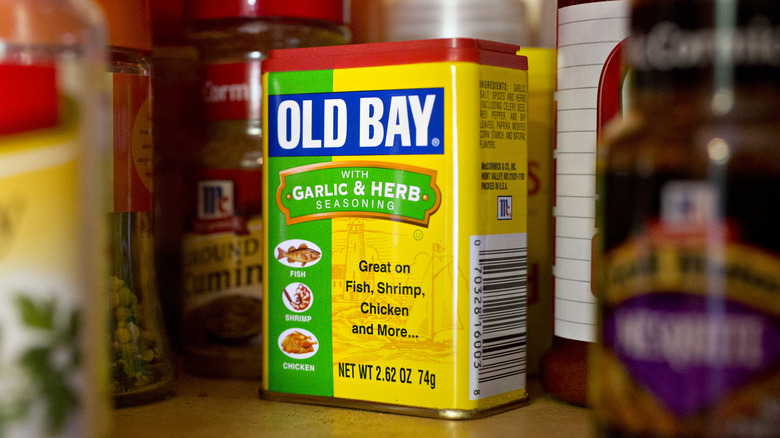 Bloomberg/Getty Images
If you have never whipped up a seafood boil or crab cakes, or you don't happen to live in the Northeast, you may not be familiar with Old Bay Seasoning. Goldstein uses this for his authentic frogmore stew recipe, because Old Bay is considered the best of the best seafood spice blend consisting of 18 different spices (via Allrecipes). Manufactured by McCormick & Company, Old Bay is such a staple for a dish like this. "Old Bay Seasoning is tangy seasoning that has a briny sweet smokey background," Goldstein says.
Selecting the shrimp and andouille sausage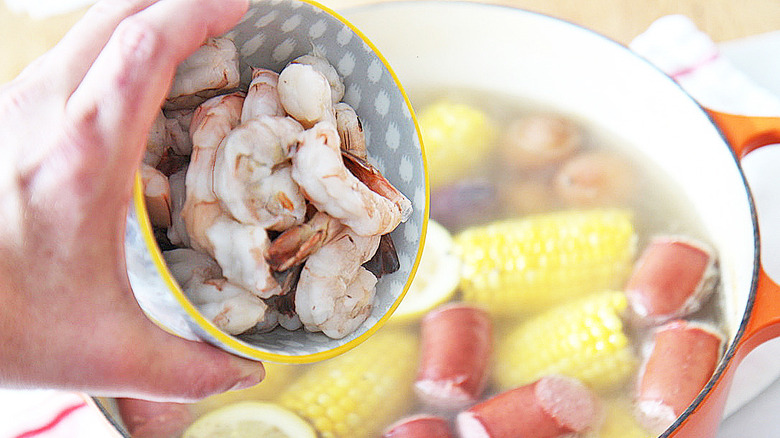 Jason Goldstein/Mashed
Goldstein prefers to purchase his shrimp already peeled and deveined because it saves time, but he notes that the shrimp can be left with the shell on for this seafood boil. According to TipBuzz, fresh raw shrimp should look see-through and shiny. Beware of an ammonia smell, as that is a good indication the shrimp has spoiled. If you're purchasing frozen shrimp, avoid any packaging that has ice crystals. (That's indicative of a partial or complete thawing then refreezing of the shrimp during transportation and storage, and you definitely should not use it!) If you happen to buy shrimp containing veins, you'll have to take a little bit of time to slice the backside of each shrimp, and pluck out the vein.
As far as the andouille sausage is concerned, this particular sausage tends to be a bit chunkier than regular sausage and consists of pork parts. You should be able to find it in the processed meats section of your store, but if you can't, you could substitute it with kielbasa. According to CHEFIN, authentic andouille from France is historically created from a hog's digestive tract. The casing also comes from the large intestine of the pig. Most andouille bought in U.S. stores is more Cajun influenced and pulls from the pig's upper shoulder and not its digestive tract.
Start the seafood boil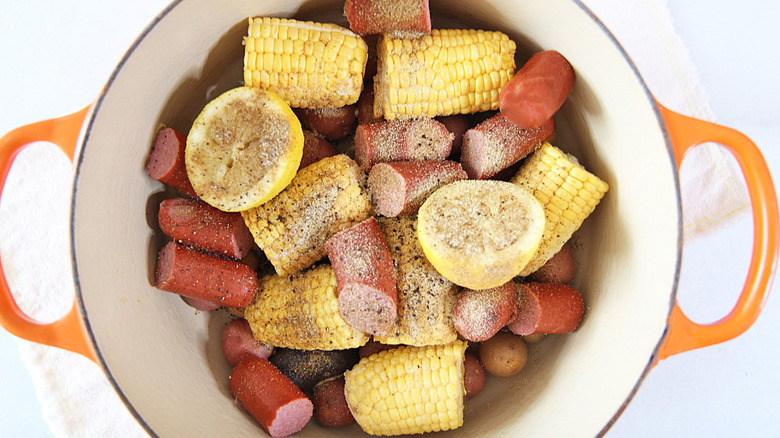 Jason Goldstein/Mashed
Next, you'll need to grab a large stock pot, and place a couple pounds of potatoes inside (left unpeeled but with any blemishes cut off), half a dozen delicious ears of corn, half a dozen smoked andouille sausage that's been sliced up into decent sized chunks, Old Bay Seasoning, pepper, salt, pungent garlic powder or granules, and tangy lemon juice. Also add in the remnants of the squeezed lemon cut into wedges and scattered throughout. 
Cover all of the ingredients with water. Turn the stovetop burner to high, and bring this delightful seafood sampler to a boil, then cook for another 10 minutes.
Add in the shrimp to polish off this pot of deliciousness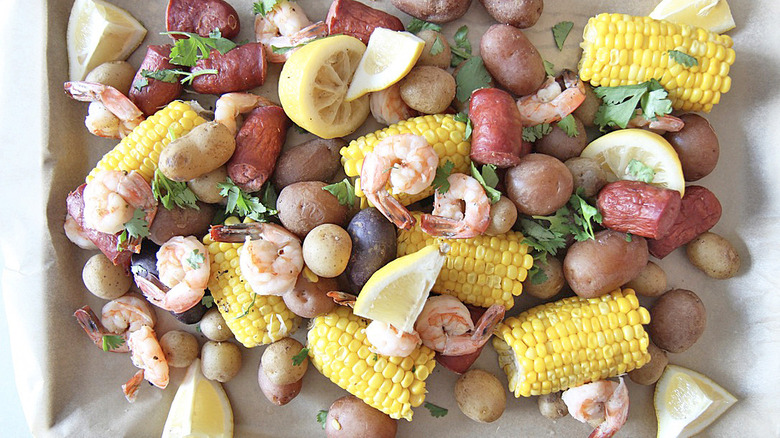 Jason Goldstein/Mashed
Once this tasty mixture brimming with spices, seasonings, meat, lemon wedges, and veggies has boiled for 10 minutes, add in the shrimp, and cook for another five minutes. Once you've hit that five-minute mark, drain the entire batch of yumminess, and spread it out across a sheet pan. Add in the chopped parsley, and toss, then sprinkle another helping of Old Bay Seasoning all across the top, and dive right on in! Some seafood boils include crab and crawfish, and you can customize this however you choose. This dish is filling and perfect for a backyard party.
Authentic Frogmore Stew Recipe
This authentic frogmore stew recipe is the perfect seafood boil to prepare for picnics, summer barbecues, or birthdays.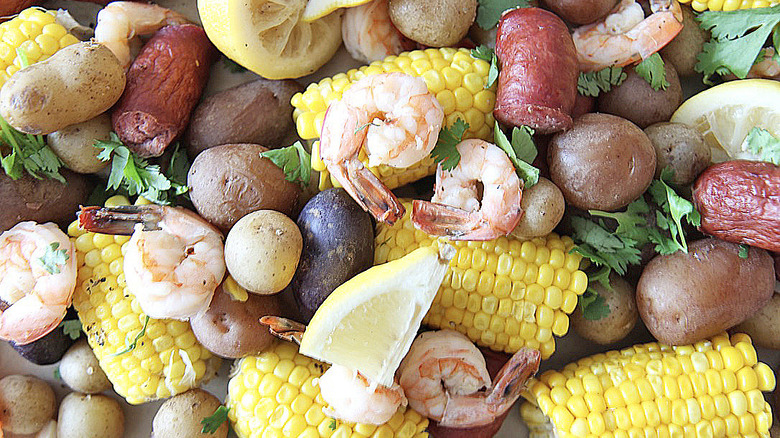 Ingredients
2 pounds small potatoes
6 ears of corn
6 smoked andouille sausage, sliced
2 tablespoon Old Bay Seasoning + some for garnish
2 teaspoon pepper, divided
2 teaspoon salt
2 teaspoon garlic powder
1 lemon, juiced
6 cups water (enough to cover the potatoes, corn, and sausage)
2 pounds of shrimp, peeled and deveined
1 handful parsley, chopped
Directions
Place in a pot the potatoes, corn, sliced andouille sausage, Old Bay Seasoning, pepper, salt, garlic powder, lemon juice, and remaining squeezed lemon wedges, along with enough water to cover the ingredients.
Bring the water to a boil, and then cook for 10 minutes.
Add the shrimp, and cook for 5 minutes.
Drain and place the seafood boil on a sheet pan, and add parsley and another sprinkle of Old Bay across the top.
Nutrition
| | |
| --- | --- |
| Calories per Serving | 385 |
| Total Fat | 14.9 g |
| Saturated Fat | 4.9 g |
| Trans Fat | 0.0 g |
| Cholesterol | 153.3 mg |
| | |
| --- | --- |
| Total Carbohydrates | 41.4 g |
| Dietary Fiber | 5.1 g |
| Total Sugars | 4.1 g |
| Sodium | 1,157.7 mg |
| Protein | 24.3 g |