Spicy Seafood Boil Recipe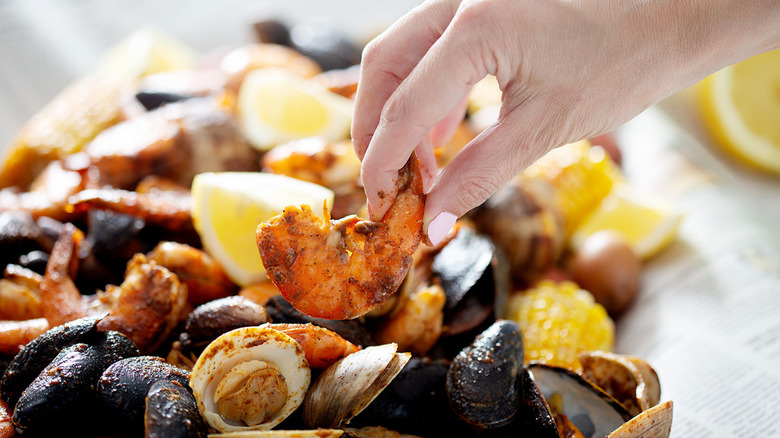 Beth Chen/Mashed
Spring and summer are perfect for big get-togethers and shareable meals. Standbys like barbecued meats and various versions of potato salad often get top billing at these events, but few meals with mass appeal can satisfy like a giant seafood boil. 
The boils are relatively hard to mess up, and have a big mix of ingredients that are easily combined and enjoyed together, yet the ingredients are also diverse enough for picky eaters to choose their favorites out of the lot.
This recipe from Beth Chen of Bon Aip/Petit (now The Honest Spoonful) is centered around three different types of shellfish, plus andouille sausage, corn, and potatoes that get their flavor from a number of aromatics and spices. "This is a great recipe for a party or cookout because it's easy, serves a lot, and it's pretty hands-off once you've done the prep," Chen says.
So the next time you're debating what food to feature at your upcoming party, look no further than this spicy seafood boil.
Gather your ingredients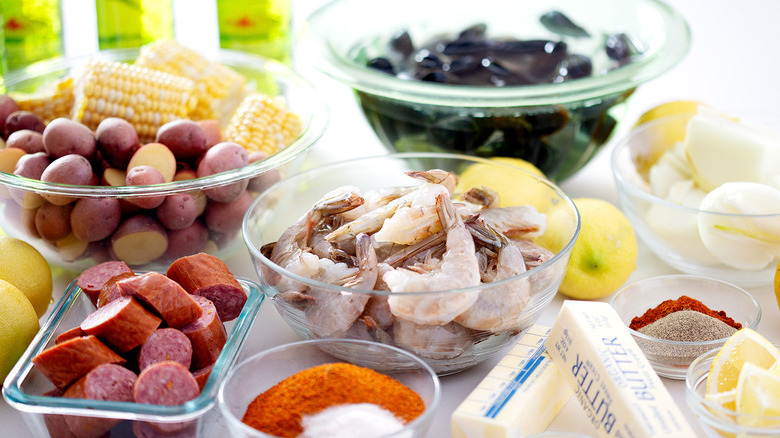 Beth Chen/Mashed
It takes a good amount of seafood, sausage, veggies, and aromatics — plus a little bit of a handful of spices — to make this spicy seafood boil sing.
On the seafood front, you'll need 2 pounds of shrimp and 1 ½ pounds each of mussels and clams. You'll only need one red meat, and that's andouille sausage, a spicy, smoked pork sausage originally from France or Germany. Six lemons, four cloves of garlic, three yellow onions, four ears of corn, a pound of small red potatoes, and two sticks of unsalted butter help bring everything together.
Finally, there are the seasonings: ¾ cup of Old Bay (a seasoning mixture created in Baltimore that's perfect for seafood), and an extra boost from 2 tablespoons each of smoked paprika and salt, along with a tablespoon each of cayenne and black pepper. That's all you need, but don't forget your favorite hot sauce to kick up the heat.
Oh yeah, you'll also need some beer (for putting into the pot, not for drinking). "Cooking the ingredients with beer adds a layer of flavor to the cooking liquid," Chen says.
Cook the vegetables, potatoes, and sausage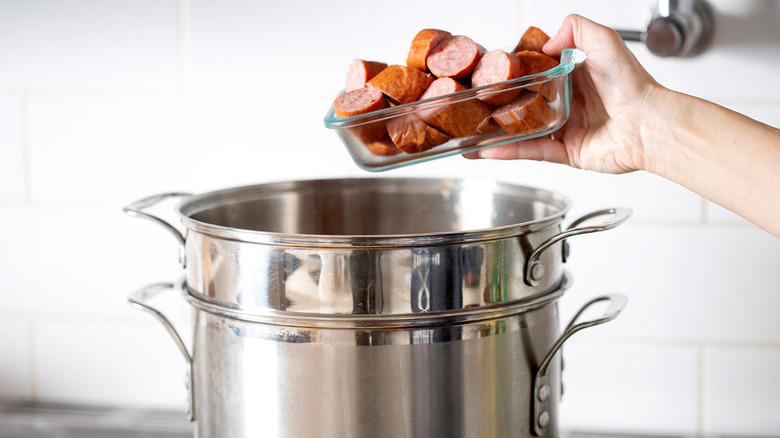 Beth Chen/Mashed
You can keep your seafood waiting in the fridge for a bit, because the vegetables, potatoes, and sausage are first up. Grab your stockpot (a large eight- or 10-quart one is needed to fit everything in this recipe) and your strainer. A strainer fitted to the size of your stockpot will make your life easier when working through the different stages of cooking, but you're not entirely out of luck if you don't have one. Just be prepared to pick out some ingredients halfway through.
"You need to separate the food from the liquid, and a strainer is the best way," Chen says. "However, a large slotted spoon would work as well."
Add 4 quarts of water and 48 ounces (four standard 12-ounce bottles) of a light beer to the stockpot along with the Old Bay, salt, lemons, garlic, and onions. Bring the mix to a boil and then drop in the strainer, if you're using one, before adding the potatoes, sausage, and corn. Cook it all for about 15 minutes — you'll know it's done when the potatoes are tender.
Add the seafood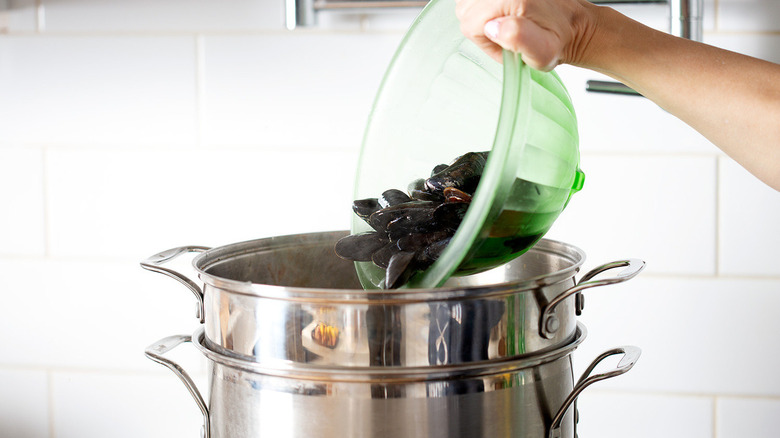 Beth Chen/Mashed
Once the potatoes are ready, remove them from the pot to a large bowl or tray along with the sausage and corn and set them aside. If the water, beer, and spice mixture in the pot has cooled, bring it back up to a boil and put the strainer back in the stockpot.
Once it's hot again, toss in the clams and mussels. These take a little longer to cook than the shrimp, so make sure to add them first rather than throwing all of the seafood in together. If it all cooks for the same amount of time, the shrimp will be chewy and rubbery — a texture that no one wants. 
Boil the clams and mussels for about five minutes or until the shells open up. When they do, it's time to add the shrimp for one to two minutes until they're done.
Make the spicy butter sauce as the seafood cooks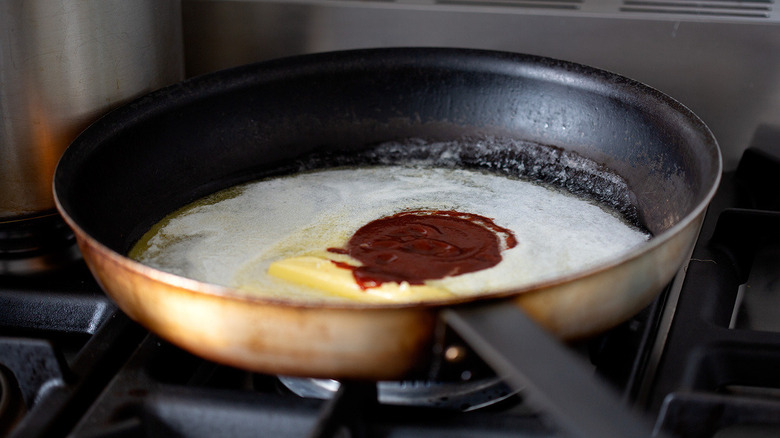 Beth Chen/Mashed
It's not time to sit around and wait while the seafood is cooking! While you boil the clams, mussels, and shrimp, make the spicy butter sauce that'll coat the shellfish when it's done.
Start with a big skillet and over medium heat. When the pan is hot, add two sticks (1 cup) of butter and let it melt. This is going to be the base of the sauce, so be sure not to let the butter get too hot and burn. Once it's melted, add the remaining 4 tablespoons of Old Bay, 2 tablespoons of smoked paprika, 1 tablespoon of cayenne, and 1 tablespoon of ground black pepper. This is also when to add the 2 tablespoons of Louisiana hot sauce, or whatever hot sauce is your favorite (Chen also suggests sriracha).
Stir the whole mixture well, so that all of the ingredients are fully incorporated, and then turn off the heat.
Mix the seafood into the spicy butter sauce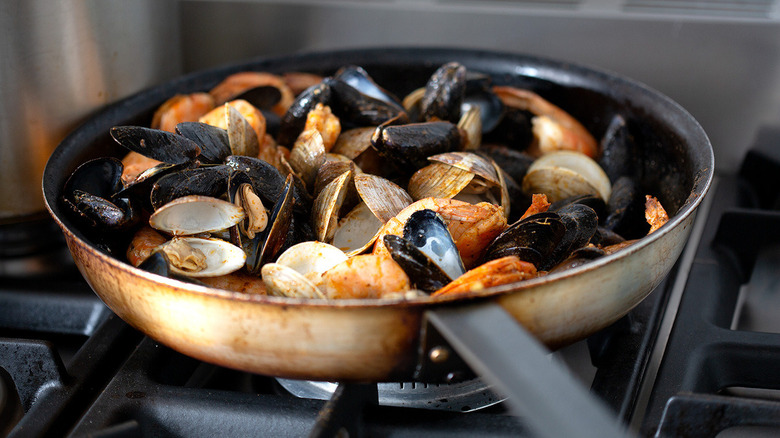 Beth Chen/Mashed
With the spicy butter sauce finished, it's time to get it onto your food. Take your seafood (which, if you timed everything just right, should finish up at about the same time as the spicy butter sauce) and add it to the sauce-filled skillet along with the corn. Stir everything together so that the seafood and corn is evenly covered.
On this step, the size of your skillet largely determines how easy it is to coat the seafood and corn in the butter sauce. If you have a smaller skillet you may need to do the seafood in two batches. "You can mix everything in the spicy mix if you prefer," Chen says. "But you will have to do it in batches because this recipe uses so much seafood."
If you have the time to do more batches (or you just want to coat more of the food in the remaining butter sauce), you can also add the sausage and potatoes into the sauce. after the seafood if you prefer — though this step is optional, Chen says.
Combine all of the ingredients and serve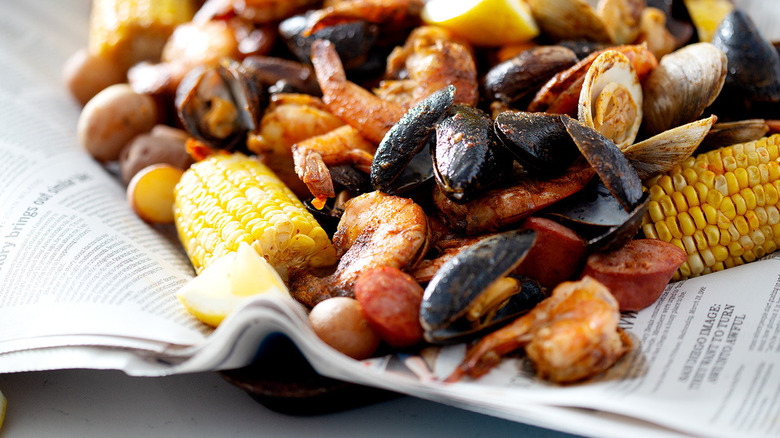 Beth Chen/Mashed
All that's left to do now is combine the seafood and corn (along with anything else you decided to coat in the spicy butter sauce) with the rest of the sausage and potatoes. You can dump the rest of the cooking liquid once you've removed the strainer with the seafood or taken the ingredients out with a slotted spoon.
Cut up a couple of lemon wedges to serve alongside the food, and you've got a hearty meal that's perfect for spreading out on the table — and it's especially perfect for enjoying outdoors when the weather is nice.
Round out the rest of the meal and keep the leftovers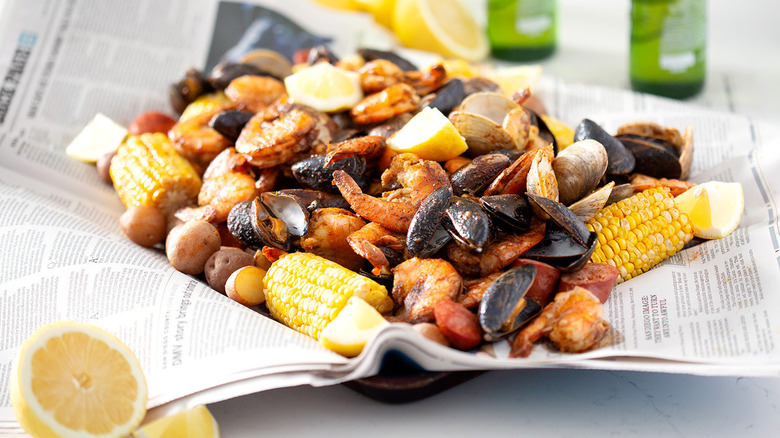 Beth Chen/Mashed
If you couldn't tell by the ingredients list, this recipe is a lot of food. That makes it ideal for sharing among friends and family. Depending on how many people you're feeding, you may have some sausage and potatoes and corn leftover. Still, there are some ways to round the meal out if you have the mouths to feed.
"This recipe is a complete meal," Chen says. "However, if you would like sides, I would make them finger foods like crusty bread or corn bread to mop up the spicy sauce or maybe a cooling dessert like ice cream or fresh fruit."
Spicy Seafood Boil Recipe
What food should you feature at your next party? Look no further than this spicy seafood boil recipe that kicks things up a notch with three kinds of seafood.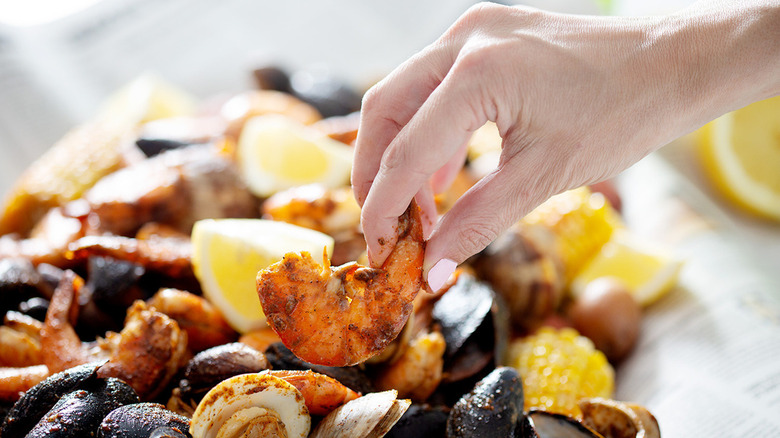 Ingredients
4 quarts water
48 ounces light beer
¾ cup + 4 tablespoons Old Bay seasoning, divided
2 teaspoons salt
6 lemons, halved, plus lemon wedges for serving
4 garlic cloves
3 small yellow onions, halved, root ends intact
1 pound small red potatoes, halved
1 pound Andouille sausage, cut into 3-inch pieces
4 medium-sized ears fresh corn, halved
2 pounds shrimp
1 ½ pounds mussels
1 ½ pounds clams
2 sticks (1 cup) unsalted butter
2 tablespoons Louisiana hot sauce, or other hot sauce of your choice
2 tablespoons smoked paprika
1 tablespoon cayenne pepper
1 tablespoon ground black pepper
Directions
Combine the water, beer, ¾ cup Old Bay, salt, lemons, garlic, and onions in a large, 8- to 10-quart stockpot and then add a strainer on top, if using.
Bring the pot to a boil over high heat, then add the potatoes, sausage, and corn, and cook until the potatoes are tender, about 15 minutes.
Remove all the solids from pot using a strainer or slotted spoon and set them aside.
Return the cooking liquid to a boil and add the clams and mussels, then cook until the shells open, about 5 minutes. Add the shrimp and cook them for 1 to 2 minutes, or until they're no longer pink.
While the seafood is cooking, in a big skillet over medium heat, melt the butter. Then add the remaining 4 tablespoons of Old Bay along with the hot sauce, smoked paprika, cayenne pepper, and ground black pepper.
Stir to mix the spicy butter sauce, then turn off the heat.
Transfer the reserved seafood and corn to the spicy sauce in the skillet and stir to coat it well. If you're using a small skillet, mix the butter sauce and the seafood in two batches.
Serve the seafood with the potatoes, sausage, corn, and lemon wedges.