Andrew Zimmern Reveals The Inspiration Behind Family Dinner - Exclusive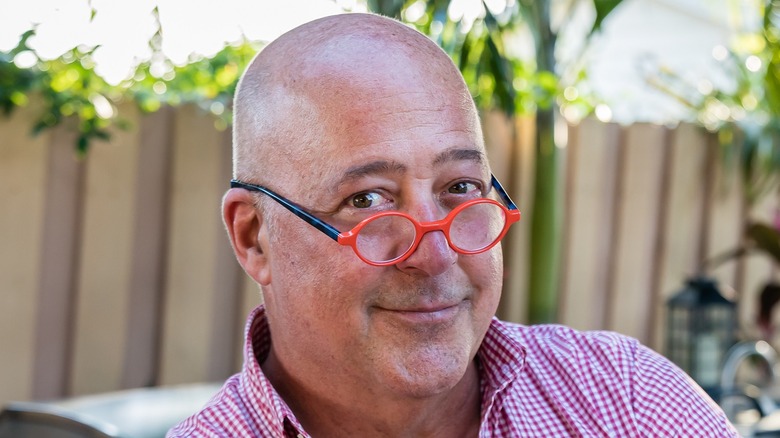 Magnolia Network
With a number of shows under his belt such as "Bizarre Foods" and the Emmy award-winning "The Zimmern List," Andrew Zimmern is certainly no stranger to television. We've watched him visit countless countries all over the world, telling the stories of people making incredible food for hundreds of episodes along the way.
Now, Zimmern has a new show out that's ready for you to view: "Family Dinner." While Zimmern is still at the helm, for this series, all of the stories, the meals, and the filming was done a lot closer to home, as each episode features families from across the United States.
Zimmern's new show is part of the highly anticipated launch of Chip and Joanna Gaines' Magnolia Network on Discovery+ this summer. During an exclusive interview with Mashed, Zimmern shared exactly where the inspiration for "Family Dinner" came from and how it came to fruition on Magnolia Network.
Family Dinner was inspired by Andrew Zimmern's early years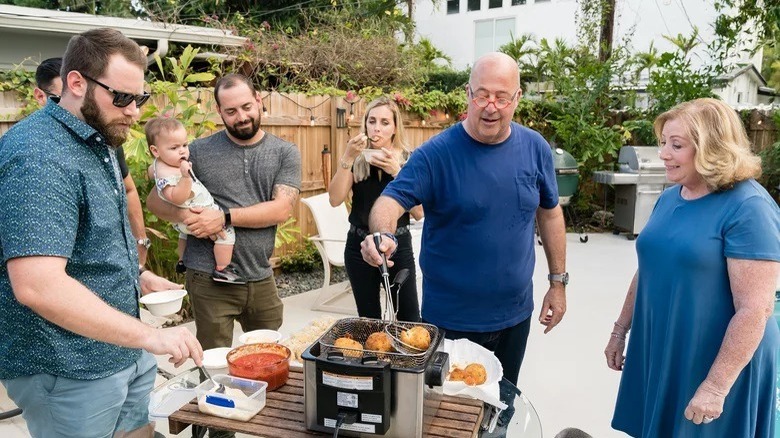 Magnolia Network
According to Zimmern, his own life inspired the concept of "Family Dinner." "I began as a young man that had family members taken from me and went from having a very big family to being very alone in the world," Zimmern said. His childhood inspired his mission of putting a family meal in each and every episode of all of the shows he ever made, while teaching tolerance, patience, and understanding along the way.
With his experience in television, Zimmern launched his own production company, Intuitive Content, and Chip and Joanna Gaines wanted the production company to create a show for Magnolia Network. When Zimmern was asked if he had any ideas, he immediately blurted out "family dinner," and it was a go from that moment on. "I knew Chip and Jo. I knew their value set. I knew what they stood for. I knew a lot about the network because they had sent me a lot of information about what they were trying to do, and I thought a show devoted to family dinners would be a monster hit," he said. "And it was the fastest sell we ever had. It's such a beautifully simple show. The simple ideas are often the best."
Andrew Zimmern shares what you can expect from "Family Dinner"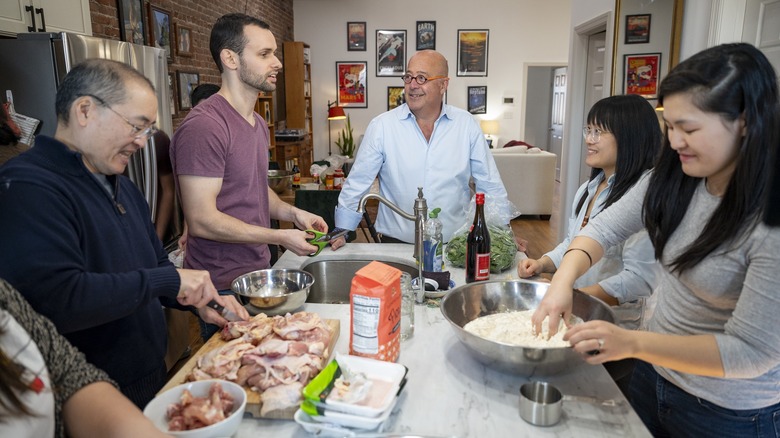 Magnolia Network
While we all know Zimmern for his adventurous appetite, the meals on "Family Dinner" aren't quite as wild. And really, it's all about the coming together of families around the table and the cooking of the meal, rather than just the food itself.
The idea, in a nutshell, is to go around to cities across the United States and to eat with families. "We see incredible food. We see real-life stories that are the best ones that everyone can connect to. We laugh. We cry. Of course, we're entertained," Zimmern said. "But there's also a very large thread of seriousness woven through this, where we hear the family stories and why they insist on gathering."
Gathering as a family for dinner may be seen as somewhat of a lost art today, but Zimmern is highlighting those who still do. And in each episode, you'll learn why it's important for each featured family to gather, whether weekly or monthly, for a nice meal together. It shows the connection that food creates, whether it's putting together a simple meal or spending the whole day cooking as a family, ultimately spending time together and sharing a beautiful meal around the table when all is said and done.
Andrew Zimmern's "Family Dinner" will be available to watch on Magnolia Network, via Discovery +, beginning July 15th.