Easy Frozen Yogurt Bark Recipe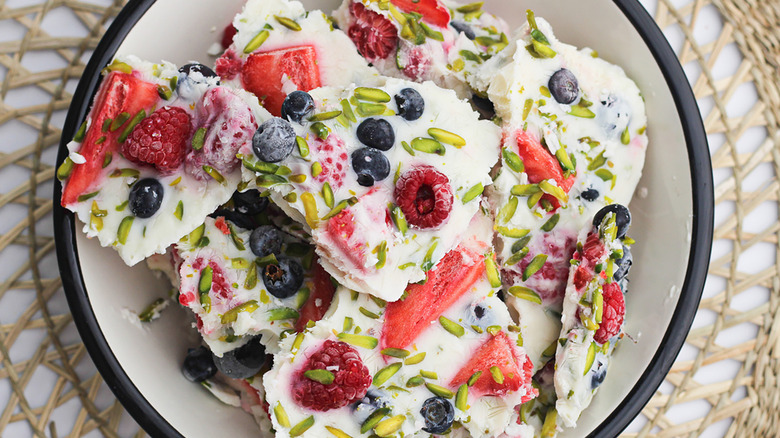 Susan Olayinka/Mashed
If you're in the market for a refreshing treat for a hot day, we have something we think you'll love. This frozen yogurt bark combines creamy yogurt and sweet, tart fruit for a chilly burst of freshness that'll cool you off even on the warmest summer day. Plus, it's so simple to put together that even kids can do it. 
Created by recipe developer Susan Olayinka of The Flexible Fridge, this snack only uses a few ingredients and is totally adjustable. While we focused on bright, fresh berries for this bark, you could opt for a different fruit combination based on seasonality or just your personal tastes. Perhaps cherries or blackberries would be a good fruit to try? Whatever you choose, just know that this bark will pair perfectly with a cold summer cocktail.
Ahead, you'll find all the instructions you need to put together this frozen yogurt bark, as well as some tips and suggestions for ingredient swaps and how to prep everything. Just keep in mind that this will need several hours to freeze, so make sure you start putting it together the day before you want to chow down. 
Gather your ingredients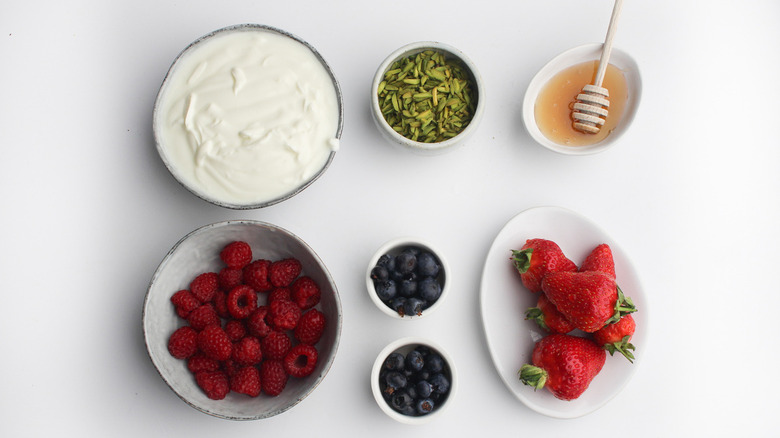 Susan Olayinka/Mashed
The first thing you need to do is get together your ingredients. For this recipe, we used yogurt, honey, raspberries, pistachios, strawberries, and blueberries. For the yogurt, we used plain Greek yogurt, but you can use whatever yogurt you prefer. Olayinka even suggests trying a non-dairy yogurt like coconut milk yogurt or almond milk yogurt. Any yogurt will do fine.
For the pistachios, we used slivered pistachios, but if you get whole ones, you'll want to chop them up before you begin putting the frozen yogurt bark together.
You'll also need a baking sheet or a number of wide-bottomed containers that can fit in your freezer.
Combine the yogurt, honey, and half the fruit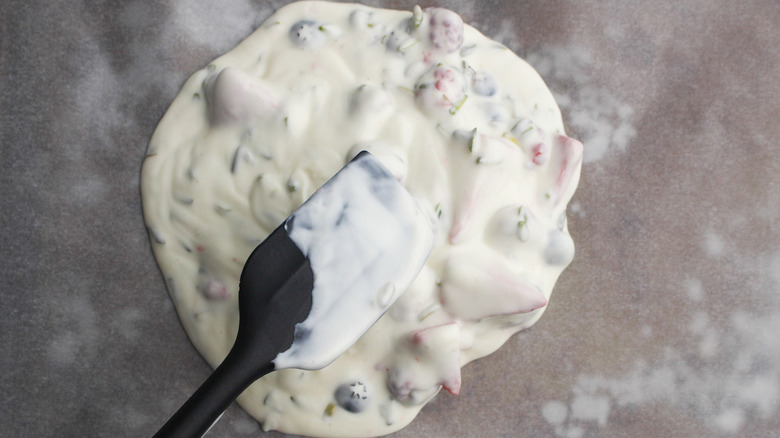 Susan Olayinka/Mashed
To start making the bark, pour the yogurt and honey into a mixing bowl. Using a rubber spatula or wooden spoon, stir until the honey is completely blended into the yogurt. Set that bowl aside.
Clean all your fruits with cold water. Chop the leaves off of the strawberries and cut them into quarters vertically. Dump half of the strawberries into the mixing bowl with the yogurt, along with half the raspberries, half the pistachios, and half the blueberries. Stir the mixture until fully combined.
Line a baking sheet with parchment paper and pour the yogurt mixture onto it and spread it out. You don't want it to be too thin when spread out — about ¼-inch thick.
Add the rest of the fruit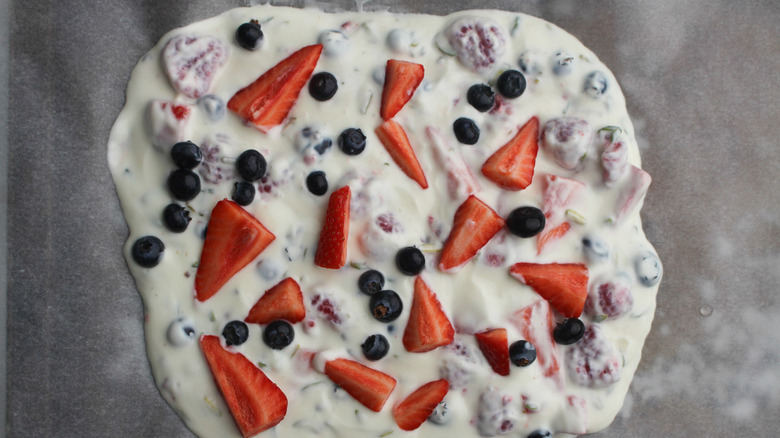 Susan Olayinka/Mashed
Once you've spread the yogurt mixture onto the baking sheet, place the strawberries around the yogurt, then sprinkle the raspberries, blueberries, and pistachios evenly around. Because this is such a bright and colorful treat, you can arrange the fruit and nuts however you'd like to really show off those colors. By leaving some of the fruit out of the mixture, their colors really pop!
Freeze overnight and enjoy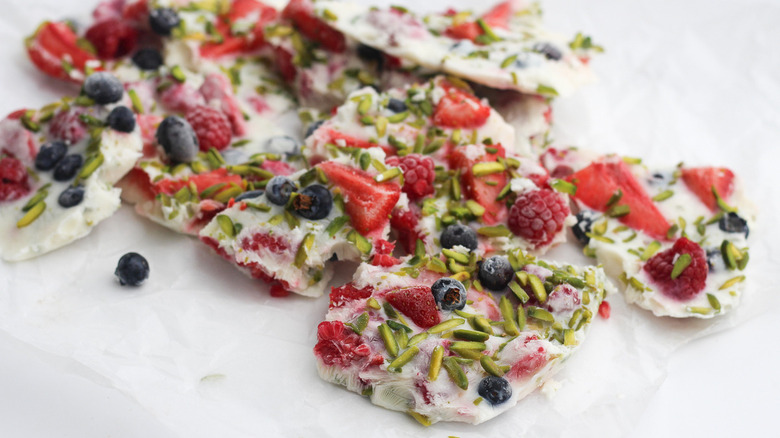 Susan Olayinka/Mashed
After your yogurt bark is assembled, it's time to freeze it. Place the whole baking sheet in your freezer and freeze it overnight, or for about 12 hours. Once frozen solid, take it out of the freezer and let sit on the counter for about five minutes to soften just a little bit. Use your hands to break up the bark into smaller pieces and enjoy immediately.
You can also pop this back in the freezer in an airtight container. It will keep for about three to four weeks.
Easy Frozen Yogurt Bark Recipe
If you're in the market for a refreshing, healthy treat for a hot day, this easy frozen yogurt bark recipe has you covered. It uses any fruit or nuts you like!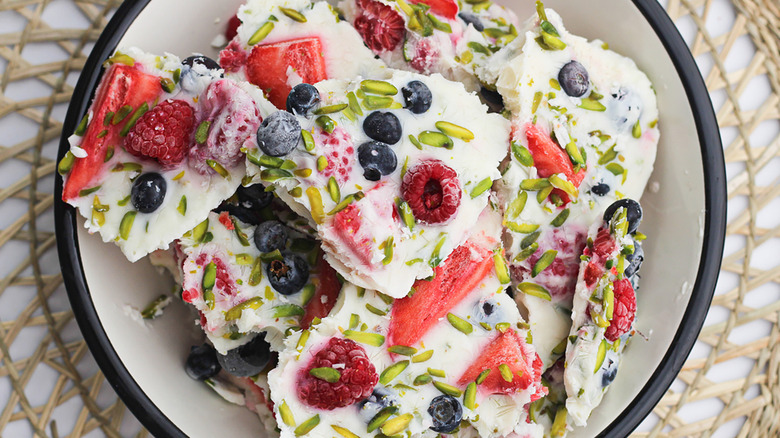 Ingredients
2 cups yogurt
2 tablespoons honey
1 cup raspberries, divided
½ cup pistachios, divided
6 strawberries, chopped, divided
¼ cup blueberries, divided
Directions
Place the yogurt and honey in a mixing bowl and stir to combine.
Chop all of the strawberries into quarters.
Add ½ cup raspberries, ¼ cup pistachios, 3 chopped strawberries, and ⅛ cup blueberries to the mixing bowl with the yogurt and honey and mix together.
Line a baking tray with parchment paper and spread the mixture onto it.
Top the mixture with ½ cup raspberries, ¼ cup pistachios, 3 chopped strawberries, and ⅛ cup blueberries.
Freeze the tray overnight, or 12 hours, then take it out of the freezer.
Leave the yogurt bark to sit for 5 minutes, then break it with your hands.
Transfer to a serving plate and serve or refreeze for later.
Nutrition
| | |
| --- | --- |
| Calories per Serving | 221 |
| Total Fat | 11.3 g |
| Saturated Fat | 3.4 g |
| Trans Fat | 0.0 g |
| Cholesterol | 15.9 mg |
| | |
| --- | --- |
| Total Carbohydrates | 25.1 g |
| Dietary Fiber | 4.2 g |
| Total Sugars | 18.8 g |
| Sodium | 57.5 mg |
| Protein | 8.0 g |