This Restaurant Offers A $1,000 Sundae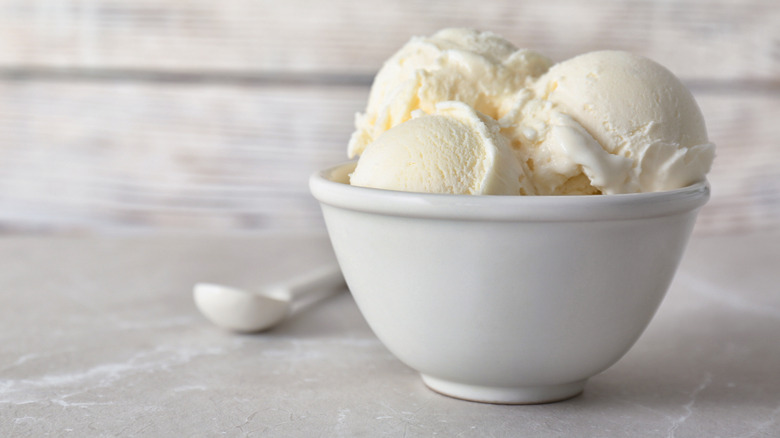 Shutterstock
Fine dining can feel like the right thing to do when you're looking to pamper yourself with something that is different from what you usually get to eat on a regular basis. However, a question worth asking yourself is this: how much is too much? How much are you willing to spend on a luxurious dining experience?
According to Yahoo, there are some truly mind-blowing food options out there that are bound to make your jaw drop. An example? Ice cream worth $1,000. This experience is offered by the restaurant Serendipity 3 in New York City. 
Here's a little background. Per the restaurant's website, its diners can get access to unusual treats such as Frrrozen Hot Chocolate. The decadent ice cream dessert is pretty popular among celebrities (via Forbes). Also, the restaurant once crafted a super expensive version of the Frrrozen Hot Chocolate that carried a hefty price tag of $25,000.
One lavish sundae
According to Yahoo, the Golden Opulence Sundae offered by Serendipity 3 is no regular version of the dessert. It's essentially Tahitian vanilla ice cream topped with a gold leaf as well as other ingredients like nuts, caviar, truffles, and more. Per CNBC, Serendipity 3's staff members need at least 48 hours notice before you plan to eat the dessert.
Rest assured, the sweet dessert has carefully sourced ingredients that are far from ordinary. Expect to be treated to items such as rich, sinful chocolate from Tuscany and exotic vanilla beans from Madagascar. The sundae is served to guests in a Baccarat crystal goblet that's worth $350 with a 23-karat gold leaf. There's also an 18-karat golden spoon and an orchid in the dish that's made from sugar and takes around eight hours to create. "It's the most extravagant, opulent thing you can purchase in New York City," said Stephen Bruce, the eatery's co-owner. Hard to disagree with that one.