Here's How Chef William Dissen Knows A Restaurant Is Well-Run - Exclusive
Chef William Dissen knows a thing or two about how to run a restaurant. He graduated with honors from the Culinary Institute of America, earned a Master's Degree of Hospitality focused on restaurant and tourism management from the University of South Carolina, has worked under celebrated chefs like Donald Barickman and Peter Timmins, and owns three successful restaurants (via Marketplace Restaurant).
So what's the secret to a successful restaurant, one where the staff are engaged and the patrons pleased? In a word, kindness — though cleanliness helps, too.
When asked how he judges how well-run a restaurant is, Dissen told Mashed in an exclusive interview: "When I'm going in as a guest chef in other folks' kitchens, I definitely look for cleanliness, I look for organization, and I look for people smiling. To me, happy cooks make happy food. And I think when you're in kitchens that might be very professional, but have maybe a toxic work environment, you can see it by the scowl across people's faces. When you come into a kitchen and they're prepping and maybe there's some light music playing and people are smiling and having fun, that translates into the food you eat as a guest."
Dissen's tips for running a successful restaurant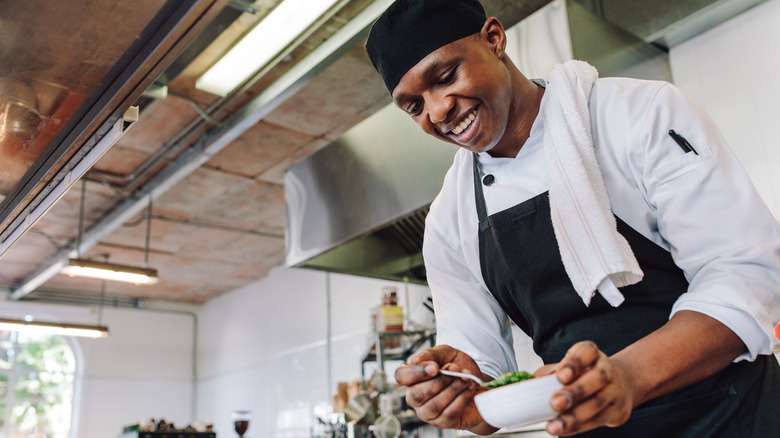 Shutterstock
In chef William Dissen's mind, there's no need for professional kitchens to be the kind of high-stress battlegrounds we find in books like "Kitchen Confidential" or on "Hell's Kitchen." (Then again, some of Gordon Ramsay's reputation turns out to be an act, as Dissen found when working with the famously fiery chef on "Gordon Ramsay: Uncharted.")
Dissen likes to take a calmer, kinder approach to working with the cooks under him, whether on a television show or at one of his three restaurants. The aforementioned cleanliness and organization are both important to him, as is kindness and happiness in the kitchen. Also key is planning a menu that suits the clientele, staying flexible as tastes change (or seasons, for a more farm-to-table approach), and of course, sourcing the best food.
Dissen's other big tip for how to run a restaurant well? Working hard. "I think a lot of people think they can go to culinary school and watch Food Network and think that they're going to become the next famous celebrity chef like Gordon Ramsay," he said. "I think in any profession, you have to work hard to garner accolades and get to the top. So a 40 hour work week is not necessarily the norm if you want to make it to the top. It takes time and perseverance and hard work to get there. And there's a lot of sacrifice also, I know over the years, I've definitely sacrificed holidays or time with family in order to make my business work."
New episodes of "Gordon Ramsay: Uncharted" air on Sundays on National Geographic. To learn more about what it's like to run a successful restaurant, follow chef William Dissen on Instagram.